On the way to Mo'Bay - Good samaritans, Daughters and route to Jamaica

Lilli Mae
Linton
Tue 28 Feb 2023 17:33
Hi All,




Hope you are all well?




Well that is it. After 4 interesting days in Ponce, Puerto Rico we weighed anchor at 1015 local time and set sail for Port Antonio, Jamaica. The passage is just under 600 nm and we have anticipated it will take us 4 days. So we anticipate arrival sometime on or sightly before 4th March. Our passage plan keeps us at least 50 nm from the shores of the Dominican Republic and Haiti. We are anticipating relatively light winds between 16 and 22 knots mainly easterly with some backing to north easterly later today or tomorrow.



Right now it is really quite hot! We are sailing on a broad reach, with main and head sail on port tack and SOG of around 6 knots. Sea state is smooth.
As mentioned we had an interesting 4 days at anchor in the bay close to the Ponce Yacht and Fishing Club. We flew the parasailor on the route from Salinas to Ponce and arrived on Friday 24th at about 3 PM.
We anchored just outside the main harbour thoroughfare. Although the all around view in the harbour and marina was not as beautiful as those we have seen, the anchorage was comfortable eventhough our original plan was to go into the marina; on arrival the office staff made it clear they had not space for us. In the end we were very comfortable.
As we arrived on Friday and we were trying to find our way around the harbour in the dinghy, an excited gentleman hailed us over to his boat. From that time until our departure Gary and his family were very helpful. Gary (from New York), Anita (Sweden), Sally and Sylvie (twins born in Costa Rica) are based in Ponce and live on their boat in the marina. They showed us around and drove us to the US customs office.
Thanks Gary, Anita, Sally and Sylvie for your help and hospitality.
We were able to do a lot of shopping in preparation for the trip. The shops in Ponce are almost the same as you would see in the shopping malls in the US. So we were able to stock up on almost everything!
Oh! And one other important reason why we were in Ponce; you my recall that we expected a new crew member? Well right on schedule and in the right location we managed to find Clare Linton (Michael's Daughter) who has joined us for the sail to Jamaica. We were excited to have Clare aboard!
Clare arrived at the yacht club at about 4.00 PM on Sunday 26th. We just chilled out on the boat for the rest of that day but we had a mission to check out with CBP and to do some final shopping yesterday (Monday 27th). Getting around from the marina was not easy. Taxis are hard to come by and the walking is considered not possible by most locals.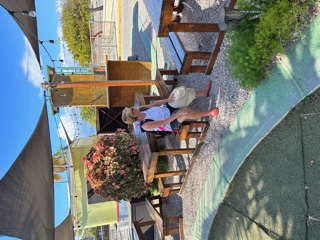 So we decided to do a bit of walking to get to the CBP offices and the shops to pick up a few final items for the trip. Needless to say we got lots of strange looks from the locals as we strutted our way in the heat of the day! However it was good to get some exercise and a feel for the place which is still recovering from the impact of hurricanes and earthquakes since 2018. From the little we have seen, Puerto Rico certainly has a different vibe to the other Caribbean islands we have stopped at.
Anyway we are now on our way. Although we are sailing we have got the generator on and we are making water. Our water tanks were only one third full before we departed; we are always reluctant to make water in close proximity to harbours, marinas and other boats. So the water maker will be on for a few hours to replenish our tanks. We just took a couple of pics of us a few minutes ago enjoying the downwind sailing. All smiles! Keeping our fingers crossed for more of the same for the next 4 days.
We can't quite believe Lilli Mae is within striking distance of "home".
Anyway we will keep you posted.
In the meantime take care wherever you are.
All the best from the crew aboard Lilli Mae
---