Lilli Mae - On the way to Mo'Bay - Sunday 4 December

Lilli Mae
Linton
Sun 4 Dec 2022 09:13
No wind! As forecast the trade winds have "taken their ball home and are not coming out to play today or indeed until next week". At this moment (0809 UTC) the wind speed is 6 knots coming from south-east. For Lilli Mae this is not enough to sail and so we have had to start the engine. We have decided to try and sail in the day and motor at night. We are motoring at 6 knots on a heading directly at Rodney Bay. We have 780 miles to run! The general forecast situation is that there will be no trade winds until Thursday 8th/ Friday 9th and in between now and then strong squalls past 50 deg West with up to 40 knots of wind. We are currently in position 47 deg 17' N 047 deg 31' W.




It is a beautiful clear sky and the stars and planets are the clearest they have been since we started. It is pretty spectacular. Other Lilli Mae crew members have reported lots of shooting stars. The temperature is warm and the air humid. The absence of wind adds to the impact of the heat.




We hoisted our parasailor yesterday and just about got it to fly in the very little wind we had. It worked really quite well and whilst we had time we took lots of pictures.



Andrew (our now expert drone pilot and photographic technologist) took videos of us changing sails on the go-pro and flying the parasailor with the drone. We captured the moments of drone approach and successful recovery which of course we celebrated with beer shandy!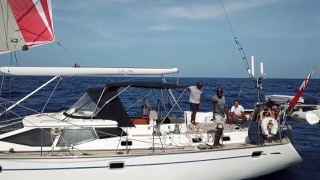 We have mentioned the squalls a couple of times but in comparisons to our journey in 2019, the squalls have been few and much less forceful. The squalls are visible on our radar and we can track their relative motion on our instruments. This is particularly useful in the dark hours. It helps to ensure we are ready for the wind they bring. This is going to be important as we pass 50 deg west.
Anyway, that is it for today. We will keep you updated on progress.
Take care everyone.
The Crew on Lilli Mae
---