Lilli Mae - On the way to Mo'Bay - Wednesday 23rd November

Lilli Mae
Linton
Wed 23 Nov 2022 07:10
Hi Everyone,
Hope you are all well? All is well on the good ship Lilli Mae.
There are a lot of new people that have been added to the "Lilli Mae followers list". I hope you enjoy getting our updates. If you would like to catch up on our previous attempts to reach Montego Bay then you can see these dispatches by following
http://blog.mailasail.com/lilli_mae
We had a good day yesterday. The wind and sea state were kind to us and we are settling down into our routine. We are currently 24 deg 19' N and 20 deg 49' W which is about 461 nm NE of the Cape Verde Islands. We are trying to get to 20N 28W.
We had to reset our twin head sails for some changes in the wind which took us quite a long time yesterday. This set up is working really well for us (Thanks Dmitriy!). Once we got that done we were moving quite fast. We launched the drone and took some pictures. Drone Pilot (Andrew) did a excellent job capturing some great footage AND getting the drone back on board.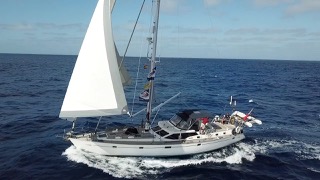 It is currently 0638 GMT. Its dark with a few clouds but we have a good view of the stars. We have just spotted the lights of another boat on starboard bow and so we are tracking it on radar. No other lights around apart from that and those being emitted by Lilli Mae. The air temperature is a little cool right now but during the days it is beginning to get hot as we get further south.
We are going to be on this same heading for another couple of days to get into stronger trade winds. Once there we will turn west to head for the Caribbean.
Anyway that is it for today.
Take care everyone
Team on Lilli Mae
---