Mother Earth

Spirit
Erik Lindgren/Pia Hultgren
Sat 16 Jul 2016 10:16
19:31.48S 169:29.65E
So it was time to go and say hello to mother earth.. the active volcano Mt Yasur!
We have already heard her roaming –almost like a great bear, and we have seen the smoke puffs from the bay, and also some black ash-flakes on the boat.
On 4WD vehicles we went. Most of us sitting in the back of the truck and enjoyed going through the jungle on the bumpy road. We arrived to the foot of the mountain where we were told safety instructions (-safety first was the message!) Then we drove up to around 6-700 m above sea level. The time was around 17, almost around dusk.
The volcano roamed and puffed and every now and then glowing rockets and stones were spitted out to almost the level where we have walked up to, around 900 meters. Very striking!
Along the path of the crater rim sulphur puffs came with severe smell and causing dripping noses.
The level of activity within Yasur fluctuates between dangerous and relative calm, but when it is hot, it is hot. You can check the latest alert level on
www.geohazards.gov.vu
We stood watching this golden fireworks while the darkness arrived. Sometimes the ground tremble and with all your senses you really felt mother earth was speaking to you. Just when you are getting used to it there is a gasp and bang, the ground shakes again and lumps of red hot magma shoot high over head. After black smoke boils up with those red glowing stones inside.
This was really breath taking, beautiful, for some people terrifying and definitely unforgettable!
Thank you Mother Earth for a great show!
Pia and Erik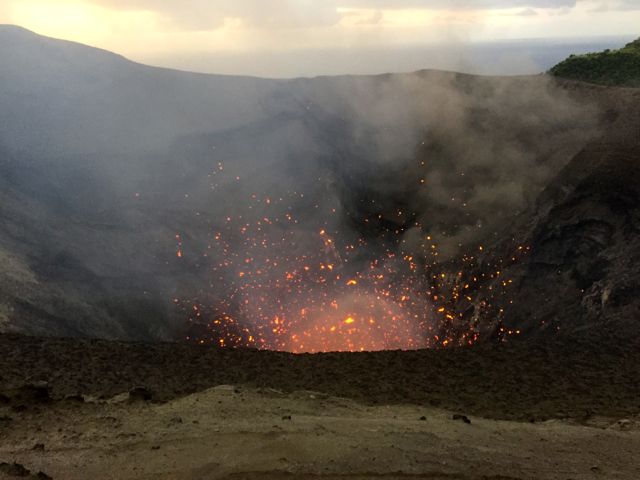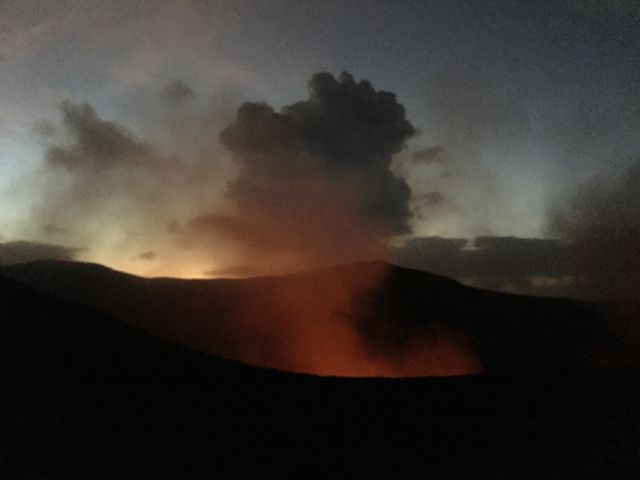 ---