En liten rysare..

Spirit
Erik Lindgren/Pia Hultgren
Tue 14 Jun 2016 21:58
17:50.32S 175:55.22W
Efter första natten till havs, ca 100 sjömil från Tonga hörde vi ett ljud. Erik sov, jag väckte honom och han identifierade snabbt att länspumpen gick. Jag fortsatte segla båten och Erik ropade att det är alvarligt.
Jag kunde riktigt känna hur Spirit blev tyngre och tyngre..

Propelleraxeln hade släppt ur sitt fäste i motorn och åkt ur båten. Det forsade in vatten ...

Erik var cool och snabb nog att förstå var det var så vi lyckades hejda flödet. Först höll Erik sin hand över hålet samtidigt som jag skar till toppen av en oljeflaska som jag hittade i vår skolåda på däck. Erik fick in plastpluggen och hejdade flödet. Sedan sågade Erik sågade en riktig träplugg medan jag höll min hand för det 4 cm breda hålet för att stoppa det forsande vattnet från att komma in i Spirit. Vi pumpade både med elektriska pumparna och jag stöttade med handpumpen allt jag kunde.

Allt det här tog ca en timme. Båten var tät igen men nu hade vi ingen fungerande motor. Vi seglade vidare mot en trygg hamn i Fiji, under eskort av den brittisk båten In to the Blue.
Vi visste inte om axeln och propellern ännu var kvar men kollade med Go-Pro kameran och såg att den hängde kvar i axelns stödbock Under båten! Uppe på det var det skruttväder med hård vind och spöregn när allt hände...
På vägen inne i Fijis farvatten passerade vi 180 grader-meridianen! När vi nu fortsätter västerut kommer vi räkna grader ost (E) om 0. Vi kommer närmare hem sakta men säkert!

Nu har vi kommit till en lugn hamn, Savusavu på Fiji där vi blev bogserade till en boj. Erik fick in axeln en bra bit så den håller tätt Saknas ännu knappt två cm som måste bankas in på något sätt. Platt vatten och en skön natt med lagom temperatur gav oss en bra natts sömn. Vi ska jobba vidare med axeln och får nog hjälp av de brittiska sönerna (i 20-25 års åldern) som har dykutrustning och en "sledge hammer".
Stay cool!
Erik & Pia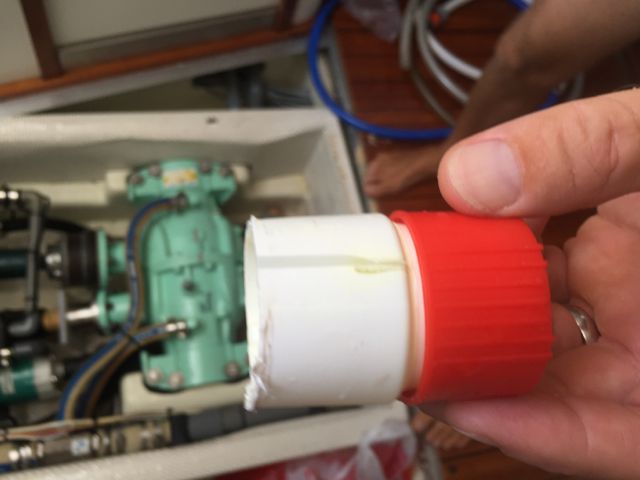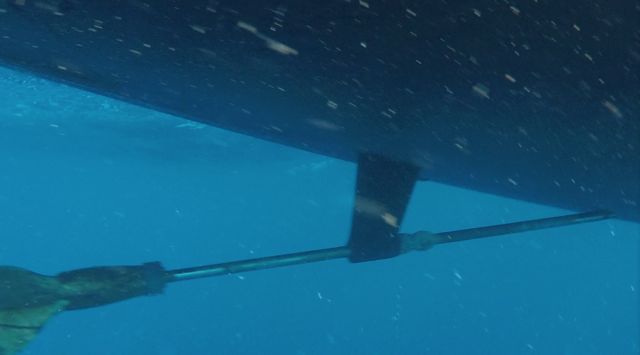 ---