MAURUURU

Spirit
Erik Lindgren/Pia Hultgren
Tue 17 May 2016 11:36
14:19.56S 158:15.71W
Mauruuru (= Thanks very much!) to French Polynesia,
-for this time!
We have had two fantastic months of sailing and discoveries on this very special, extremely beautiful part of our dear earth.

Time comes to move on, sail on -as we say on Spirit.
Without planning, also this time our last dinner ashore happened to be pizza, as we had on Galapagos.
This time we went to the most lovely family driven restaurant Napoli. So popular that 20 min after opening it was full of guests.
The chef himself inspired the local kids together with the American boys from yacht Widago to his profession.
Mauruuru for this superb last meal and warm atmosphere in Raiatea and Frensh Polynesia!
Iaorana (= Hello in polynesian) and now when we leave we say "Nanaa"
Honestly, Erik and I did not feel sad to leave. The rainy weather we had for the last weeks made it easier to leave.
The last mega-squall just after we left was just in lunch-time and you can se in the image that Erik is a bit angry on the weather while eating his sandwich!
Together with Stefano, our extra crew member on this leg Spirit is now heading towards new adventures in the blue Pacific ocean.
Sail on
Pia & Erik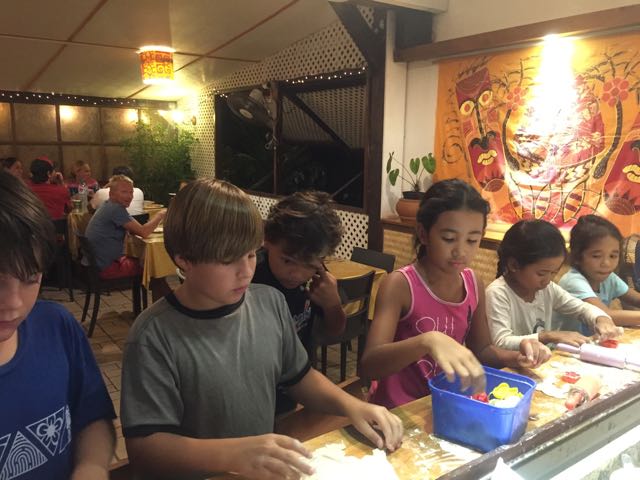 ---