See you next time

Spirit
Erik Lindgren/Pia Hultgren
Mon 30 May 2016 17:05
19:03.33S 169:55.47W
Thank you for this time little beautiful island Niue!
We have had three fantastic days exploring the islands secret pools and caves.
- You cool ladies at café Crazy Uga, singing "Dancing queen". You are wonderful!

- The boys at our favourite Japanese restaurant, Kaiika –where we also had the last dinner ashore together with Mierra Nieida.
Kaiika i supposed to be one of the 20th best sushi restaurant (according to Trip advisor) outside Japan. It is owned by the same person which runs the fishing company in Niue,
and they deliver fish to Japan's best restaurants!
Yes, it was delicious!
- Sweet yacht-club dog that gave us a lot of love every time we visited the "biggest little yacht club in the world".
- The air, perfumed with frangipani along the small roads that we cycled.
The Niueans are proud of their beautiful island with no crime, no pollution, no drugs and traditions are respected –and are continued to be taught at school.
Back to Spirit. We lifted down our dinghy with the big crane for the last time, and head towards Spirit.
It is around 22, dark and Spirit is well prepared to leave.
We feel we have got new friends on Niue. I am sure some of the Niueans we met will recognise us,
–when we come next time.
Thank you so much!
Pia & Erik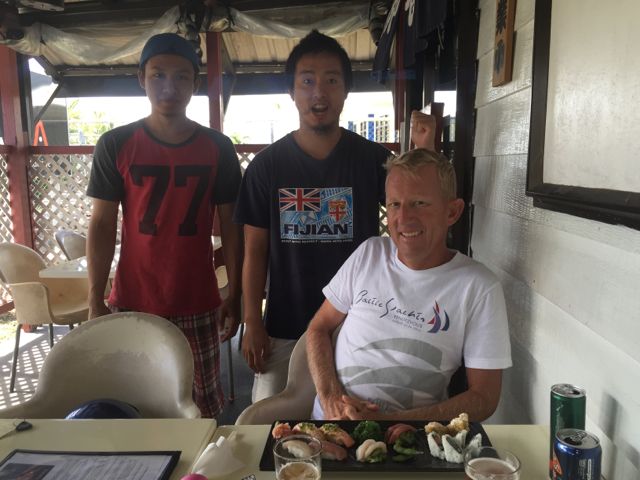 ---