Puerto Morelos

Chanticleer
Stephen and Roberta Arnold
Thu 2 Jun 2011 17:00
20:49.808N 086:53.335W
Wednesday June 1, 2011
Ok so I've been a little slow in updating the blog, but as a cruiser in Mexico, mañana takes on a sense of urgency. The last detailed posting was before we got to the states in April. Let me say this about being back in the states – Marathon Fl was no fun. It was a long dinky ride to the dock – it's a no wake zone, a long hot walk to the store and the boat police are out to get you. We got stopped at night for not having a proper light on our dinghy – by a police boat without any lights on.
There are some interesting boats in Marathon like this group. All the boats in the foreground are on one mooring. It looks like there are 4 boats on the mooring, but what you can't see are the other 3 boats on the backside. Yes that is a refrigerator on the deck of the first boat.
We did go to Key West twice and one weekend and caught the bed races. Key West being the town it is had its own ideas of what goes on a bed.
The bed races also had to allow time for the 'girls' to cross the street. (You gotta love those shoes.)
Also in Key West we learned on reason the chicken crossed the street – it was to avoid having its picture taken. We have several pictures of half of this rooster – he wouldn't stay still and smile.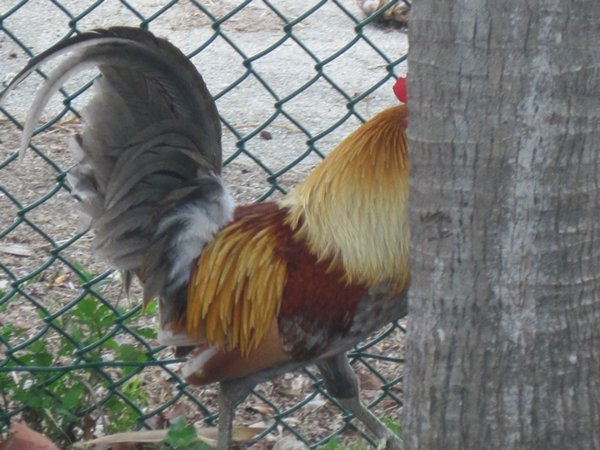 My computer crashed while I was writing this – fortunately most of what I wrote was saved as a draft. I can't add pictures so I'll stop for now.
---