Junkanoo

Chanticleer
Stephen and Roberta Arnold
Tue 28 Dec 2010 12:06
Tuesday December 28, 2010 8 AM
Yesterday we went to the Junkanoo celebration here in Nassau. This is a Brazilian Carnival type of celebration that normally starts around 1:30 AM and runs until 11 AM or so. This year the start was delayed because of the weather – it was blowing close to 30 knots and it was cold. We didn't know about the delay but had decided to miss the start and instead get there around 6:30 AM. I don't know how long the parade route was but we watched one group start at about 7AM and then we moved close to the finish area. At 9:30 when we left we still hadn't seen them.
The costumes are cardboard and crate paper on a metal frame. The guy in the picture is wearing everything you see. This is near the end of the parade and it looks like the guy is running out of gas.
The people in the parade march in groups and each group has a theme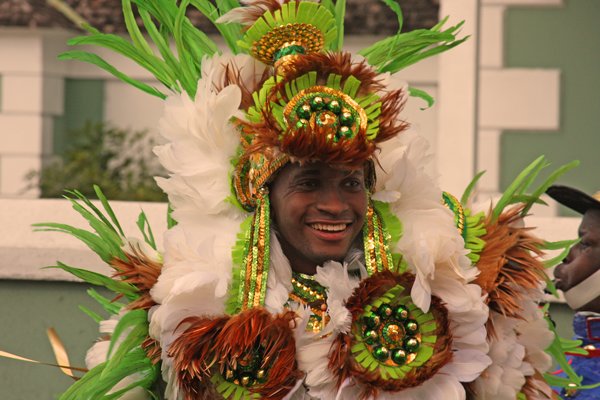 Each group also has a band, it must get old carrying a steel drum for several hours
There were more whistles than I've ever seen in one place
And it wouldn't be a parade without floats. All were pushed or dragged which proved to be quite a task in the strong winds. We saw several wind damaged floats.
The decision we made to move into a marina may have been a very wise decision. One of the boats that stayed dragged anchor and hit the bridge and lost its mast. The winds which have been blowing in the 20-30 knot range for the past 2 days are supposed to subside tomorrow and then we'll move back to the anchorage. Then on Thursday we'll be off to the Exumas.
---