St Michaels Wrapup

Chanticleer
Stephen and Roberta Arnold
Tue 31 Aug 2010 00:05
38:16.0488N 076:50.0100W
Monday August 30, 2010 8:30PM
We left St Michaels Sunday and we are on our way to Washington DC. Last night we spent the night in Solomon MD, and now we are working our way up the Potomac River. If all goes well we'll be anchored in DC on Wednesday. I've heard that there isn't much wind in the Chesapeake in the summer and Have experienced it firsthand. We saw perhaps two hours of 8 knots or greater winds over the last three travel days, but for the most they have been less, much less.
St Michaels is one of those places you hate to leave, at least I did. It's a very picturesque and friendly town. We also had some guests while we were there. Roberta's brother Philip, his wife Grazia and little Luka along with another couple and we had a very nice lunch and visit.
I was amazed how many boaters showed up on the weekend. On Thursday night this one anchorage had one boat. Here's what Friday night looked like
And then the same area on Saturday night
There were two other areas plus the marina that filled up as well.
Here are a couple more pictures of the harbor. I took these moving the camera from left to right.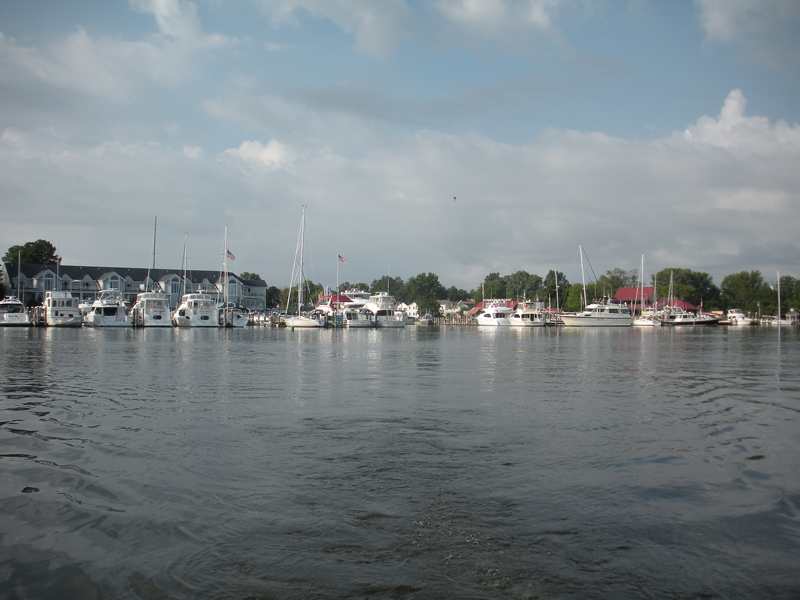 ---