Solomon Wrap Up and St Michael MD

Chanticleer
Stephen and Roberta Arnold
Thu 26 Aug 2010 01:16
38:47.3585N 76:13.1854W
Wednesday August 25, 2010 9PM
Last posting I said I'd post some pictures of Solomon MD, well I can't post what we didn't take. Yesterday was a cloudy day so we never pulled out the camera. In the morning it was boat work and then into town for some grocery shopping. We had planned on spending 3 nights here but after shopping we realized there wasn't much to see in town and we'd be wasting a day just sitting there so we decided to go to St Michaels MD.
Solomon MD is a pretty area with nice houses along the water, several marinas with very nice boats, but other than a museum there wasn't much to do. A word or two about museums. It seems like every place we stop has a museum dedicated to the Chesapeake. At first we were being good tourists and visiting them all - soon they all began to look alike so we've started to be more selective. St Michaels appears to have one of the nicer ones, we are anchored right in front of it, so we'll probably visit this one.
After we anchored boats started to head out for the Wednesday night races. This seems to be a more formal group than I'm used to seeing, each crew wore matching shirts and hats. Here is a J-22 heading out = note it is trying to save weight so doesn't have a motor and there also isn't any wind. So what's a crew to do – paddle.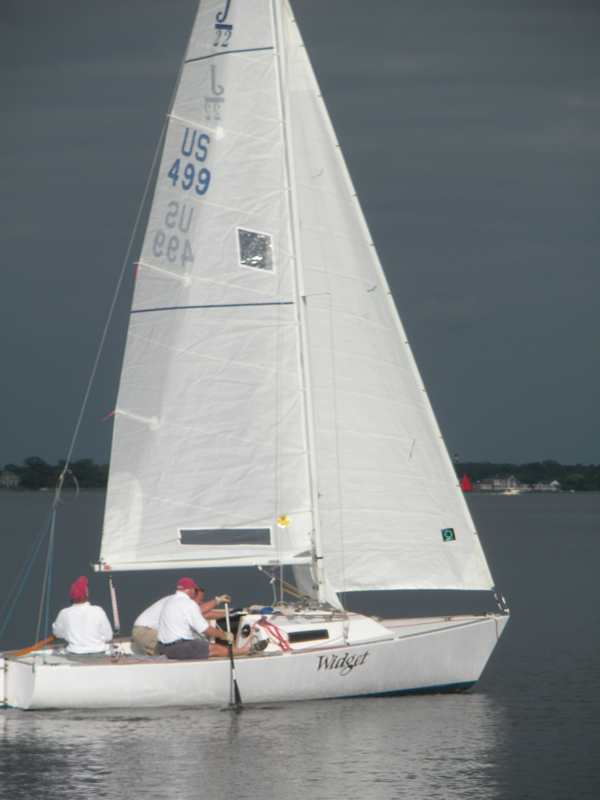 ---