Enjoying George Town

Chanticleer
Stephen and Roberta Arnold
Sun 30 Jan 2011 16:28
Sunday January 30, 2011
It's been awhile since my last blog entry and that's because we've been enjoying George Town – probably one of the few floating retirement communities around. Here's a sample of the regularly scheduled events.
Daily –
6:30 AM Listen to Chris Parker and the weather on the radio
8:00 AM George Town Cruisers Net where we hear what's going on for the day
2:30 – 4:30 PM Open volleyball for the uncoordinated on volley ball beach
Also at different time on the beach one can participate in
Bocce Ball
Playing Bridge
Basket Weaving
Dominoes
Sunday
9:30 AM Church on the Beach (we watch from the boat)
5:30 PM or so – Pig roast at Chat and Chill on Volley Ball beach
5:30 PM Happy Hour and sing along on Hamburger Beach
6:00 PM Trivial Pursuit contest
Monday
6:00 PM Texas Holdem Poker
7:00 PM Rake and Scrap party at Eddies Edgewater Grill
Tuesday
9:45 AM Yoga on the Beach
Wednesday
I'm sure there's something I just don't remember
Thursday
6:00 PM Texas Holdem Poker
Friday
6PM Happy Hour at Two Turtles
Saturday
5PM Beach party somewhere
Add to this the unscheduled events like the ARG (Alcohol Research Group), birthday parties, various lectures on the beach, walking on the beach, laundry, grocery shopping boat maintenance and the day fill up.
First issue about posting to the blog is getting internet access which usually involves a trip ashore. There are 2 WiFi services that can be accessed from the boat but their signals can be spotty. So there are a couple of options like this pay site
Or the free one outside of Exuma Market. This is a quiet Sunday, normally there is more of a crowd.
This is what the dinghy dock behind Exuma Markets can look like on a busy day. Note: The picture shows the second row of dinghies, there is another row between what you see and the dock. The dock is shaped like a T and there are 2 rows of dinghies on all sides
Once done in town it's time to head back to the boat – this is the only way in and out and the opening is little wider than a one car garage.
Once back to the boat it's on to Volley Ball Beach and the well known Chat and Chill bar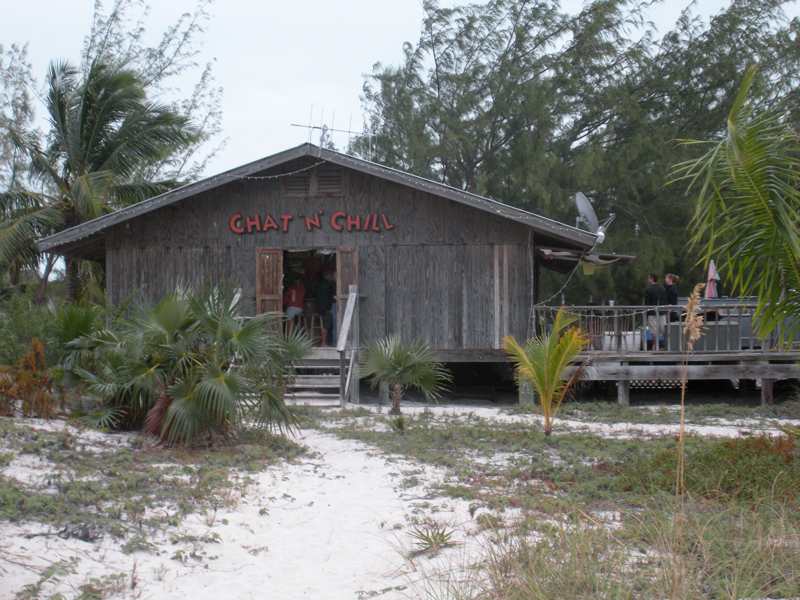 If you're not interested in a drink then there is also the opportunity to feed and pet some of the local sea life
We've also done some hiking including walking to the highest point in the area. Here's one view of the main anchorage area
And here is one picture of an ARG meeting. The winds were light and people gathered in their dinghies in the middle of the bay. Munchies were passed and several different types of alcohol were researched. Like any good government research project all conclusions were postponed until the next meeting. I hear this happens at every meeting.
---