Leaving George Town

Chanticleer
Stephen and Roberta Arnold
Sun 27 Mar 2011 01:09
March 26, 2011
Adult day care here in George Town is winding down so we'll be leaving tomorrow for Long Island and it's time to start posting again.
We've changed our cruising plans. Instead of heading to Grenada for the hurricane season we'll be going back to Florida for a week or so and then heading to Guatemala via Mexico and Belize. No particular reason other than we can.
The reasons for not posting recently is twofold – 1. A lot of what happens in George Town stays in George Town. 2. Roberta was in the in the states (see rule 1)
The pictures of me as one of the Chip 'n Dale dancers at a party wearing only a thong will not be posted (although they have been seen by Roberta). Nor will the story about how that came to pass be told.
One of the things I will talk about was a contest I entered as part of the George Town Cruisers Regatta. The Regatta is 2 weeks of fun and games liberally sprinkled with evening parties. I was part of a team entered in the Coconut Challenge. The idea was simple – teams of 4 people in a boat, paddled with hand held flippers, tries to collect as many coconuts floating in the lagoon as possible. The team with the most coconuts wins. I should also mention that holding, pushing and splashing the competition was allowed and almost encouraged.
Here's my team – the lady in the middle was our cheer leader
Some people chose to dress up
Everyone had to wear a life jacket, the how and where wasn't important
My team is in the center of the picture having a little one on one time with a competitor.
We did manage to gather 76 of the 900 or so coconuts in the lagoon
Which was enough to win second place and a bottle of wine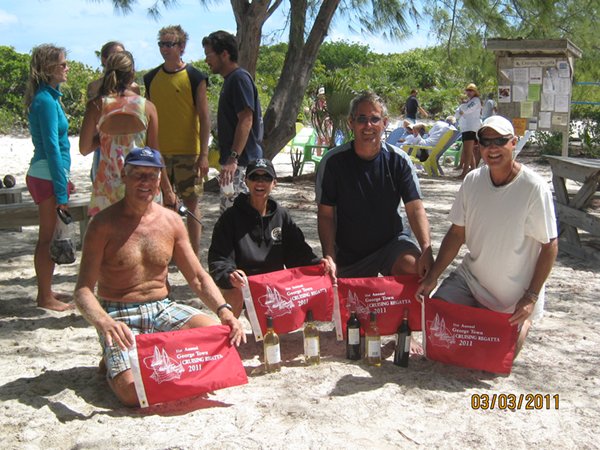 There was often parties on different boats complete with entertainment like this
This lady taught pole dancing as part of a physical fitness routine. Please be careful if you decide to try this at home.
So as the day care center closes and people move on, it's time for us to the same. Now it will be back to pictures of pretty water and beaches.
---