George Town

Chanticleer
Stephen and Roberta Arnold
Sun 23 Jan 2011 19:21
23:30.5568N 075:45.6020W
Sunday January 23, 2011
We anchored in George Town on Thursday and have been exploring the area since. Like most places we've stopped, where we anchor is dependent on the weather. The anchorage in this area is between two parallel islands running northwest to southeast and about 1 ½ to 2 miles apart. The prevailing winds are from the northeast to east so most people anchor behind the eastern of the two islands. When cold fronts come through the winds will blow stronger but from the northwest to west. With an approaching cold front many boats will move from eastern side of the harbor to the western side, and once the front passes they move back. Our arrival was at the beginning of this migration also known as the "Georgetown Shuffle" and today, now that the front has passed, the boats are moving back.
We anchored on the western side in advance of the front which is also closest to George Town proper, and are undecided about when or even if we'll move to the other side. When Roberta is in the states I'd like to be someplace where I don't have to move the boat so I'm trying to get a feel for the comfort level here. We also waiting for Monday's weather forecast because if yesterdays forecast holds we'll sail to Long Island for a couple of days next week.
Time to catch-up on some pictures
Just to prove that at least Roberta is in George Town
Here's one from Black Point. Roberta stopped these girls on their way back to school after lunch. The school has 48 kids in it.
We spent 2 nights in Little Farmers Cay, but our departure was delayed about an hour by the fog. This picture was taken as the fog was rolling in. Eventually the tower couldn't be seen at all.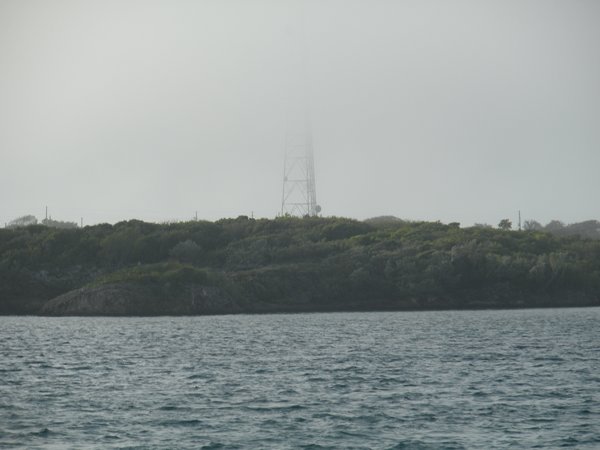 At Lee Stocking Island we were able to climb to the highest point in the Exumas all 115 feet of Perry Hill. It was a short climb but a great view
We also had another shark resting under the boat and saw a few starfish. This one is about 10" across.
---