Deltaville and Cellphones

Chanticleer
Stephen and Roberta Arnold
Wed 18 Aug 2010 01:15
37:32.9856N 076:19.9477W
Tuesday August 17, 2010 10 PM
Yesterday afternoon we arrived in Deltaville VA and I meant to write a blog entry last night but I fell asleep right after dinner so it didn't happen.
We are once again in a T-Mobile dead zone and based on today's planned itinerary it looks like we'll be without cell phones until Sunday. For anyone considering a cruise on the east coast I would recommend a Verizon cell phone. We have a Verizon wireless card and it hasn't failed us yet. At the marina I mentioned our lack of signal and the guy at the marina consulted his cell phone chart and T-Mobile wasn't listed. For Sprint and AT&T he could tell us where to go to get a signal. He said Verizon was the way to go.
Deltaville seems like a nice area especially if we had a car. There are a large number of marine repair yards, but the area is spread out so it's a long walk from the boat to any store. At the Deltaville Marina where we are anchored, we can use the dinghy dock for free, but if we want full use of all the facilities (pool, laundry, bikes, courtesy car etc) it would cost us $10 per person per day which really isn't that expensive for what it includes. We thought about paying for a day and grabbing the courtesy car for a day of sightseeing, but I think the marina would get upset since is shared by all marina guests.
The marina has a large haul out area that has at least 50 boats in it. There are boats from all over the world, from Auckland NZ to Venice IT to the local area. I think many folks park their boats here while they go home for a few months.
Here's a picture of the marina from our boat.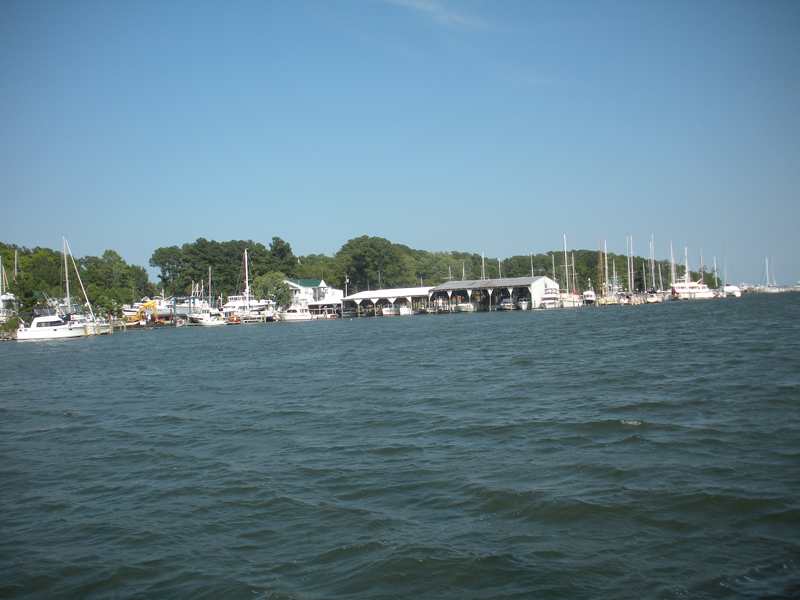 I've seen a couple of interesting names on power boats – "Retired Sailor III" and "Edward J. Wasasailor II" I wonder if they are apologizing for going over to the dark side? Each of these boats cost more than my total net worth so I guess
Our plan was to leave Deltaville tomorrow for Tangier Island, but there is a 70% chance of rain/thundershowers all day tomorrow. When we wake up tomorrow and the weather forecast is correct is correct, then we won't move.
---