A Not So Normal Night Aboard Peregrina

Peregrina's Journey
Peter and Margie Benziger
Mon 21 May 2018 21:32
 A Not So Normal Night Aboard Peregrina
It all started with a lovely, calm, relaxing sail….
After four days of visiting the remote and uninhabited mid-riff islands in the Sea of Cortez we could see, in the distance, Baja California.  Peregrina had a beam breeze which allowed us to fly the large genoa as well as the smaller staysail seen in the photo below.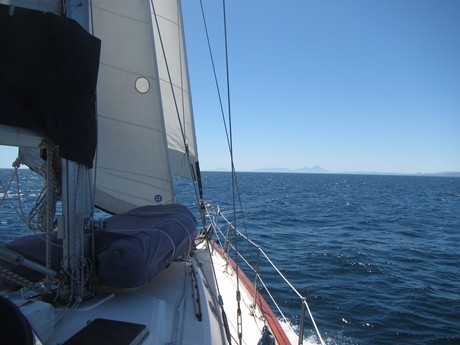 ​
A smooth sea, good wind and a huge current drove us towards land at a SOG (Speed Over Ground) of 8.4 knots which is about 2-3 knots faster than our normal cruising speed.  We were flying!

​
We anchored to the north of Point Trinidad, on the east coast of Baja California, at about 4pm and watched the sun sink slowly over the horizon. We were a bit concerned about the anchorage which the cruising guide describes as:
"Point Trinidad is located approximately 27 miles northwest of Cabo Virgenes and has a number of detached rocks lying off the point. The bay shallows gradually, preventing boats from anchoring near the beach at the head. The bottom is covered with a thick, wire-like, elastic seaweed, causing some boats to drag their anchors."
For dinner, we had pasta with mushrooms and tomato sauce then went to our bunk about 10pm to dream of sugar plum fairies dancing in our heads.  (Or, something equally as frivolous!)
All was good aboard Peregrina.  So, we thought!
About 2am, the Chubasco began.
Our cruising book describes a Chubasco as
"A violent but short-lived squall usually accompanied by thunder, lightning, rain and strong winds. Chubasco's are a summer time convection storm that can hit any time from late afternoon to early morning."
Around midnight, we could hear the wind whistling through the rigging. I got out of bed and looked at the wind velocity indicator. It was showing 30 knots which was a bit high but still OK.  I went back to bed.
About an hour later, I awoke to the boat surging against it's anchor chain, jerking and swinging wildly. The sound of the wind had increased to a high pitch as the metal rigging vibrated and the rope halyards slapped against the mast.
I again went to the nav station, which is lit in red at night to save our night vision prior to going on deck.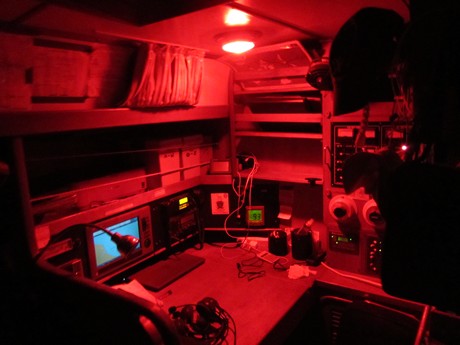 ​
We only had 9 feet of water under us. This made me very nervous as the boat was rising high with the waves and then crashing down.  I was afraid we might hit a protruding rock and damage the hull or, worse, drag anchor towards the shore and go aground.
When I turned on the wind instrument, I was taken aback by what I saw: 55.1 knots!   Hurricane
​ are  winds ​
that exceed 64 knots.

​
Then, I heard a sound I did not like. It was a very loud crashing sound on the darkened foredeck. I couldn't see anything but I knew that it was not a good sound.
I roused Margie from her bunk and we got ready.
We started Hercules, our trusty 110 hp diesel engine, just in case we needed him and put on our "Marriage Savers" which are hands free communication devices (walkie-talkies) that allow Margie and I to communicate easily in difficult conditions.

​
I also put on my PFD (Personal Flotation Device) and safety harness. Then, stepping outside the cockpit, I clipped on to the Jackline straps which run alongside the deck, I started forward on my hands and knees. I needed to keep my center of gravity low since the bow of the boat was not only jerking but going so far down into the water that waves were coming across the deck and washing over my knees and legs. Standing up against the water on the deck with a 55-knot wind seemed like asking for trouble. (Sorry I don't have any pictures, but I was pretty busy hanging on!)
When I got to the foredeck, I could see that the dingy had lost a lot of air and the 55 knots of wind was screaming under the hard, rounded bottom and lifting it skyward like an airplane wind. The 160-pound dingy was rising skyward and then crashing back onto it's cradle. This had to be stopped before the dingy broke free and smashed into either the mast, cockpit enclosure or took out the stainless steel stanchions.  It took me quite a while until I was able to cinch the dingy down hard since it tended to crash back into the cradle when my head or hands were involved.

​
 At about 4am, the Chubasco winds had diminished enough to get the anchor up and motor Peregrina out into deeper water. As you can see in the left screen of our chart plotter below we were very close to land.  It shows our approach track coming down from the top, where we anchored and Peregrina's path departing to the right.

​
 Once we had sea room, we settled down, heated up a cup of coffee and waited for dawn when we could continue on our way heading south towards Cabo San Lucas.
Just so you know, Margie and I sleep in the aft cabin but we also have a wonderful forward cabin for guests. Please do consider coming down and spending a few nights with us.  We're told these Chubasco winds only happen once or twice a month!  You might be lucky enough to experience one!!! 
Just kidding…
                                                              ****************
The wonder is always new that any sane man can be a sailor.    
Ralph Waldo Emerson



--

--
---