Great Sandy Strait to Mooloolaba!

Peregrina's Journey
Peter and Margie Benziger
Mon 24 Jan 2011 01:30
Position Report

-

26:41.171S

153:07.661E
Leaving Bundaberg behind, we sailed into beautiful Hervey Bay and the entrance to Great Sandy Strait which runs between the mainland and Fraser Island, the largest sand island in the world.
WOW!!! Hervey Bay was named by Captain Cook in 1770 for Captain Augustus John Hervey, 3
rd
Earl of Bristol.
That Captain Cook sure got around!
With all that traveling, itâs interesting to note that he somehow found the time to father six children along the way!
Unfortunately, three died in infancy.
Of the surviving children, his son, James, rose to command H.M.S. Spitfire but died at 31 under mysterious circumstances while being rowed out to his command ship in Poole Harbor.
(Hmmmm?)
Nathaniel was lost at sea at the age of 16 when the H.M.S. Thunderer floundered in a hurricane in the West Indies in 1780 and his youngest son, Hugh, died at Cambridge where he was studying religion in 1793, possibly of plague.
He was just 17.
Captain Cook, himself, died on the beach in Hawaii in 1779 at the hands of a local warrior.
He was only 49.
Ironically, he was once revered as a âGodâ in Hawaii.
My how things change!
Mrs. Cook survived the longest to die at the ripe old age of 93 in 1835.
(She stayed home.
Maybe she was the smartest of them all!
LOL)
Anywayâ.back to Peregrinaâs voyage

Whale watching is the major industry in Hervey Bay. Nearly 2000 humpback whales migrate along Australiaâs east coast heading north from Antarctica to the Great Barrier Reef by June each year and on to the Whitsunday Islands where they mate and give birth before heading south again.
The best viewing times in Hervey Bay are August to October when they are heading home so we were just a little too late.
I was disappointed because they can grow up to 55 feet long, weigh up to 45 tons and there are only about 6000 left in the southern hemisphere.
Iâm sure there will be other opportunities along the wayâ
By entering the Great Sandy Strait, we avoided going outside and around Fraser Island which would have been a long ocean passage in rough seas.
Inside the water is normally smooth as glass.
The only drawback is that Great Sandy Strait is 40 miles long and is dominated by shoals, banks and VERY shallow water.
For Peregrina, with a 6â2â draft ââshoals, banks and VERY shallow waterâ sends shivers down her spine!
However, we were assured by other sailors that the area was well marked and that we should have no problem as long as we used the tides to our advantage.
The deeper water ran along the coast of Fraser Island which was proclaimed a World Heritage site in 1993.
Thankfully, most of the island is now protected by the National Park system but, up until the 1980âs, there was sand mining, timber milling and land-grabbing developers crawling all over the place!
We made several spots along the coast including Kingfisher Bay, South White Cliffs, Garryâs Anchorage and then down to Tin Can Bay.
They say that Fraser Island was created by 800,000 years of longshore drift and that all the sand from the eastern coast of Australia ends up here sooner or later.
Itâs hard to believe itâs the worldâs biggest sand island - basically a HUGE sandbar measuring 72 miles by 9 miles - because itâs actually very lush and green in most parts!
There are rain forests and over 40 freshwater lakes to swim in.
But, donât try swimming in the ocean!
Itâs full of âman-eating sharks!â
(The guidebook REALLY says that!)
The huge sand dunes, or âsand blowsâ as the Aussies call them are the most amazing feature of the island.
From the sea, you can see the cliffs along the shoreline but, in the interior of the island, there are massive dunes rising up to 731 feet high!
The most impressive is adjacent to Lake Wabby which is surrounded on three sides by eucalyptus forest and on the other by a giant âsand blowâ which is encroaching on the Lake at a rate of almost 10 feet per year.
When you climb to the lip and look over, youâd think you were in the Sahara Desert!
Itâs really cool because some people bring up big pieces of cardboard or plastic swim rafts and slide down the hills.
(The walk back up was too much of a deterrent to us to give that a try, but it did look like fun!)
Fraser Island can be explored with a self-drive 4WD vehicle but it is much better (and more ecologically prudent) to hike on your own, do a self-drive group tour with 10 people per vehicle or book a guided bus tour.
Apparently, there are a lot of âweekend warriorâ accidents with hotshot drivers who really donât have sufficient 4WD skills in sand, mud and waterâwe opted for hiking and it was glorious!
One last word about Fraser Island - itâs the home to a large pack of more than 150 dingoes, Australiaâs native wild dog.
We didnât see any dingoes when we were on Fraser Island but there were signs everywhere warning us to be careful and not to feed or harass the dingoes lest you get hit with huge fines up to $3000!
You may remember back in 1980, an Australian woman named Lindy Chamberlain claimed a dingo dragged her baby out of a tent where her family was camping at Ayres Rock (now Uluru) and ran off with it.
Despite her insistence all through the trial that, âA dingoâs got my baby,â Ms. Chamberlin was convicted of murder in Darwin.
She spent the next seven years, three of them in jail, appealing her conviction.
She was ultimately acquitted with complete exoneration but, it wasnât until 2001, when a dingo mauled a 9 year old boy to death on Fraser Island, that the debate about the danger posed to human life from dingoes was settled.
This sad episode in Australiaâs history was made into a movie starring Meryl Streep called âA Cry in the Dark.â
Anyway, moving on, (QUICKLY, Peter pleadsâ) we arrived in Tin Can Bay Marina at the southernmost end of Great Sandy Straits, where we spent a really fun evening with American, Michael Cook, a âStation Hostâ for the Seven Seas Cruising Association before heading back out to open ocean through the notorious Wide Bay Bar and the infamous âMad Mileâ exit over the bar and into the ocean.

Exiting the Great Sandy Straits would appear to be a âno-brainer.â
There is adequate water (12 feet at low tide) and a relatively wide channel which is well-marked.
The problem lies in the fact that incoming ocean waves can reduce the water depth by up to ONE HALF (Let's see...that's 6 feet and we draw 6'2" - Yikes!!!). The seas tend to back-up inside the Straits so you must time your exit/entry through the bar along with a rising tide.
Otherwise, a huge mass of water can come rushing out with an ebbing tide and, when it meets the incoming waves, it becomes a wild ride and you can pitchpole very easily. Recently, a 38â catamaranâs bow was forced downward, struck the bar and flipped over upside down!
We timed it right and had a very rolly trip but an unremarkable exit which was just fine with us.
From there, it was a supersonic flight for Peregrina over the next 60 miles to Mooloolaba.
We averaged over 8 knots with an unusual northwest wind and a huge following current helping us along.
It was a glorious day at sea ending up in the beautiful harbor at Mooloolaba â which reminded us of Las Olas in Fort Lauderdale.
It was still a week before Amyâs scheduled arrival in Brisbane and we could have sailed on but we decided that this was the perfect spot to âchill outâ for awhile.
More about Mooloolaba and our Christmas holiday adventures with Amy in the next entryâ
Random photos below include some shots of Fraser Island and some of the quirky characters we've met along the way. A dolphin encounter at Tin Can Bay and some shots from the Mad Mile at Wide Bay Bar, including the catamaran that flipped upside down plus a dingo thrown in for good luck!!!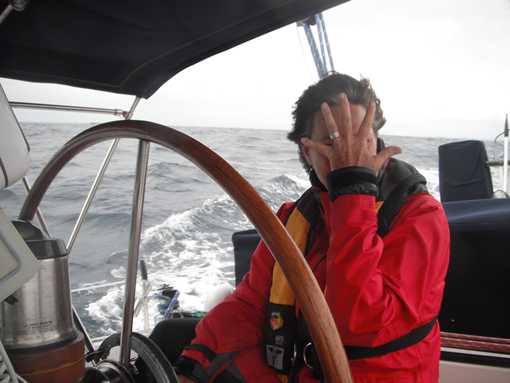 ---