Slogging Our Way To Singapore

Peregrina's Journey
Peter and Margie Benziger
Fri 11 Nov 2011 01:10
Position Report -
01
:
20.530
N 1
03
:38
.220
E

Slogging our Way to Singapore
The passage from Belitung, Indonesia to Singapore was not one of our favorite memories.
It was a miserable, 260 nautical mile, beat to windward with an overnight and two long day sails with island anchorages at night – much of it in rain and high wind.
This is an area where sailors must keep a constant and most vigilant watch for long fishing nets towed by hundreds of small fishing boats.
They are extremely difficult to see even on a GOOD day and we were having a very BAD one!
We experienced a terrible electrical storm in the narrow Durian Passage with thunder and lightning crashing all around us.
The photo below shows Peter just before that dark cloud totally enveloped us and we were forced to zig-zag our way along for almost an hour in the tempest trying to avoid running into the nets which are marked - not well at all - by white floats every 40-50 feet.
You'll see one small float in the previous photo. Some of these lines extend the length of a football field. Imagine trying to spot them in a raging sea!!!
It's a miracle that we didn't get tangled in one of them and Peter was exhausted when the storm finally passed.
We found an anchorage shortly after the electrical storm and spent one last night with our good friends, Milam and Colin from Nae Hassle who would be sailing off in a different direction the next day to visit Milam's family in Malaysia.
We'd traveled with them since Darwin on the Sail Indonesia Rally and had become good friends.
Colin is almost blind from a degenerating macular disease that apparently has no cure.
He is an inspiration to everyone who meets him with his adventuresome spirit and joie du vivre outlook.
Over the holidays, they plan to go skiing in his native Scotland with Milam in the lead and Colin following her moves down the slopes.
Moving on to Singapore the next day, we entered the Singapore Straits, one of the busiest shipping thoroughfares in the world. Large tankers, cargo ships and massive offshore drilling rigs pass through the Straits in both directions less than ten minutes apart from each other 24/7!
The Rules of the Road dictate that smaller vessels heading to the mainland must cross the Straits at right angles to the shipping channel in order to spend as little time as possible in the traffic scheme.
Believe me, you don't want to spend one minute longer than necessary amongst those leviathans of the sea!
Peregrina, at 47 feet, is nothing less than a barnacle on the back of a whale compared to these ships.
We picked our way through the sleeping giants and then barreled across the East/West traffic corridor attempting to time our crossing to pass astern one freighter and well ahead of the tanker coming from the other direction.
After crossing the shipping lanes Peregrina entered the anchorage area. The following photo of our AIS chart plotter shows the HUNDREDS large commercial vessels either at anchor or moving around.
Weaving in and out are tugboats hauling barges full of sand and building equipment around the harbor for the many land reclamation projects going on as Singapore continues to grow as a shipping, manufacturing and financial world leader. Singapore Harbor is truly a shipping megalopolis with vessels of every size, category and nationality.
Once we made it through the Singapore Straits and the working anchorage, we headed up the more subdued Johor Strait, towards Raffles Marina, where we would stay for a week of rest and relaxation.
But, not quite yet…..

Just as we were reaching the entrance to the marina at the base of the connecting bridge from Singapore to Malaysia, we noticed a HUGE waterspout heading our way.
Even though we live in Florida where waterspouts are sighted frequently, I had never been close enough to see the surge of water drawn forcefully up into the air from the sea below.
It was pretty impressive.
That powerboat in the photo was flying down the river "like a bat out of hell!"
Luckily, the twister tore apart before we got too close for comfort.
We spent a week in the lap of luxury at Raffles Marina.
Those of you who know Peter, even slightly, know his reputation for, shall we say, frugality.
Well, Peter knows a bargain when he sees one and Raffles was offering a 50% discount on berths with water and electricity - plus a restaurant, pool, Jacuzzi, laundromat, marina store - even a bowling alley!
After three months of "roughing it" in Indonesia, with no marinas …just island anchoring or overnight passages, we were in heaven!!!
From the marina, we could take a shuttle bus to the MRT, Singapore's excellent subway system for the 40 minute ride into the city.
It's a marvelous transit system – very fast, very cool (AC-wise) very clean and efficient.
Frankly, everything in Singapore is pretty efficient.
We made a couple shopping excursions into Singapore and enjoyed an afternoon exploring Chinatown.
Here's Margie standing in front of one of the entrance gates.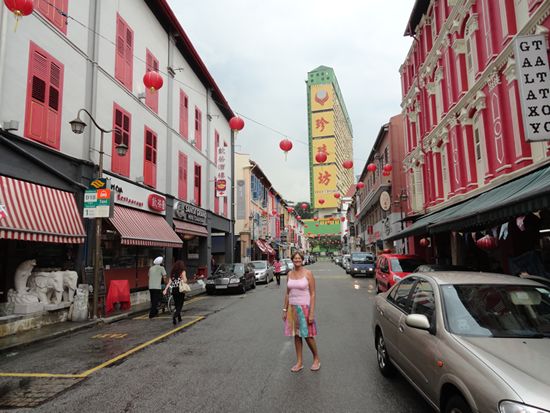 It's like entering another world with sights and sounds and smells that both entice and repel American sensibilities.
We had a myriad of choices for restaurants serving every possible Chinese specialty.
We passed on the offering below…
It's always a pleasure to spend time with the "locals" and we had one wonderful day trip in the company of Garrett and Gail Siegers, American ex-patriots in Singapore for 12 years and friends of our friends, Peggy and John Stephens.
They graciously offered to show us around the city and we had a wonderful day sightseeing with them.
We toured the Boat Quay and Clarke Quay areas along the Singapore River and made an obligatory stop at the famous Merlion (half fish/half lion) statue which is Singapore's national symbol.
We gasped at the massive business and hotel complexes rising from yet another land reclamation project and walked through the historic district of town, reluctantly passing up an opportunity to visit the Asian Civilizations Museum which is world-renowned.
We drove to the American Club for a look around this huge American "ex-pat" complex and, apparently missed Tiger Woods working out in the gym by just a day.
(Very random….I wasn't disappointed in the slightest!)
See us below in the "Cheers" look-alike watering hole at the American Club where pennants from colleges and universities all over the USA adorn the walls. We even found the pennant from Peter's alma mater 'Dartmouth' on the wall.
It was "home away from home" for a couple hours with wonderful new friends.
So, now a few facts about Singapore…

Singapore, with a population of just over 5 million, is made up of one main island and about 60 smaller islands that in total cover just 228 square miles.
It sits 85 miles north of the equator so it's hot, hot, hot with abundant rainfall and high humidity.
Singapore is a city-state so basically that means the city IS the country.
It's linked to Malaysia by two busy causeways over the Strait of Johor which thousands of workers and casual visitors cross each and every day.
Singapore was briefly part of the independent Federation of Malaysia, from 1963-1965, after British colonial rule ended.
However, it was a marriage of convenience and the Malays couldn't adjust to the overwhelming influence of the Chinese in Singapore and, some say, blatant racist attitudes so the island was kicked out of the Federation and left to fend for itself as the Republic of Singapore.
Under the guidance of Prime Minister Lee Kuan Yew who is considered the "father of modern Singapore" the city-state prospered with a well-ordered society and a well-run economy.
Malaysia, on the other hand, continues to struggle with economic hardship, unemployment and social ills that Singapore would never tolerate.
The close proximity to Malaysia makes for "strange bedfellows" at times but the two countries have learned to get along in a mutually tolerant manner acknowledging that exchanges in trade, technology and working talent are necessary in order for the survival of both countries in a region where discontent can lead quickly into civil unrest.

Modernization, industrialization and a focus on technology has paid off big time for Singapore.
Ambitious housing, education, health, pension and defense programs have proved successful as well – although the urban development seems visually unappealing and environmentally challenged in many cases.
Singapore is the world's 4
th
leading financial capital, the 3
rd
largest oil refining center and the 2
nd
biggest casino gambling market in the world.
The huge residential/office towers below rise above a casino and host a restaurant, bar and swimming pool with trees on the connecting roof tops.
Singapore is home to more US dollar millionaires per capita than any other country and The World Bank notes Singapore as the easiest place in the world to do business.

We only scratched the surface of this little city-state with so much power and influence around the world.
Someday, we'd like to return…but for now, the journey continues…
-------------------------------------------------

Peregrina blog:
http://blog.mailasail.com/peregrina
---