Rockin' in the Rainforest! Borneo

Peregrina's Journey
Peter and Margie Benziger
Tue 31 Jul 2012 05:29
01:33.5N 110:24.3E
Rockin' in the Rainforest

Once in awhile, you manage to be at the right place at the right time.

It's not always easy when you depend on the wind and the weather to chart your course. In truth, it's almost impossible to have a "schedule" when you make a sailboat
your home as well as your main source of transportation.
But, sometimes, it works and, recently, we found ourselves in Borneo just in time for the
15th Rainforest World Music Festival.
Website:
www.rwmf.net
The Festival is held at the Sarawak Cultural Village, an authentic living museum featuring the traditional dwellings of the many different peoples of the Malaysian province of Sarawak on Borneo.

It is at the foot of the majestic Mount Santubong - just four kilometers from the village of Santubong where Peregrina was anchored in the river.

We paid $100 each for a three-day pass to the Festival which ran from July 13-15th.

On the first day, Peter and I wore our vintage tie-dyed T-shirts just so we could embarrass our children with this photo.

Our friends, Betty and Charlie Preen from Australia are with us.
We hitchhiked to the Cultural Village and back home each night to the anchorage.

There were small vans charging 5 ringgits ($1.66) each way that we could wave down but, most times, we were picked up by locals attending the concert or vendors heading to/from the event.

They were delighted to offer us rides and fascinated that we had come half-way around the world to visit Borneo.

The Malays are some of the friendliest people you will ever meet and the whole weekend was just a love-fest from the moment we stuck out our thumbs Friday morning until the last note was played and we headed back to Peregrina Sunday night.

I cannot imagine a more spectacular venue for a celebration of international music and culture.

During the day, we attended a slew of workshops with musicians from over twenty countries around the world.

These were held in authentic re-creations of the longhouses and tall houses of the various ethnic communities in Sarawak as well as in an acoustically perfect amphitheater and a beautiful lakeside pavilion.

Here's one of the tall houses workshops built at the side of the mountain and another with Peter and I waiting for the workshop to begin.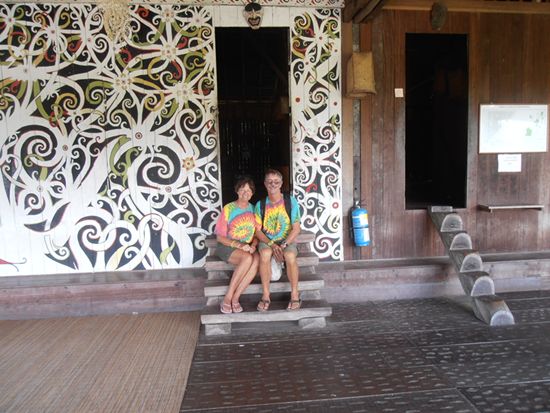 In between the workshops, we strolled around the lake investigating the various craft booths, cultural exhibits and food stalls.

Often chatting with the musicians who, unlike any concert I have ever attended, were found all day long mixing with the concert-goers in the public areas and attending the workshops!

It was just amazing to be so up close and personal with these incredibly talented individuals who were just as anxious as we were to learn about instruments brought from different countries that most of us had never even seen or heard before!

We were told that the area in front of the main Jungle Stage and the smaller Tree Stage (off to the right) could accommodate up to 8,000 people.

Here's what it looked like during the day!

Once the sun went down, sending a rosy farewell that was reflected on the mountain and the rainforest surrounding us, we settled into folding chairs and tarpaulins on a little hill to the left side of the Jungle Stage.

Here's what that same venue looked like once the music began to play!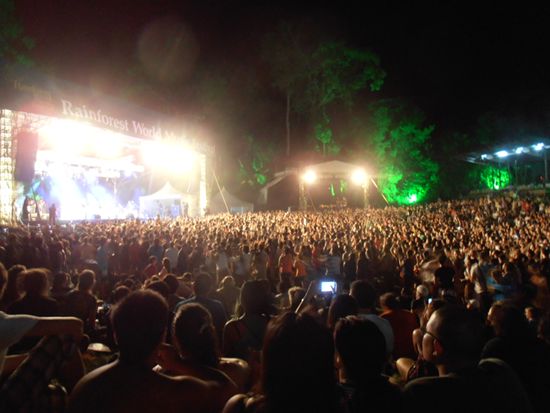 During the day, there were three venues offering workshops all afternoon.

The hardest decision was choosing which ones to attend.

We sat in on SHANTA, a master class with Samuel Dass (sitar) and Prakash Kandasamy (tablas) who are considered among the best in the world.

Then we watched musicians from Sweden, Scotland, Mongolia, and Malaysia as they demonstrated LONG STROKES on bowed stringed instruments.

Here the performers were responding questions from the audience.

The crowd favorite of the entire weekend turned out to be KHUSAGTUN, a six-member ensemble from Mongolia who displayed very unique horse head fiddles and a zither and demonstrated the incredible art of throat singing in a workshop called HIGHS & LOWS.

These are nomadic people and the name comes from the cart that their horses pull as they travel with their families across the country.

Their music was evocative of the thunderous hoof beats of horses in the vast open plains of their homeland and their musical/vocal skills were astounding!

I can't seem to insert one of our videos in this email but you can hear them in this YouTube clip from Human Planet.

It's from a concert at Albert Hall in London.

Go to
http://www.youtube.com/watch?v=NQkrsdjJB2s&feature=share
and slide the cursor to 1:45 minutes to start. Throat singing is taught to young boys (mostly) starting at about 12 years of age. It comes from deep down inside the stomach and then reverberates in the throat. You'll hear dual tones reaching incredible highs and lows at the same time. Just amazing!!!
Moving on, we listened to the pounding HEARTBEATS OF SOUTHEAST ASIA with the Diplomats of Drum from Malaysia and then SIX OF THE BEST – four guitar players from String Sisters, (Norway) and La Zikabilo (France) who all play 6-string guitars. The bongo player was extra.

There was a wild brass instrument session called METAL IN MY MOUTH with members of Cankiisou from the Czech Republic, Kanda Bongo Man and La Zikabilo and an all-star jam session for plucked string instruments called FINGERS AND THUMBS with 18 musicians representing almost all the bands on the schedule and some incredible instruments that most of us had never seen before.

Here are two band members from Mamadou Diabate's Percussion Mania in Burkina Faso who played the N'goni, a beautiful instrument made out of a gourd.

There were dance workshops where we attempted to FLIRT LIKE A BRAZILIAN and HIP, HIP, HIP… THE CONGOLESE KWASA KWASA - a "booty" dance to end all ifs, ands or butts! Believe me, you DON'T want to see pictures of us at those workshops!!

Finally, there was THUNDER IN THE JUNGLE with drums and percussion instruments from around the world. Words cannot describe what thunder we're talking here...

And, those were just the workshops we attended!

There were so many others that we wished we could have sat in on but, so little time...

The most amazing thing to see was these world class musicians sitting in absolute awe of each other's individual genius!

There were no "egos" here.

No religious or political divisions. No VIP treatment necessary and no burly security personnel guarding the "talent."

We had all come for the music and the respect and camaraderie was universal.

The evening performances were non-stop from 7:30pm-12:30am with bands alternating constantly from one stage to the other.

From our vantage point on the hill, we could see both stages with an unobstructed view and relax comfortably in our chairs and tarpaulins.

(We called it the Senior Citizen Section!)

But, whenever we wanted to feel more of the intensity of the concert, we would weave our way down to the front of the stage where several thousand people jammed forward to experience the full force of the music.

If you timed it right, you could manage to get yourself right upfront of one stage while the band was playing on the other.

We watched Cankiisou from about five rows back and, believe me, those Czech boys ROCKED!!!

Here's the lead singer with his incredible saxophone player.

As each evening's line-up moved along, the pulsing beat of the music thundered louder and louder and the final performances of headliners Zee Avi, (Malaysia) La Zikabilo, (France) Cankiisou, (Czech Republic) Mamadou Diabate's Percussion Mania, (Burkina Faso) and Kanda Bongo Man (Congo) were awesome!

The ground below our feet was shaking and we danced like there was no tomorrow!

I felt like I was back in the 60's….and then "tomorrow" came and I realized that I actually WAS in my 60's!

Whoa!!!

Where did the time go?

No worries, mate!

This just might have been one of the best déjà vu moments of my life!

And, you know what?

I've still got the moves!

I've still got the beat!

I've still got IT – whatever IT is!!!

Heck, I might be a little tired…a little sore…but pretty darn happy to still be rockin' and rollin' in Borneo with my best buddy, Peter Benziger!
---