Life "on the hard" is HARD

Peregrina's Journey
Peter and Margie Benziger
Tue 16 Dec 2014 17:53
​10:66.0N, 61:51.6W​
Life "on the hard" is HARD!
What do we mean when we say that we are "on the hard?" Basically, it means that the boat is not in the water but is on the land, propped up by eight metal stanchions while its owners travel or conduct boat maintenance and repair.  Nautical "spa treatments" some might say... 
Peregrina 
​was "on the hard" since July 24
th
.
Here's a picture of her in the Power Boats Marina in Chaguaramas, Trinidad.

​
 Let me backtrack a bit… In July, we sailed to Trinidad from French Guyana having crossed the Atlantic from Namibia (Africa) to Brazil and traveling westward along the northern coast of South America.  We chose Trinidad to go "on the hard" because it was below the so-called "hurricane box." This is an area in the southern Atlantic Ocean and the Caribbean Sea that stretches from  Latitude 10 degrees north (Just above Trinidad) to 23 degrees North.  Insurance companies have decided that during Hurricane Season, which officially runs from June 1-Nov 30, any boat "inside the box" will not be covered in the event of a "named storm," which distinguishes a hurricane from a simple tropical downpour. I often wonder why hurricanes receive names while all other types of weather calamities do not!
Anyway, as we approached Trinidad from French Guyana, we had the choice of going along the southern route closer to Venezuela, known affectionately as "Serpents Mouth" or around the northern tip of Trinidad.  I have concluded over the years that sailing in areas with terribly threatening names is fun.  Margie, however, put the kibosh on this idea after we read a note in the sailing website "Noonsite" that said Venezuelan Pirates operate in this body of water. Yes, there are modern day Pirates in Venezuela today. We have good friends, Bob and Hella aboard Explorer, who were attacked just last year. For a description of their ordeal go to www.noonsite.com and in the upper right hand corner type in "piracy" in the search. Then look for "Piracy Reports 2013" The look for "Venezuela, Paria Peninsula: Yacht Bordered" November 2013. 
Anyway, Captain Peter wisely changed course and we took the northern entrance, to Trinidad's famous seaport known as Chaguaramas.  This passage was called Boca de Monos. (Monkey's Mouth) The first thing you see when arriving is an amazing number of masts on the land; perhaps a thousand!
Then you go ashore and you ask "Where are all the people?"   Well, the answer is that Chaguaramas is a giant storage bin for lonely boats during hurricane season. The owners fly out to pursue their "landlubber life."  Some go to visit family, some to work, some to tell tall tales of epic sailing adventures far removed from the truth. (Please note that this author is NOT one of these. Everything I say is true and VASTLY understated!)
We joined the exodus and left Peregrina behind to return to the States and see family, friends and for Margie to go back to work. (YEAH, Margie!!!)   Even though my wife has missed a good deal of the internet age and is less than a social media maven, she is still a great writer and she is invited to return to her job at Cheryl Andrews Marketing each year. We are really blessed to have Cheryl as such a good friend and supporter of our itinerant lifestyle.
But, after almost two months in the States, I'd had enough. I missed my "home." So, I left Margie in Miami to build up the "sailing kitty" a little more and I returned to my beloved Peregrina.  HOWEVER, I forgot how HARD it is to be "on the hard!"  I think Margie had a better grasp of the situation and was a bit wiser for delaying her return by an extra month!
This is a picture of the ladder going up to Peregrina which we go up and down about
​3​
0 times a day. How would you like to climb a ladder
​3​
0 times a day to get in your front door?

​

Below is a picture of the nautical "facilities" aboard Peregrina while on the hard.  For obvious reasons, the normal toilet, which "exits" out to sea, cannot be used
​on land ​
so we opt for the luxurious blue commode shown below.
​ ​
​
Please note that Margie has mandated that emptying the commode each day is a 'blue job."
Of course, there is a shower and bathroom complex a hundred meters away.  And, yes, it can be reached in the middle of the night by climbing down the ladder but that's not such a great idea when you are half awake! 
Who thought that at 64 years of age I would be peeing into a bucket?  OK, I know…more information than you needed…
During the day, we are involved in Peregrina's spa treatment. As a girl in her "golden years," Peregrina is now 26 years old. In addition to her age, she has wandered about 35,000 sea miles around the globe with us in the past five years.  For these reasons, Peregrina needs and deserved an extended spa treatment - known as a "Re-fit" in nautical terms.
Most of the work is done by us but some has to be done by local craftsmen. The problem is that this is Trinidad and when someone says "Don't worry, I will be there tomorrow" it can mean tomorrow, the next day, the next week or never! And, if you complain that they did not keep an appointment, well, that is the best possible way to slow down any hoped-for service!
Here are pictures of just a few of our efforts:
First of all, here is the mess I live in when Margie is not here.  I have to admit our lives are much more  organized when she is around…but Blue Jobs are MESSY!!!

​

On the way across the Atlantic, our mast tang broke and we were lucky not to lose the rig. (The tang connect the stainless steel support wires to the mast.  In the photo below you will see the stainless steel break. Imagine the strain required to break this piece of metal!

​
We replaced zincs deteriorated from electrolysis. Electrolysis is the passage of stray electric currents within your boat into the salt water. We never see it happening, we don't know when it is happening but those little electrons seem to seek salt water.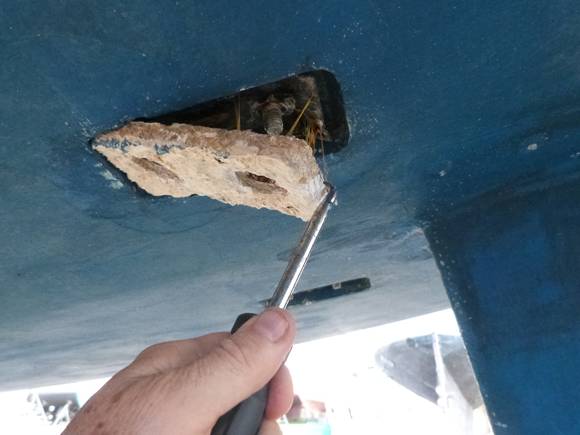 ​
Due to a bad rigging job in Capetown, we sailed 6,000 miles across the Atlantic with a broken boomvang, which was both dangerous and drained a lot of emotional attention.
Here we are finally fixing it.

​
Below you see a contractor welding broken running lights ripped lose by the spinnaker sheets in a sudden gust of wind.

​

When we crossed the Indian Ocean the forward head started leaking into the boat. (Imagine the smell…no don't). Finally enough was enough and I took our the old one and put in a Brand New Head!

​

Is that the Michelin Man painting the keel.  Or, maybe it's the Pillsbury Dough Boy?  No, the man in white is your esteemed Captain Peter!)

​
When Margie arrived, she polished all the stainless steel so that Peregrina could really shine!

​
Our watermaker broke in French Guyana. Here you can see it removed from it's compartment and getting some tender loving attention from your's truly. 


​
In Saint Helena in the Atlantic we bought some diesel from a local boat boy and the fuel had biological growth. Here I am building a fuel polishing (cleaning) system so that I can keep our fuel clean at sea.

​
Last but not least, Margie cleaned the deck on hands and knees to remove almost five months of boatyard dust and dirt
All told, I spent seven weeks and Margie spent three weeks working on Peregrina while on the hard. In the 49 days, I spent on the hard I took one and a half days off. So, if you think that the cruising lifestyle is just eating mangoes and knocking back Margaritas, I invite you to visit during Peregrina's next refit.
Life on the hard is really hard…sometimes BLOODY hard!

​
APPENDIX [Warning: Reading the following might not motivate you to go sailing]
The following is a list of the major refit projects we finished this past week. It is offered for sailors who will understand the specific tasks or for those contemplating a life at sea which is filled with endless, back-breaking manual labor tasks.  In my professional life I sat at a desk. Now I am a plumber, electrician, steel worker, engine mechanic, painter, sail mender,  wood worker, etc.   Life is funny!
-Rewire port running light
-Remove genoa sail, sheets and forestay in order for the travel lift to move Peregrina in/out of drydock
-Clean and polish all 42 pieces of stainless steel on deck
-Disassemble and grease jib blocks
-Remove mainsail, boom and take to metal shop to fit boom vang. Re-assemble all on the boat.
-Clean all diesel jerry cans
-Clean dingy
-Go up mast on bosuns chair and examine rig, replace broken mast tang
-Put waterproof liquid on dodger and bimini
-Clean deck on knees with scrubbing brush
-Paint man overboard pole
-Clean aft deck lockers
-Re-fill propane tanks and re-work rubber "O" ring seal
-Remove 115 lb anchor and send for galvanizing
-Remove 300 feet of 3/8 inch chain, clean, turn end-for-end and put on new depth markers
-Buy and install new galvanized shackles for anchor
-Reeve new flag hosts
-Reeve new lazy jacks
-Remove forward head, buy new one and install with new lines
-Remove watermaker and take electronics board to USA for evaluation. Return and re-install
-Design and construct fuel polishing system for contaminated fuel tank
-Remove VHF and send for repair. Re-install
-Fix printer
-Test all sea-cocks and have contractor change thru-hull fitting for aft sink
-Clean and polish hull (Contractor hired)
-Paint hull
-Remove autopilot motor, oil reservoir and hydraulic ram. Purchase new autopilot motor from USA.
   Have new seals put in hydraulic ram (Contractor hired) Re-install and test all autopilot components.
-Detach steering cables and check all pulleys and wheels to Edison steering column
-Have new dingy outboard mounting plate made of wood (Contractor hired)
-Have outboard engine serviced and new impeller installed (Contractor hired)
-Remove main battery bank, switch order, clean linkage and re-direct 12V charging to main bank
-Re-program SSB channels for Caribbean reception
-Order new hatch seals from USA (still waiting)
-Research and order new dingy cover which arrives to be the wrong size – Expletive deleted!
​Thankfully, Peregrina was successfully launched and we arrived in Grenada yesterday.
​


--



--

--
---