Los Roques ROCKS! Part 1

Peregrina's Journey
Peter and Margie Benziger
Fri 6 Mar 2015 20:29
11:56.7N   66:40.9W

Los Roques ROCKS!!!
There have been MANY times on our journey around the world when Peter and I have stopped and said to each other…"It can't possibly get any better than this!"  That's why it's always so difficult when someone asks us, "What was your favorite place?"  How could we possibly choose?
Well, we still have about 800 miles to go before we complete our circumnavigation so I'm not going to try to answer that question quite yet but we certainly have a contender to add to the mix now that we've spent 15 idyllic days in the Venezuelan archipelago known as Los Roques which appears in the lower right of the map below.

​

Los Roques (The Rocks) is approximately 285 miles west of Grenada and 90 miles east of Bonaire. The archipelago lies about 80 miles off the mainland of Venezuela and about 88 miles from the capitol city of Caracas. 

Sadly, the political/economic situation in Venezuela right now is very unstable and, in their desperation, piracy has become an issue along the mainland coast.  Cruisers have been warned by many reliable sources to avoid the beautiful anchorages that stretch along Venezuela's five hundred  miles of northern coastline from Punto Pargo in the Gulf of Paria near Trinidad all the way to the Colombian border.  Peter and I never even considered traveling close to shore and, intentionally, went north from Trinidad to Grenada before heading west so that our route would be well off the Venezuelan coastline.
However, Peter was determined to visit Los Roques.  The island chain had been "on his radar" for years!  He had traveled to Venezuela quite often when he worked for Pepsi Cola in the 90's and had heard so many wonderful stories of the beautiful islands of Los Roques that he knew this was something we should not miss! 

On the other hand, I was a bit intimidated by the security issues.  Frankly, I couldn't imagine traveling this far around the world to be a victim of piracy in the last 800 miles!  However, as usual, our wonderful cruising friends ahead of us were sending feedback from their experiences in Los Roques and their positive emails gave us the encouragement we needed to drop anchor in Gran Roque for a two-week vacation in paradise.
The island of Gran Roque hosts the central business district for the archipelago of Los Roques as well as the only airport for the region.  The Coast Guard station is also located here as is Customs and Immigration where we "checked-in."  After getting our passports stamped, we then went to the Park Service Offices where we purchased our 15 day cruising pass.  $44 dollars for 15 days in paradise!  Of course, with an exchange rate of 150 Bolivares to 1 US dollar.  It took a big stack of bills (66 bills of 100 Bolivares each) to pay our fee!

​

FYI…It turns out that we visited Venezuela just in the nick of time!  Apparently, President Maduro, Chavez's hand-picked successor (a bus-driver by trade) announced last week that Americans who want to visit or do business with his country will now have to obtain expensive visas where, previously, no visa was necessary!  

Talk about insanity!  The country is going bankrupt and heading towards dictatorship!  There are shortages everywhere. Droves of the "upper-class," who built Venezuela into a powerhouse in Latin America during the last century, are fleeing the country and exporting the next generation of well-educated minds in a "brain-drain" to foreign shores.  Chavez' flirtation with socialism has been and continues, under Maduro, to be a miserable failure.
But, one should never argue religion or politics in a travel blog, so let's get back to beautiful Los Roques!
There are virtually no cars on the island.  The four or five streets which make up the village of Gran Roque are just sandy lanes where children play carefree, dogs sleep all day and a dozen posadas (guesthouses), bodegas (Mom & Pop stores), restaurants, dive-shops and kite-surfing schools exist side by side in what looks like a Hollywood set for a sleepy little seaside village.


​

A cargo ship arrives once a week (Wednesdays) from the mainland laden with fruits, vegetables and meat as well as various other everyday items that most of us take for granted.  The ship arrives around 10am and the two "supermarkets" in town (really just little bodegas) stay closed so they can stock the shelves.  Around 6pm, the doors open and the "cola" (people standing in line) which stretched around the block begins to move.  Peter and I enjoyed chatting with everyone as we waited our turn.  Nobody pushed even though some had been sitting in the blazing sun for hours!  It's just the way it is all over Venezuela now.  In fact, we were told that Los Roques is better than most places because it serves a wealthy clientele of tourists and, while the prices might be higher, there was a much better selection and quality than on the mainland.  Despite that, they still have not been able to buy milk for several weeks and we wondered how parents of children in the States would react to the shortage of such an important product?   Toilet paper is another item that is increasingly in short supply!  Yikes!!!  As we reached the head of the line, I was feeling as if we were waiting to get into one of the nightclubs on South Beachin Miami!  I hoped I looked "cool" enough to go grocery shopping!
A burly "doorman/bouncer" stood guard allowing five or six to enter at a time.  Even so, it's bedlam inside!  And, you had to be quick!  Mangoes and pineapples and tomatoes were FLYING off the shelves!  By 10pm, almost all the fresh food is gone and, by the end of the following day, our little bodega was, for the most part, completely out-of-stock.  

But, we had our bags filled with delicious fruits and vegetables; bought some wonderful fresh bread at the bakery and were ready to explore the archipelago!  We cast off from Gran Roque and headed for Francisquis (Fran-sis-keys) Island just 2 miles away! 

The outlining fringe reefs form a completely protected lagoon at Francisquis and the white powdery sand and indescribably variant shades of emerald, turquoise and sapphire blue water were breath-taking.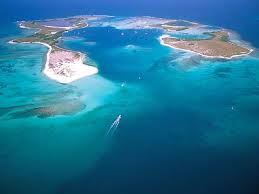 ​

Francisquis is the most popular island in Los Roques for tourists without access to their own yachts or dinghies.   Excursion boats ferry vacationers back and forth from Gran Roque throughout the day.  The snorkeling was great there and our new friend, Arjuno Marciel, whose family owns the wonderful posada, El Canto de la Ballena (Song of the Whale) on Gran Roque runs an excellent kite-surfing school there, along with his beautiful wife, Fernanda.
After five or six lessons, their students can travel all around the archipelago to practice their skills.

Note to Extreme Sports Lovers:  If you EVER have the desire to take up kite-surfing – THIS IS THE PLACE!!!  


​

After two nights in Francisquis, it was time to do some more exploring.  This is the great thing about Los Roques.  As a cruising ground, it is a sailor's dream.  The 30-something islands are all close to each other and the water is so clear that you can make your way in-between the reefs by simply eyeballing your way around.  Although, it helps considerably to have a copy of Chris Doyle's Cruising Guide to Venezuela and Bonaire.  Here is a chart of the Los Roques Marine Park.

​

Only two other islands, besides Gran Roque, are inhabited.  All are part of the Los Roques Marine Park – a protected region 14 by 25 miles wide.  And, with the exception of a handful of beach bar/restaurants that close up each night, the Park remains in its natural state.  We imagine that this is what the rest of the Caribbean must have looked like 50 years ago. 

​

But, just because Los Roques is protected from invasion by tee-shirt shops, fast food establishments, nightclubs, "mac-mansion" vacation homes and high rise condominiums, it doesn't mean the joint ain't jumpin!'  Yes, indeed, Los Roques ROCKS!!!


--

--
---