Chasing Papillon in French Guyana!

Peregrina's Journey
Peter and Margie Benziger
Wed 30 Jul 2014 05:09
4:00.0N   053:00.0W

Where in the World are Margie and Peter?
Chasing Papillon in French Guyana!
Following our Atlantic Ocean passage, Peregrina began cruising along the northern coast of Brazil on the way to Trinidad.  We opted not to stop in Brazil as we were really trying to move along fairly quickly in order to get Peregrina settled in Chaguaramas, Trinidad  - a safe harbor below the danger zone for the rest of hurricane season. We picked up a nice current about 100 miles off the coast of Brazil and averaged about 150 nautical miles a day without stopping for nine days.  Along the way, we recorded our all-time best mileage performance with 180 nautical miles on the day we passed the Equator moving from the southern to the northern hemisphere!
However, we couldn't pass up the opportunity to stop briefly in French Guyana.

​
Shifty characters that we are, we seem to be drawn to penal colonies!  Just recently, we had visited St. Helena where Napoleon was exiled.  And, of course, there's Robben Island in Cape Town, South Africa where Nelson Mandela spent almost 27 years and the "POM's" (Prisoners Of his/her Majesty) settlements in Australia and New Zealand. (FYI - If you'd like to read more about the POM's "down under," we can recommend a terrific book, Out of Ireland, by Christopher Koch.)
We had read about the notorious French prisons built to house criminals from 1830 up to 1958 in French Guyana.  During the French Revolution, political prisoners such as Alfred Dreyfus were sent here.  The lesser criminals were incarcerated on the mainland, in small villages like St. Laurent du Maroni, but the most dangerous ones (including murderers and revolutionaries) were shipped to the remote island group known as Iles du Salut - Islands of Salvation.  These points of interest were right on our route to Trinidad!
Of course, what we really wanted to learn more about was the most famous prisoner of French Guyana, Henri Charriere,  known as Papillon, who was incarcerated in several prisons on French Guyana from  1931-1944.
​
His book was made into a movie with Steve McQueen and Dustin Hoffman and the Hollywood version of his life turned him into somewhat of a cult hero.  I can still remember the scene where Papillon (Steve McQueen) jumps off a sheer cliff timing the waves as they crash onto the rocky shore a couple hundred feet below and then swims several miles to shore through shark infested waters. 

Turns out, his recounting of the years spent in French Guyana prisons stretches the truth quite a bit.  His daring escape was NOT from the remote island penal island of Ile du Diable (Devil's Island) but from one of the prisons on the mainland.  What's more, his description of the horrific conditions in the prisons was not what HE experienced but reflected the period 20 years prior to his arrival – although one could arguably wage that the conditions under which ANY of the prisoners in French Guyana lived were abysmal.

But, we wanted to see for ourselves so we signed up for a guided tour in English at the Tourism Office right near our anchorage at the town of St. Laurent du on the Maroni River. 
The prison was located just a few hundred feet from where Peregrina was anchored.  As we stepped off the dock, the first sight was this sculpture.

​
Over 70,000 prisoners were sent to French Guyana between 1830 and 1958.  Most died in prison but there were some who served their time and were "freed" although they were not allowed to return to France.  They were obliged to become residents of French Guyana and they were forced settlers in this hot jungle environment as France tried to colonize and claim South America for its empire.

We had a fantastic tour guide at the prison.  He met us at the entrance and spent over an hour with us on what turned out to be a private tour.
​
Here he is showing Peter what would happen to a prisoner who misbehaved.  The prisoner would be taken out of the group cell block and put into solitary confinement for 2-3 days.  A large ankle lock would be placed UNDER his ankle if his offense was relatively minor. 

​
If he committed a major offense or was a repeat offender, the heavy lock was placed OVER his ankle.  In that case, his leg would be pressing down on the metal bar beneath his leg and the heavy part of the lock above would be digging into the shin bone.

​
​
You could see an indentation in Peter's leg after only a minute.  Imagine the pain you would endure over the course of 2-3 days?  I have the feeling Peter wouldn't last too long under these conditions!
​
Please note the black wall next to the bed.  It's a charcoal substance and if the prisoners leaned against the wall they would be covered in black.  They were ordered to stand up or lay down ramrod straight.  If they tried to get more comfortable and lean against the wall, the jailors would see the black and extra punishments or longer solitary confinement would be administered.
Although Papillon would have us believe that he spent all his days of incarceration in the remote islands of Iles du Salut, he was, for quite a long time, kept in this cell block (Cell #14)  here in St. Laurent du Maroni where his name was carved on the wall.
​
​
After leaving here, he, ultimately escaped from another one of the mainland prisons of French Guyana and traveled around South America for a few years before reappearing in France and penning the book which would make him famous.
​Outside the prison walls, we encountered a hula hoop class.
​
Look at this beautiful face!
​
The little town of St. Laurent du Maroni had a wonderful Saturday fresh market.
​
​
And the river itself was a pleasant respite from the high seas of the Atlantic.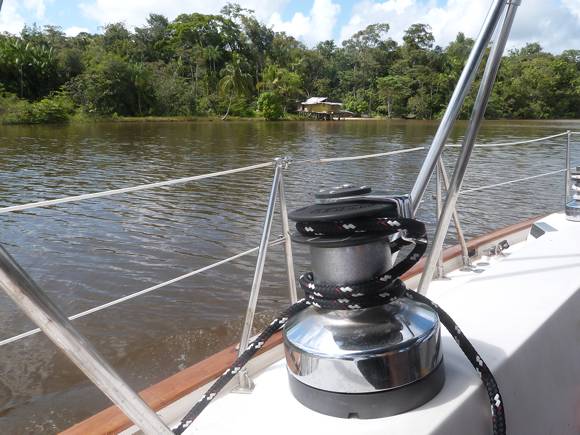 ​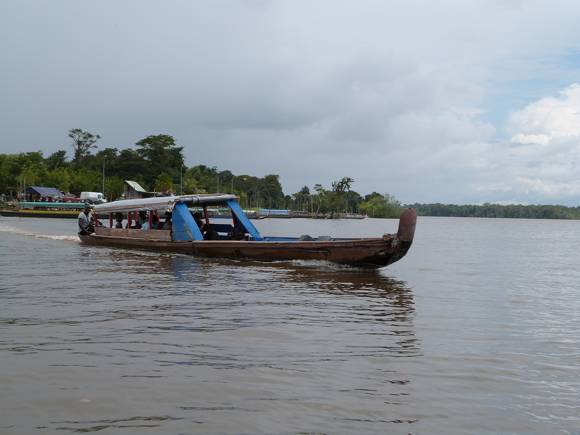 ​
I love this shot of the man and woman in a "Pirougue." These longboats are carved out of one single tree trunk.  They were fishing in a quiet cove and I wondered if she always wore pink and white to match her vessel?
​
Moving on, we also visited the Iles du Salut Islands, - Ile Royale, Ile St. Joseph and the infamous Ile du Diable (Devil's Island where Dreyfus was imprisoned.  Here's a shot looking from Ile Royale to Ile du Diable.  The building where Dreyfus was kept is still maintained but the rest of the island has been overgrown.

​
​
The prisoners constructed all the buildings and stone walls on all three islands which are quite amazing. Here is Peter standing in front of the prison bakery.

​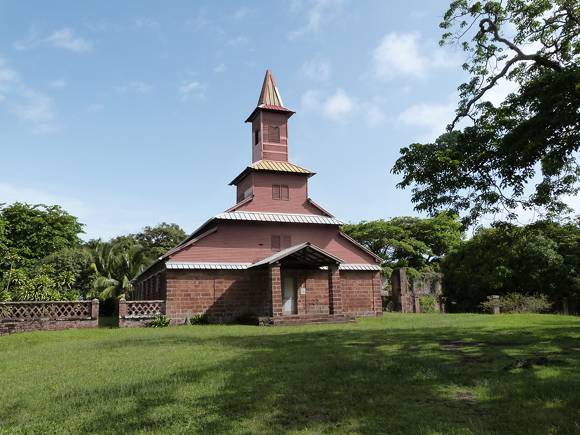 ​
​
Of course, their personal accommodations were less appealing.  Again, note the black walls which prisoners were not allowed to touch.  Watch out, Peter!
​   
​
We took a beautiful hike around the perimeter of the island which I'm guessing the prisoner's weren't allowed to enjoy.
​
 All in all, a wonderful little side trip – even if the principal reason for visiting was a little grim!  It is a painful reminder of efforts by the powers of the northern hemisphere to transport their "problems" to foreign shores.  In doing so, they began to colonize the southern hemisphere on the backs of convicts who were treated no better than slaves even after they were supposedly freed.   
-------------------------------------------------------

NOTE:  Peregrina is now "on the hard" in Trinidad and we will resume our travels after the end of hurricane season.

--
---