Here's Mud In Your Eye! Palau Tiga, Malaysia

Peregrina's Journey
Peter and Margie Benziger
Thu 9 May 2013 08:31
05:43.17N 115:38.91E.


Here's Mud in Your Eye!



Sometimes a girl just needs a little pampering.

Cruising in Malaysia is hot and sweaty and life on a boat is full of bumps and bruises, strains and pains.

Things are always breaking and it seems that repair jobs, inevitably, involve contorting your body in impossible angles and getting covered in dirt and grease.

Glamorous, it is not…



On the rare occasions that we take a berth at a marina or, heaven forbid, unlock the purse-strings for a room at a hotel, I catch up on those creature comforts that we miss living aboard – hot showers and/or a bubble bath, air-conditioning, clean sheets and clothes that don't stick to your body like a wetsuit when you are "sweating bullets."



But, the most glorious of my self-indulgent fantasies always involves some sort of spa treatment.



So, when we were cruising down the west side of Borneo - approximately 6 miles off the Malaysian half of the island - and Peter suggested a stop at Palau Tiga for a "mud bath," I had visions of a luxurious 4-Star Resort or a boutique private island getaway dancing in my head.



Here's an overhead view of Palau Tiga...


Turns out, Palau Tiga was an island getaway alright but just not kind I was conjuring up in my mind…


Palau Tiga was the site of the very first Survivor show back in 2000 – the one that fat guy Richard (who everyone loved to hate) won!

And, unless I missed something, those sixteen contestants spent weeks on Palau Tiga and there wasn't a drop of Evian water to be found.

Nor were there any friendly spa "clinicians" offering massages, mani-pedi's or body treatments whatsoever!


Well, my expectations had been seriously down-graded but I still jumped into the dinghy for the ride to shore to find out about the "mud baths" that Peter was promising...


Here's Peregrina at anchor just off Palau Tiga...
But, first, some background…


Palau Tiga was formed on September 21, 1897 when an earthquake on the Philippine island of Mindanao triggered a volcanic eruption just north of Borneo. The eruption of mud and rock formed a new island just 65 feet wide and about twice as long.

Over the next four decades, subsequent eruptions developed two more small islands which, over time, all joined together to become one which was named Pulau Tiga. Tiga being the Malay word for the number "3".


Palau means "island" so Palau Tiga is translated as the "Island

of Three."
Tod
ay, Pulau Tiga's highest peak is approximately 330 feet tall. The island is now about 2.8 miles long and 1 mile wide, with a total of eight square miles.

It's mostly rainforest with beautiful white sand beaches fringing the coastline and the last eruption was in 1941.


In 1985,
Palau Tiga National Park was established by Malaysia to protect the pristine natural habitat on the island.

The park service also protects nearby Snake Island -
named for the many venomous Sea Snakes that live and lay their eggs on the tiny rocky uninhabited island.
Needless to say, we gave that island a pass.

Neither of us are fond of reptiles…Eeeeek!!!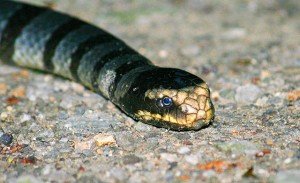 But back to Palau Tiga…


There is a National Park campground there with tent sites and twelve dormitory style rooms for rent.

Dozens of long-tailed Macaques and some fairly large monitor lizards roam freely around the grounds and there are hiking trails all over the island. Here's a lizard that wandered over to say "Hello."


One of the hiking trails was named the "Mud Vocano Trail" which sounded like it involved a lot of work just to get to a spa treatment center but I was game for the challenge.

Perhaps that friendly spa clinician would be waiting for me at the end of the trail with mineral water and sliced lemon??
Well…no such luck!

After about 45 minutes of steady uphill climbing, we arrived at the source of the "Mud Volcano" which is, thankfully, no longer erupting but, simply, two pools of mildly bubbling, somewhat tepid, grayish mud which pushes up to the surface from deep inside the earth.

Getting in was the worse part…


And, we're talking real mud here with a capital "M.U.D!"

The two pools at the site are criss-crossed with ropes for lowering oneself into the fairly cool, incredibly thick, sticky mixture of soil, ash, flora, fauna, salts, minerals, silicates, natural tar, organic elements and who knows what else!
But
, once the initial "Yuck Factor" associated with the overall consistency of the muddy concoction enveloping us subsided, these mud baths proved to be lots of fun and super relaxing.
Were you to lie back quietly, it held you buoyantly floating on the surface but, try to walk or swim and you find yourself "sucked in" like quicksand amidst a greasy concoction of goopy mud, leaves, sticks, stones and various sundry plant and…OMG!...could there be animal life under there???

Spas and salons typically use a soil composed of seaweed, volcanic ash, clay and other mineral-rich substances mixed with mineral or spring water.
The soil is dried, powdered and sieved to remove any type of impurities such as stones, grass, debris, etc.

Then, t
he mud is usually heated to about 100 degrees Fahrenheit.



So, it's clean mud!

Ivory soap mud!

Mineral-rich mud that Cleopatra and the Queen of Sheeba once luxuriated in and modern day spas charge hundreds of dollars to improve the complexion, relieve joint and muscle pain and remove toxins from the body.

What we had on Palau Tiga was working-man mud here!

Thunder down-under mud here!

Tess of the D'Ubervilles/Heathcliff

(tramping out on the moors) kinda mud here!

Spitting, slopping, plopping mud here…and we loved it !!!



For thousands of years, mud baths have been touted as a cure-all for a number of health ailments.

They supposedly have anti-inflammatory properties that can help soothe irritated skin and we saw this, first hand, after our plunge into the abyss. Peter had a number of sea lice bites from a scuba diving trip he went on a few days earlier and, within minutes, he noticed that the itch was gone.

I found that my skin was softer when I toweled off and that it retained moisture and coolness for a long time.

That's super good news here in the land of 90 degree plus everyday!

My "gimpy knees" also felt better on the way down than they had climbing up to the Mud Volcano.

We've talked to a number of other cruisers who stopped off at the mud baths in Palau Tiga and everyone has a positive story to relate.

The mud seemed to relax muscles and alleviate pain.

It nourished the skin and conditioned our hair.

It reduced the inflammation of arthritis, healed wounds and detoxified whatever abuses we'd done to our bodies - ALL FOR FREE! What's not to like???

Long term,
I'm told that mud baths have anti-aging properties and effects which I will continue to search for in the mirror every day although I'm really not expecting miracles here!

Probably should have bottled up a few GALLONS of the stuff for repetitive applications! LOL

Whatever the effects on my health, I'm happy just to say we had the courage to dive in and play like crazy kids - throwing mud pies and getting down and dirty.

Check out this photos…don't you think Peter bears a strong resemblance to Homer Simpson and/or that guy, Dan Ackroyd, on Saturday Night Live who played the father in the Cone Head family? HAHAHA!!!




With our two-hour Volcano Mud Bath spa treatment complete, we climbed out of the pool and posed for one last shot before we washed off MOST of the mud from a trickling stream nearby.




As we ambled down the trail, we passed a group of well dressed Chinese tourists from a day- excursion boat making their way up the path.

We must have looked pretty bedraggled but it was clear where we were coming from.

"Mud baths," they asked?

Yes, we smiled with a "thumbs up" for emphasis.

We told them,"Palau Tiga Spa Bagus!"

Translation: Paulu Tiga's Spa is the the Best!
---