Driving Down the West Coast of New Zealand

Peregrina's Journey
Peter and Margie Benziger
Mon 28 Mar 2011 11:25
POSITION REPORT - 27:11.687S

153:06.403E
WHERE IN THE WORLD ARE MARGIE AND PETER?
Like Willie Nelson, weâre âon the road againâ heading south on the West Coast of New Zealand to the Franz Joseph and Fox Glaciers in the Westland Tai Poutini National Park. This section of the âSouthern Alpsâ is designated a World Heritage Site and it is the closest that glaciers in this latitude come to the sea. There are some 60 glacial peaks within this national park but Franz Joseph and Fox are the most impressive. Itâs pretty amazing. You literally walk through a temperate rain forest and then, within a couple miles, the elevation climbs from just above sea level to over 3000 meters, or 10,000 feet.
The local Maori Indian legend concerning the formation of the Franz Joseph/Fox Glaciers - clearly a much more romantic explanation than one of those boring geological surveys - tells us that the lovely Hinehukatere was climbing in the mountains with her lover, Tawe, when he fell to his death. She cried and cried and her tears formed the glaciers which are known to the Maori people as Ka Riomata o Hinehukatere, or âThe Tears of the Avalanche Girl.â
Tears arenât the only wet thing in abundance here!
This area consistently gets over 5 meters of precipitation every year â tons of snow in the higher elevations and a lot of rain in the coastal plain down below. To put this in perspective, Franz Joseph/Fox gets 200 inches of rain a year! Compare that to 60 inches in Miami and 11 inches in Los Angeles.

Time for a science lesson! Glaciers form when snow accumulates at the top (or, the nÃvÃ) of the mountain and compacts to form clear blue ice. This ice builds up until it starts to flow downhill under its own weight. Along the way, if takes on a scalloped effect as the center of the glacier flows more quickly than the sides which scrape along the valley walls. In the steeper areas, ice falls occur as huge blocks of ice, known as seracs, break off from the main flow of the glacier and vast crevasses appear in between these blocks.
Because Franz Joseph and Fox Glaciers are particularly steep, the ice quickly travels a very long way before it finally melts. Itâs said that Franz Joseph Glacier advances, on average, between 2-3 feet per day. Whatâs more, advances of over 16 feet per day have been recorded after a particularly heavy snowfall year. Thatâs ten times faster than the Swiss Alps glaciers move!
Apparently, in 1943, an airplane crashed into Franz Joseph just below the summit and it made its way down to the bottom just 6 Â years later sliding along at a speed of almost 60 inches per day!
While itâs common knowledge that glaciers are receding worldwide, Franz Joseph and Fox Glaciers are unique in that they have frequently experienced âminiâ Ice Ages and have actually advanced from time to time. The last Ice Age here ended around 1750 and the two glaciers measured almost two miles longer from top to bottom than they do today. Most recently, between 1984 and 2007, the Franz Joseph and Fox Glaciers advanced a little bit again, so itâs clear that they are bucking the global-warming trend. The âAvalanche Girlâ is not going down without a fight!!!
After our visit to the Southern Alps, we continued south to Queenstown, the action-capital of New Zealand. And, I do mean action! You want heart stopping adventure? Youâve come to the right place. Bungee jumping, sky-diving, jet-boating, canyon swinging, any possible method of scaring the âyou know what!â out of you, they do it in spades here in Queenstown! It seemed like every 20-30 old backpacker/action junkie was roaming the streets in Queenstown checking out the best deals on death-defying diversions.
Now, Iâm going to disappoint many of you at this point because, while we did enjoy a lovely stroll around the town which sits on the edge of Lake Wakatipu and we had a delicious lunch at VUDO, a Lonely Planet Top 10 recommended eatery, I do not have any spine-tingling stories to share with you. Peter and I opted out of the âadventure capitalâ for the more tranquil setting in Allentown, a few miles down the road. Weâve âbeen there/done thatâ in the bungee jumping, sky-diving arena in our younger, more foolish days and, since both of us suffer from rickety backs and knobby knees at this point in our lives, we decided that we would prefer not to cut our sailing odyssey short due to injury. Yes, you can say weâve joined the âWuss Generationââ
In Allentown, we hiked 10 kilometers around beautiful Lake Hayes and, along the way met Kiwiâs Ian (Toddy) and Susie Todd, who walked with us and then invited us back to their home for a leisurely two hour lunch and a tour of their extensive gardens, farmland and livestock ranges. (See me with what has to be the biggest cow in the world!) They have a gorgeous guesthouse that they rent out (sleeps 6) for around $350 per night which has million dollar views. Ask me for more details if you fancy a vacation in New Zealand. They are incredible hosts and fascinating people â even if they did keep a pigâs head in the refrigerator! We would have loved to have stayed on for longer but, of course, we were driving our âmobile hotelâ so it was time to ease on down the roadâ
Most nights, we stayed at one of over two hundred Department of Conservation (DOC) campgrounds that are spread all across the South Island of New Zealand. These are protected tracts of land in the mountains, along the lake shores or at the edge of beautiful ocean beaches that are all vehicle accessible but far from the maddening crowds. Some of our favorites were 12 Mile Delta, Monk Lake, Cascade Creek, Lake Gunn, Henry Creek, Dolamore Park and Mount Cook. These sites varied in size from just 5-6 campsites at a bend in the river to 50-60 along acres and acres of preservation land at the foot of a mountain. You could commune with nature on your own or socialize with an international contingent of âfree spiritsâ around a communal campfire. It was really awesome! Check out Peter with a bunch of little âcamper dudesâ feeding the ducks!
Many of these sites were adjacent to Great Walk tracks.
The New Zealand Great Walks are the DOCâs premier walking tracks with some of the best scenery in the country. They are truly spectacular and some are so popular that you must book months in advance (i.e. Milford Sound) so that they can to manage visitor impact on the environment. Peter and I calculated that we hiked almost 70 miles during our three weeks in the South Island.
When we needed to do laundry, plug into the internet or wanted to stay closer to a big tourist center, we would check in at one of the traditional âholiday parkâ campgrounds. While they were often lacking in a âgreat outdoorsâ ambiance, there were always lots of people to meet and it gave us the opportunity to go out for dinner for a changeâ
In the beautiful town of Te Anau, on our way to Milford Sound, we celebrated Valentineâs Day with our good friends, Bill and Sue, from the Blue Water Rally. We had left them outside of Christchurch a week earlier with an invitation to catch up with us. Lucky for us, they did and we traveled in tandem for the last two weeks of our trip. On this romantic occasion, we enjoyed a delicious dinner of lamb shanks at The Olive Restaurant in Te Anau with Pavlova for dessert.
No, sillyâ.we didnât have Anna Pavlova, the Russian ballerina for dessert! We had New Zealandâs national dessert past-time, a sinfully delicious meringue concoction that's called Pavlova! But wait, AUSTRALIAâS national dessert is Pavlova! Whatâs the story here???
Turns out, the dessert is said to have been created in honor of the dancer during one of her tours to Australia and New Zealand in the 1920âs. There is conflicting documentation as to the nationality of its creator and bragging rights to the title are a source of endless argument between the two nations. New Zealand probably has a stronger claim in that Pavlovaâs biographer, Keith Money, wrote that a hotel chef in Wellington, New Zealand, created the dish when Pavlova visited there in 1926 on her world tour. Australia weighs in with Bert Sachseâs rendition of Pavlova from the Espalande Hotel in Perth. However, the earliest recorded mention of that recipe is from 1935 and, for years, Sachseâ relatives have been trying to convince the world that he ACCIDENTALLY dated the recipe incorrectlyâ.a likely story!
Whateverâ..I can say with total conviction, after having sampled MORE than my share of Pavlova in the past four months, that the Aussies have it all over the Kiwis. Of course, I am saying this now that I am back in Australia and, therefore, unlikely to be beaten to a pulp with a lamb shank!
The truth is that EITHER version is to die forâ.Pavlova is made by beating egg whites and a pinch of salt to a very stiff consistency before folding in sugar, vinegar, cornstarch and vanilla extract. You bake it slowly just like meringue so that the outside is crisp and crunchy but the interior remains soft and moist. The Pavlova's internal consistency is completely different from a normal meringue, having that soft, creamy, almost marshmellow-y texture. Yum! Yum!
The Pavlova, or âPavâ as those of us in the know say, is traditionally decorated with tons of fresh whipped cream and colorful fresh fruit such as strawberries, blueberries, passionfruit, kiwi and even pomegranites. Trust me, I tried them all! Deeeeelish!!!! (Yikes!!! Iâm starting to sound like Rachel Ray!)
Well, anyway, let the debate go on and, while Iâm around, Iâll volunteer my tastebuds as often as possible to make sure that Iâve made the right choice between nations! Itâs the least I can do for world peace and diplomacy!
More on Milford Sound and other interesting sights and sounds of New Zealand in the next edition of âWhere in the World are Margie and Peter?â
Oh, one last thingâSue, Bill, Peter and I visited this quirky little tourist trap called Puzzling World in the town of Wanaka. We spent hours trying to find our way out of an outdoor maze and then went inside the attraction to be humiliated by all sorts of rubikâs cube types of games that 10 year olds could solve but stumped us completely. There were fascinating optical illusions includingan âinterestingâ shot of Peter and Bill in a menâs room during Roman times. Now, donât get any nasty ideas, just check out the photo!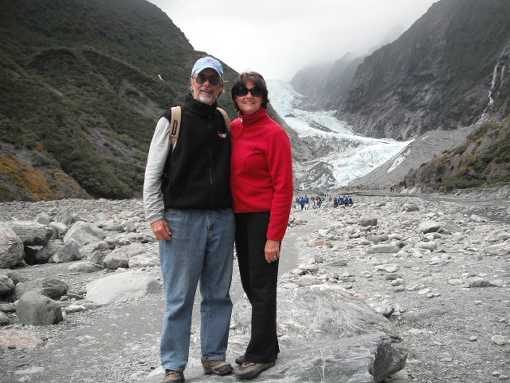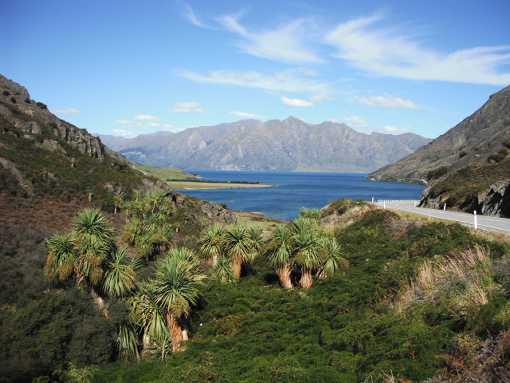 ---