The Wonder Down Under in Bonaire

Peregrina's Journey
Peter and Margie Benziger
Sat 4 Apr 2015 19:55
12:09.0N  068:16.9W

 The Wonder Down Under in Bonaire
Arriving in the harbor of Kralendijk, Bonaire after a lovely overnight sail from Los Roques, Venezuela, I was awash in a sinking feeling.

Note to Self:  Using "awash" or "sinking" in a sentence is NEVER a good thing on a sailboat!
Alas, a huge cruise ship, the Aida appeared to be devouring little Kralendijk and was blocking our view of this Dutch island of 16,000 citizens designated a "special municipality" of the Caribbean Netherlands. 

From our perspective, this was NOT so special!


​

Having spent most of the past five years AVOIDING cruise ship ports-of-call, this was the first encounter with mass-market cruising that the crew of S/V Peregrina has experienced so up-close and personal.   With visions of duty "free-for-alls" at the likes of Little Switzerland, H. Stern Jewelers and endless liquor stores and trinket shops, we tied up in the mooring field on the OPPOSITE side of the harbor with about 40 other yachts along the harbor road in Kralendijk and assessed our situation. All seemed quiet on the western front…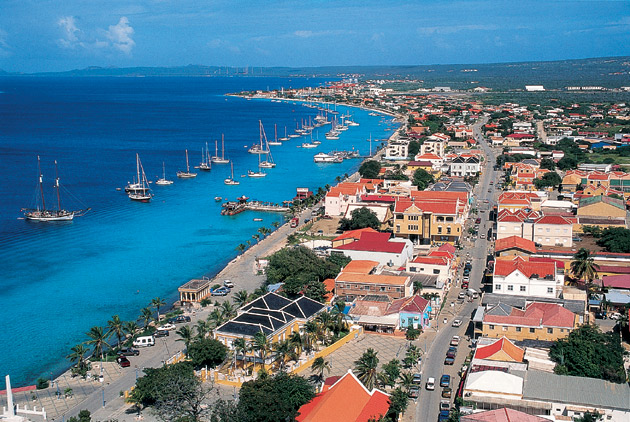 ​

The mooring field is organized in two rows close to shore with concrete blocks underwater offering mooring lines that you tie on to your boat with your own lines.

FYI - There is no anchoring allowed ANYWHERE in Bonaire!  The entire coastline is designated a National Park and you can't even throw out a dinghy anchor! 

There are about a hundred small mooring buoys conveniently located all around Bonaire so, no matter where you go in your dinghy (yachts must stay in the mooring field or in a marina) you can always tie up without damaging the marine environment below.  We had read about this in our Bonaire Cruising Guide and had been impressed with the forward thinking of this little island whose environmental preservation, marine protection and conservation practices are setting the standard for sustainable tourism around the world.

The sailboats, bobbling in the harbor opposite the main pier from the aforementioned Aida, seemed blissfully peaceful and many waved a friendly "hello" as we settled into our spot right in front of the Yellow Submarine Dive Shop.  The pace here seemed laid-back and much to our liking…
But…what would we find when we went ashore?  Would there be hoards of sun-burnt "brown socks and sandals" men wearing wifebeater t-shirts sitting with a bucket of beer at the beachfront bar?  Would they be waiting while their wives or girlfriends with outlandishly large sunglasses, ridiculously tiny mini-skirts and six-inch platform sandals roamed the streets looking for bargains?  Oh, the horror of it all!!!
Cautiously, we approached the dinghy dock at Karel's Restaurant, which turned out to be a wonderful spot to watch the sunset with an equal smattering of tourists and local residents on the dock right in the center of the waterfront district. 


​

What's more, downtown Kralendijk, which covers an area of just about four blocks square, was surprisingly calm and tranquil.  Walking along what would be described as a busy street on a "cruise ship day" we hardly felt the impact of the 2,000 passengers Aida had deposited on Bonaire's shore.  And, not a Little Switzerland in sight!  The shops are almost all local.  (The Benetton outlet having closed the week before) and most were quite stylish and inviting – even for non-shoppers such as ourselves! 


​

What was instantly clear was this was no typical duty-free port.

 In Bonaire…THE DIVE SHOPS RULE! 

Practically every corner was either a small business selling snorkeling or diving equipment or a PADI Dive Center offering courses and snorkeling/diving excursions!  Whisking away passengers from the Aida to dive, snorkel or try their hand at windsurfing, kite-surfing or paddle-boarding at various beach sites all over the island had significantly lessened the impact of tourists on the downtown area.  Most of the ones we saw were dangling shopping bags of snorkeling equipment - NOT Gucci purses or Rolex watches!  I was beginning to like the look of this place! 

But, it wasn't until I took a look below the surface of the water that I really understood the "wonder down under" of Bonaire.  OMG!  It was AMAZING!  Right below Peregrina, not 150 feet from shore and, in less than 25 feet of water, we could experience a snorkel or dive along the edge of a reef wall which rivaled anything Peter and I had seen all around the world!  This is the big bonus of Bonaire!  Fantastic marine life right beneath your keel or within walking distance from just about anywhere along the coast!  Just look at all the sites there are to dive around this island!

​

Rated #1 in SCUBA DIVING magazine's Reader's Choice awards for the best shore diving and snorkeling destination 21 years in a row, Bonaire is, by far, one of the easiest places to get into the water and to start enjoying the thrill of marine exploration.  All over the island, one can drive to clearly marked dive spots that allow you to walk in from shore or, in our case, tie the dinghy to the mooring buoys overhead.  Over the course of three weeks, we skimmed around the island, exploring one site after another.  Aside from the diving right under our boat, our favorite sites were called Small Wall, Pietre's Pillar, The Cliff, Something Special, Windsock (right off the end of the airport runway) and Hand's Off, which is on the little island of Klein Bonaire. 

Now, I should explain that I was NOT an enthusiastic scuba diver before we arrived in Bonaire.  While Peter has dived dozens of times on our trip around the world, I could count the number of shallow water dives I made on two hands.  I was never comfortable and, since months separated every dive I took, it always felt like the first time for me.  In Bonaire, I found my sea legs AND my comfort level and there was no stopping me now! 


​

Well, if you believe that's me, you better have your eyes tested!  I think she's is a little over-inflated in the chest, don't you?  It gives new meaning to the term "buoyancy vest!"
Here I am!!!  Generally, we stayed in 25-65 foot deep water.  However, I did make one dive with Peter down to 100 feet!  Incredible!!!

​
We dove practically every day and usually with a group of "yachty" friends who knew the area like the back of their hands so we had the inside scoop on some of the more outstanding sites.  The fish are so abundant that you counted species in the hundreds, sometimes, thousands!  The reefs and the coral are healthy and the colors were magnificent! Here is a trumpet fish.

​

We even did a Night Dive under the boat which was FANTASTIC!  A group of five of us, each with an underwater light in hand, explored the deeper areas of the reef wall for nearly an hour.  The highlight was when two five foot (!) tarpon decided to swim alongside of us in order to use our lights to help them find their dinner!  When I say "alongside," I mean RIGHT alongside.  These guys passed within inches of our bodies coming from behind at all angles!  We could literally reach out and touch them!  Gorgeous creatures!  Once we realized what was happening, we relaxed and enjoyed the show!
Now, since we don't have an underwater camera, I checked out YouTube and found this cool GoPro video of night diving with tarpon in Bonaire.  This is a perfect example of a great night dive and, even though it's not our dive, the Tarpon were the stars of the show anyways.  And, it's got a great musical background.  Plus, there's an giant eel, lobsters and other fish thrown in as a bonus! If you can't get the hyperlink to work, just cut and paste it into your browser.
 https://www.youtube.com/watch?v=e4vTpE_f-qM
We saw Moray eels, Porcupine fish, Lionfish and scores of other species.  The Lionfish (pictured below) are an invasive species from Southeast Asia that are a threat to the Caribbean sea life.  They are the only fish that one can hunt with spears but they put up a nasty fight and their tentacles are poisonous!

​

Speaking of species, Peter and I have sailed almost all the way around the world but we were really clueless in terms of our ability to identify fish.  All that changed in Bonaire because of one lovely woman named Kim White.

A marine biologist and fish fanatic, Kim (and her partner Doug) runs a series of fish identification lectures in Bonaire during the month of March on behalf of an organization called the Reef Environmental Education Foundation.  It's a grass-roots organization that seeks to conserve marine ecosystems by educating, enlisting and enabling divers and other marine enthusiasts to become active ocean stewards and citizen scientists. You can find out more about this terrific group at www.reef.org.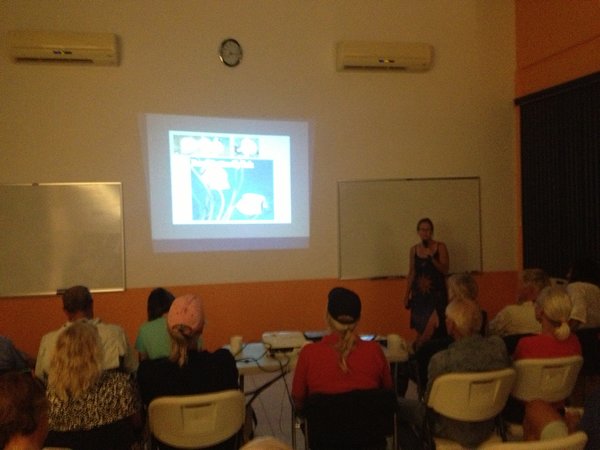 ​
Lucky for us, we were able to attend 3 out of 4 of her presentations and…Wow!  What a difference it makes when you start to really identify what you are seeing down there!  Did you know that there are 14 different varieties of Parrotfish?  Seven varieties of Angelfish?  And, those are just two of the EASY ones!  
This is a Honeycombed Cowfish.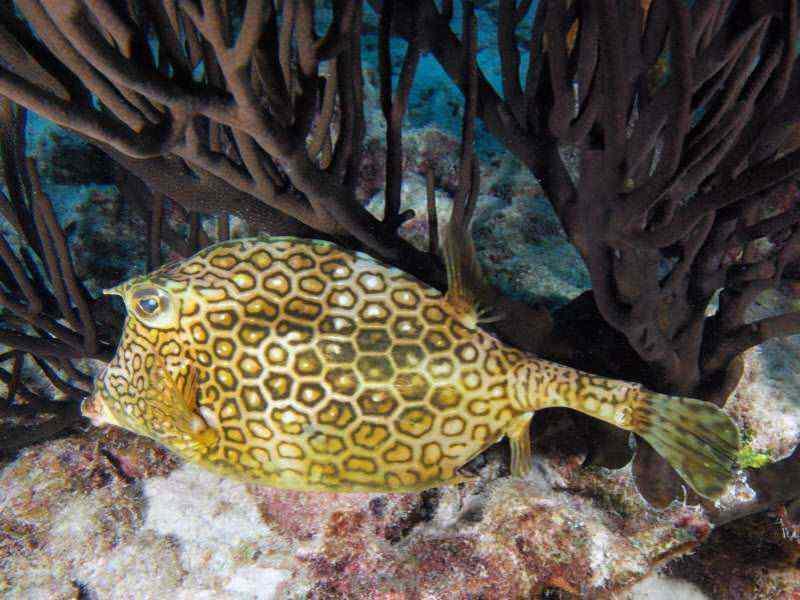 ​
One of REEF's major initiatives is the Volunteer Fish Survey Project. The project allows volunteer SCUBA divers and snorkelers to collect and report information on marine fish populations as well as selected invertebrate and algae species in temperate reef areas in the United States, Canada and the Caribbean. To collect data for the Project, REEF volunteers use a visual survey method specifically designed for volunteer data. Divers swim freely throughout a dive site and record every observed fish species that can be positively identified. Species and approximate abundance scores are recorded on an underwater slate. The only other materials needed are a good reference book and access to the internet to submit the data online.  Here's a diver recording her sightings on her slate.

​
There are Basslets and Blennies and Butterflyfish…Oh my!!!  Frogfish and Goatfish and Hogfish, Oh dear!!!  Scorpionfish, Squirrelfish and Surgeonfish….Oh wow!!  Puffers and Porgies and Porcupinefish!  Well, you get the picture…

We used a waterproof guidebook to identify the fish.  Problem was, once we finally found what we THOUGHT we were looking at in the book, the real fish had disappeared from view!  But, we're getting better and it adds a whole new dimension to the experience.
We had so much fun UNDER the sea that it was hard to come up and walk around on terra firma, but Bonaire doesn't disappoint landlubbers either!  We hopped on a motor scooter for a ride around the 112 square mile island. 


​

It didn't take long since Bonaire is pretty flat and the roads are good.  We split the excursion into two half days which made it more pleasurable on the derriere. 

A little history first…Bonaire was discovered in 1499 by Alonso de Ojeda, previously a Lieutenant to Christopher Columbus, who lost the exclusive rights to explore the new world after a falling out with Queen Isabella in 1495.  Bonaire was inhabited at that time by the Pre-Columbia Amerindians who had lived their peacefully for over 2900 years.  Because of its hot and arid environment, Bonaire was soon dubbed useless and, basically, discarded by the Spanish.  It wasn't until the 17th Century (1634) that the island was conquered by the Dutch West Indies Company.  Slowly, a mixture of Dutch, Spanish, English and a small community of Portuguese Jews from Brazil began to populate the area in earnest. 

The first industry on the island was the production of sea salt, which continues today.  The salt pans in the southern part of the island dry the salt out of sea water in various stages.  Depending on the level of evaporation, some of the pans are breathtakingly pink!  


​

The pink comes from beta-carotene in shrimps that live in the salt pans. 

This eventually bleaches out and the huge mountains of snow-white salt piled high near the shore are transferred to container ships from all over the world.  

Nearby the salt pans are the vestiges of the slave trade that worked the salt pans from the 16th-19th Centuries.  Slaves lived in deplorable conditions in these little houses by the sea.  They had to crawl inside and four people would be kept in a space barely high enough to stand upright and big enough for one man – let alone four!


​

Moving along the coast, we stopped by Pekelmeer, which is one of the largest Flamingo sanctuaries in the Western Hemisphere.  Flamingos also get their coloring from the beta-carotene in the shrimps they consume in the saltpans, wetlands and mangroves.

​

We stopped at Sorobon Beach on Lac Bay on the eastern (windward) side of the island for lunch at Jibe City, a funky beach bar where you get a front row seat in the sand to watch Bonaire's finest windsurfing champions strut their stuff.  There is also an excellent wind-surfing school here for all levels and age groups.  The water is only four feet deep and the barrier reef assures that the bay will be smooth and calm even in the brisk winds that blow onshore.  So, it's an excellent place to learn the basics or vie for a world speed record.   Here's the view from our table!

​
Up at the north of the island, we took a short spin around Washington National Park before heading back towards Kralendijk.  Doesn't Peter look "buff?"

​

The main roads are mostly along the coast line and the views are spectacular.  There are spots to park your car and steps down to the sea so that you can dive right offshore.

​

No wonder most folks we met had been coming back year after year with their boats or to dive resorts, vacation homes or condos. 

The "yachtie scene" here was one of the best we've experienced in a long time.  It was so easy to hop overboard and snorkel right around your boat or over to your next-door neighbors.  The fish LOVED to congregate on the concrete mooring blocks.  At ours, there was this "cute" little Frogfish who hung out all the time and was very photogenic.  Lots of folks came around to take a look day and night!

​

Practically everyone was certified to scuba dive and, most mornings, we headed out in a convoy of dinghies to explore a new dive site.  Here's Peter getting ready for our daily outing.

​

It's sort of a diver's oath that, if you see something cool, you MUST share it with your diving buddies!  Underwater, lots of people carry "noisemakers" that they can shake to alert another diver when there is something amazing in view.  Peter and I just make wild, convulsive gestures that usually scare away the fish long before one of us manages to figure out what the heck the other one is desperately pointing at!

But, between all of us, we managed to see some of the most amazing marine life imaginable.  Here are a couple more shots before I close.  This is a Stoplight Parrotfish.  See the yellow spot on the upper corner of its gill?  That's the stoplight!

​

This is a French Angel Fish.  (Disclaimer: I stole many of these images off Google but I promise you, they were all taken in Bonaire!)

​

I guess you can tell that Bonaire ranks well up there among our favorite places.  We're coming closer to the end of our around the world journey now so you'll have to stay tuned for the final decision…

I DO have to say we loved Bonaire enough to actually look at a condo for sale right down the street from the Yellow Submarine Dive Shop!  Thank-you, Gigi Quimby, for introducing us to the Playa Lechi Residences condominium.  Who knows?  One day, we might be neighbors! 

From Bonaire, we'll sail to Curacao, Aruba, Colombia, the San Blas Islands and, finally, Panama where we will "tie the knot" on our circumnavigation.  We'll haul Peregrina out of the water for a few months during Hurricane Season so that we can come back to the States for a visit and plan our future sailing itinerary. 

Finally, a special "shout out" is necessary for some of our new "Best Friends Forever" - Jill and Rod from S/V Lookfar, Seale and Hank from S/V Flash, Gretchen and David from S/V Callisto and Stephanie and Roger from S/V Poespas.  We had a fantastic time diving and dining with you all and will definitely look forward to seeing you again in Bonaire or back in the States!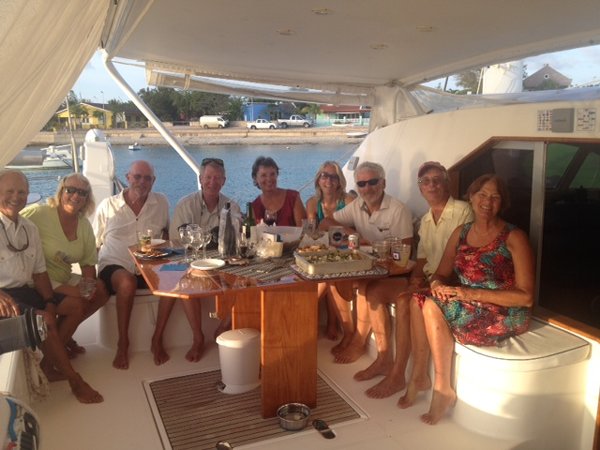 ​


--


Peter and Margie Benziger


-------------







--




--

--
---