Learning a bit about life on Percy Island, Australia

Peregrina's Journey
Peter and Margie Benziger
Mon 6 Jun 2011 10:40
Position Report - 21:45.687S 150:20.403E
Learning a bit about life on Percy Island
As Peregrina travels around the world, we stop in some educational places which help us to slow down and enjoy our adventure. This story is about one of these learning experiences.


As we headed north from Brisbane, we stopped at the island of Percy.

We had stopped here when heading south but loved it so much we stopped again heading north.


When you take the dingy into the beach you will find the A Frame with over 6,000 mementos of cruisers who have passed through in the past 40 years
The sign below tells the story of the A Frame. [Below each picture in this email can be seen the text]
Was built by Andy & many willing seafarers

in the 1970's – Now it's spirit lives on like this:

Everyone is free to use and enjoy the work put in by those who have passed this way before them.., Then they, in their turn, put in some work to be enjoyed by those yet to come. The good will is passed along. So, if you can tidy up a bit or do some repairs or improvements that would be lovely. …Then you can hang your sign with pride.
Well, we did a bit of "tidying up" and felt entitled to hang our sign with pride. You will find in the A Frame,

Peregrina's Coral Reef Yacht Club burgee with our names on it.
It is impossible to read them all.

Some are racy, some are artwork ... all are enjoyable.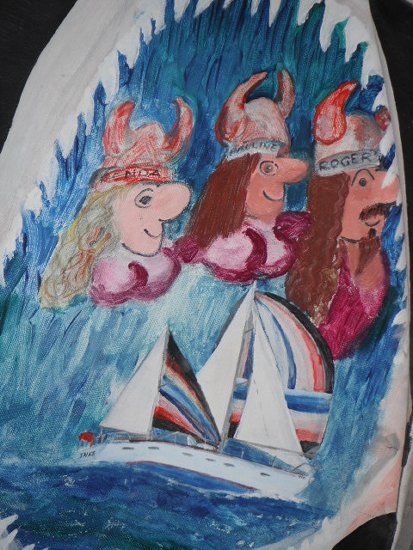 Also, there are comments on mans' role in the universe
.
3 monkeys sat in a coconut tree
Discussing things as they are said to be
That man descends from our noble race
The very idea is a disgrace
No monkey ever deserted his wife
Starved her babies and ruined her life
And you,ve never known

a mother monk
To leave her babies with others to bunk
Another thing you will never see
A monk build a fence around a coconut tree
And let all the coconuts go to waste
Forbidding all other monks even a taste
And one other thing a monk won't do
Is go out at night and get on the stew
Yes man descended, honorary cuss
But brother he didn't descend from us!
Percy island

was founded as a farm many years ago and the original homestead is occupied by the caretakers of the A Frame. It is quite a walk to the homestead and half way this sign appears.
There is a milestone on life's path
That brings us to another start;
Where brighter vistas open out,
Where clouds grow light and break apart…
There is a spot on every road
Where ruts give place to smoother ways;
The place that marks a new beginning,
And the hope of fairer days.
Are you weary of the

journey
Does your burden seem too great?
Are you fighting uphill

battles
Struggling with a hostile fate?
The milestone at the turning point
May be a few steps round the bend
Courage!... This may be the spot
Where joys return and the troubles end.
We decided take the advice of the poet and to walk to the Homestead. A bit further on the path we found

'

Andy's Lookout' with his thoughts on life urging us to throw off our cares and begin to enjoy life.
What is this life if full of care
We have no time to stand and stare
No time to stand beneath the boughs
And stare as long as Roos* (Kangaroos) and cows
No time to see in broad daylight
Streams full of stars like skys at night
No time to turn to beauty's glance
And watch her feet, how they can dance
A poor life is this if full of care….
We have no time to stand and stare.
A bit more walking and we came upon this message urging us to stop listen to the sounds and wonders around us.

If you stand very still in the heart of a wood
You will hear many wonderful things.
The snap of a twig, the wind in the trees
And the whirr.. of invisible wings.
If you stand very still in the turmoil of life
And you wait for the voice from within
You will be led down the quiet ways of wisdom and peace
In a mad world of chaos and din
If you stand very still and you hold to your faith
You will get all the help that you ask
You will draw from the silence the things that you need;
Hope and courage and strength for your task.
Along the road there are signs that provide direct and helpful hint as to how to reach the Homestead easily.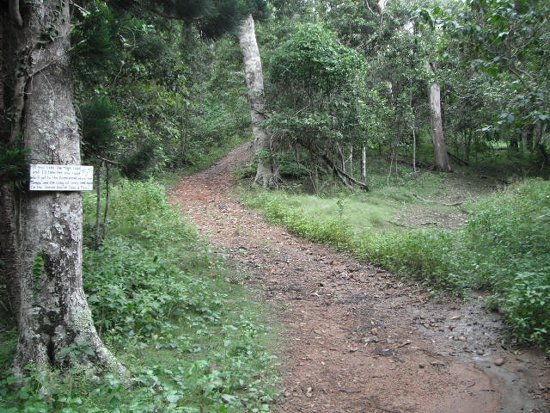 If you take the high road and I'll take the low road
You'll get to the homestead before me
For me and my crew will surely meet again
On the bonnie bonnie isles of Percy.
Ultimately we reached the Homestead and went into to have tea with the caretaker. The Homestead uses solar power for electricity, a well for water and
the occupants shoot wild goats and kangaroos for food.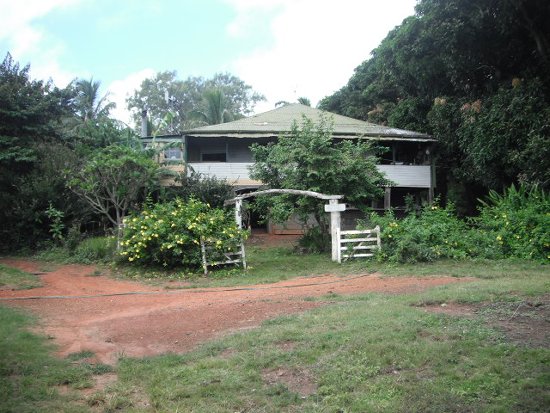 We had a long talk and some tea at the Homestead. Our friend below grew up on a series of small islands off the Australian coast. His dad was a lighthouse keeper responsible for making sure the kerosene light NEVER went out.
But that is another story.
.
---