Where in the World are Margie and Peter - On Safari

Peregrina's Journey
Peter and Margie Benziger
Sun 15 Dec 2013 08:20
Where in the World are Margie and Peter?

On Safari in South Africa and Swaziland!


Once we were safely berthed at the wonderful Zululand Yacht Club in Richards Bay, South Africa and had compiled a "To Do" list for Peregrina a mile long, we did what every self-respecting "yachtie" does when he/she hits dry land….ROAD TRIP!!!
We looked at a long-range forecast which predicted we'd have about 10-12 days of fair skies and figured this would be perfect for a short getaway before diving into our boat projects and preparing for our trip back home to the States in mid-December.
We rented a Toyota Corolla from Budget and headed off to explore the central region of Kwazi-Natal province (which includes Kruger National Park) in South Africa as well as the neighboring country of Swaziland.


FYI -
Richards Bay, where Peregrina is berthed, is just above Durban.
On the way to Kruger park we traveled north to Swaziland which is a country located just south of Kruger. It's the small white circle you see on the map below.


Note:
NEVER buy a used car from Budget in South Africa!
It is only the tourists who drive around in compact cars or mid-range sedans.
Everyone else has a tricked-out SUV for good reason.
With the exception of the interstates and major highways, the country roads here are terrible!!
We knocked off practically every underside protective covering apparatus there was on our chassis and spent the majority of our time holding our breath as we bounced along bumpy dirt roads or forded rivers trying to get to our next destination or hotel.
FYI - Rates are super cheap here.
Go for the macho 4-wheel drive and let your inner "bushman" run wild!
Easing into our journey, we made our first stop about an hour ½ north of Richards Bay in the town of St. Lucia where we visited the Emdoneni Wild Cat Rehabilitation Center.
www.emdonenilodge.com
Here, they rehabilitate injured or abandoned animals for reintroduction into the wild as well as facilitate conservation and education for the endangered Cheetah as well as other cats such as Serval, Caracal, and African Wildcat.
We were thrilled to meet 'Jumo,' a three year old Cheetah who liked having his ears scratched!
Then it was on to the iSimangaliso Wetlands Park, where we took a two hour "Hippo Tour" on Lake St. Lucia which allows no public boating access and is one of the larger marine reserves in the area.
We were a bit bummed out because our weather forecast was already proving bogus and the rain was beginning to fall.
However, the captain of the boat told us that, in fact, this was a GREAT day for hippo spotting because when it's sunny and hot the hippos lie so low in the water you can barely see their eyes and ears but she predicted that now we'd see much more activity as it was a cloudy, cool day.
Her forecast was right on target and we were treated to quite a show.
Did you know that hippos travel in "Pods" with one dominant male with up to 20 females and kids in tow?
Sometimes, there are a few younger males but they soon leave the pod to seek their own destiny.
Did you know that hippos are the most dangerous of all the wildlife in Africa?
Yes, it's true and…FYI, don't get in-between a hippo and the water!
They get down-right ornery when someone blocks their path to the bath!
Hippos spend 60% of their time in the water (mostly during the day) and forage for food at night.
They are herbivores and consume 40-60 kilos of grasses each day.They actually walk along the bottom of the water rather than swim and they cluster together in their "pod" to protect the youngsters and to keep themselves warm.
We must have seen 50-60 hippos on our excursion and it was amazing to get so close to these massive creatures.
Look at the wonderful smile!
Leaving St. Lucia, we drove a little further north towards the Hluhluwe–iMfolozi (pronounced Shush-Louie-Em-fo-low-see) Game Park and our overnight accommodations.
With apologies to Paul McCartney here, this was to be the first of several "…long and winding roads that lead to your hotel."
Somehow on this trip, I managed to book three of the most off the beaten path (but out of this world) accommodations you can imagine.
Having said that, this is also why major sections of our car's undercarriage are missing.
At times, we were so far into the dirt roads of the "bush", we wondered if we were possibly heading into a remake of the movie "Deliverance."
But, never fear!
It all worked out amazingly well.
I don't have room to insert all the photos that I would like so I'll encourage you to check out the websites posted for more photos and information…
Leopard Walk Lodge was so cool!
www.leopardwalklodge.co.za
. Our guest bungalow was nestled into the bush and exquisitely private – so much so that we could enjoy our outdoor hot tub – au naturel!
(Probably more information than you needed, right?)
At night, in the restaurant overlooking a waterhole on the reserve, a group of four zebras would come right up to the railing looking for food.
What a thrill!
The owners of Leopard Walk Lodge are a wonderful couple – Janet and Rob Cuthbertson.
By coincidence, Margie's mother was a Cuthbertson!
AND, both families trace their roots back to Glasgow in Scotland!
Could we be related?
From this point on, we were off to the Game Parks…again, I have hundreds of photos but I'll just insert some of my favorites along the way…


We visited the Hluhluwe section of the Game Reserve and got our first look at Africa's incredible national parks.
Hluhluwe-iMfolozi was the first park established here in 1895 and hosts the Big Five - Lion, Leopard, Elephant, Cape Buffalo and Rhinoceros - plus an enormous population of zebras, giraffes, nyala, impala, kudu, hyenas, warthogs, wildebeest and a slew of other small animals.
Did you know that the Cape Buffalo was one of the Big Five?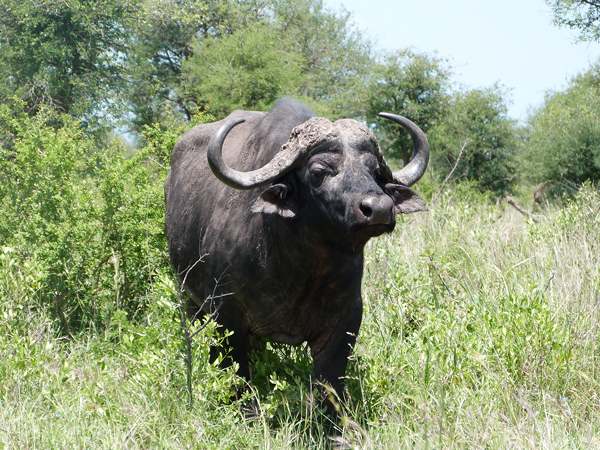 These guys are the Rodney Dangerfield of the group in that they "don't get no respect!"

Truth is, they may look kinda dumb and slow but they are really hot-tempered and can charge unexpectedly. A buffalo has four times the strength of an ox.

They could tip a car over if they want to get at you. Cape buffalo are known to kill lions and often seek
out and kill lion cubs.The adage an elephant never forgets would be matched by a buffalo never forgives. They have been known to attack people that have harmed them - even years after the event. They are considered one of Africa's most dangerous species.


Moving on, we crossed the border into southeastern Swaziland and drove to a private game reserve called Mkhaya.
www.biggameparks.org
Yet another gut wrenching drive to the Bush Welcome Camp where we, thankfully, left our Toyota and jumped in a 12 passenger open air Land Rover for a guided tour ending at the Stone Camp which would be our home for the night.
Again, we were treated to an "Out of Africa" bungalow made of stone and thatch – open almost all the way around to the outdoors and with beds surrounded by voluminous mosquito netting.
We had a wonderful candlelight dinner beneath a giant sausage tree and enjoyed traditional Swazi music, singing and dancing.There is no electricity at Mkhaya so we walked through the jungle on paths lit with lanterns and slept deeply under the starry skies.


In the morning, we were awakened at 5:30am with fresh coffee and hard biscuits called "rusks" which the Africans LOVE!
(It must be an acquired taste…)
We stumbled to the Land Rover at 5:30am for our second tour followed by a HUGE bush breakfast at 9am and then a walking safari at 11am, lunch at 1pm and off on the Land Rover at 2pm for our final tour and back to the parking lot to our car.
It was an amazing 24 hours.
Here we are in front of a rhino watering hole.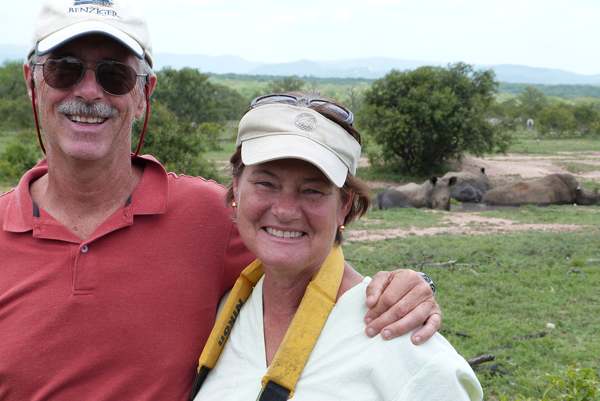 Crossing back to South Africa, we entered Kruger National Park – considered by most authorities to be one of the Top Ten Sightseeing Destinations in the World and we would definitely agree.
The Park stretches about 240 miles from the southern entrance, where we began, to the north and covers almost 5,000 acres.
It shares a border on the northeastern side with Mozambique and with Zimbabwe to the north.
This is a source of continuous problems with regard to poaching incursions but more on that later…
There are 12 Rest Camps in the Park as well as a number of higher end game lodges.
We stayed at two of the rest camps in the southern end – Crocodile Bridge and Satura – in traditional-style Rondavels.
(Zulu Huts) Our cottages were equipped with our own kitchen and bath.
Check out the website to see more photos and information –
http://www.sanparks.co.za/parks/kruger
We did self-drive tours around the Park and one amazing guided tour at night.
By the end of the four days, we had seen all of the Big Five plus many of the more elusive smaller game, mammals and reptiles.
Warthogs kinda grow on you after awhile.
I now consider them cute little fellas!
They have terrible vision which is why they are so skittish.
They also forage for grass on their knees.
Elephants live in stable social units led by a matriarch.
We saw groups of up to 25 adults and their young traveling together.
The males (bulls) cruise around in bachelor groups until it's time to mate.
They stick around for awhile when the kids are young but usually return to their guy pals and leave the child-rearing to Mom.
I couldn't believe how close we came to some of these elephants!
When they decide to block the road, they don't move until they are good and ready and, sometimes, there are so many that you just have nowhere to go!
You can see in this photo there is a car behind this elephant so he decided to head straight for us!
Luckily, he veered off into the bush before Margie had a panic attack!
Older males often wander around alone.
They (and their big tusks) are extremely vulnerable to poachers.
Demand for ivory in China (mostly for religious icons) is never-ending.
Good quality tusks can sell for over $600 a pound!
It's a little hard to see but this big old bull actually has a GPS tracking device at the top of his head so that the Park Rangers can keep an eye on him and get to him before the poachers do if he dies or, if they sense he is in trouble. Look at the tusks on this old bull elephant.

The Black Rhino's jaw is round with a hooked up lip for browsing bushes and low-hanging branches.
Here is a black Rhino.

The White Rhino has a square jaw which is well adapted for grazing and is bigger than the black Rhino, weighing in at up to 5,200 pounds while the Black will max out at around 2,500.
Rhinos were almost extinct in the 1950's and 60's and made a miraculous recovery thanks to conservationists.
However, they are now subject to poaching due to demand in Eastern cultures for the powder made from their horns.
It's believed to be a super VIAGRA-type supplement.
This leopard was caught with its eyes in the searchlights.
We followed it for almost 20 minutes.
They hide during the day and hunt at night.
This was our last night in the park and the sighting completed our search for the Big Five.
Giraffes were everywhere!
You can't miss them because the males can be up to 17 feet tall and weigh 2,600 pounds!
A newborn calf will be about six feet tall at birth.
There is only one species of giraffe but there are eight groups within the species and each has a distinctive coat pattern.
Giraffes can kill a lion by kicking with their powerful legs and huge, sharp hoofs.
They can run up to 35 mph for short distances but they tire easily.
Giraffes are herbivores browsing throughout the day.
Acacia is their favorite!
In Africa, many trees end up with flat tops after giraffes eat all their top leaves and branches.
The zebra's stripes serve to confuse predators.
When the herd bunches up, it appears to be one large single unit and less vulnerable to attack.
Peter asked our guide why nobody rides zebras and was told that their backbone is very soft and couldn't support much weight.
They have very sharp senses and often mix in with wildebeest or impala to alert the group against surprise attack.
African Wild Dogs are seriously endangered.
There are less than 5,000 on the entire continent and their numbers are dwindling.
Wild dogs are also seriously misunderstood.
They are not warm and cuddly-looking animals despite the Mickey Mouse ears.
They are shot and poisoned by farmers and, until recently, by rangers who considered them bloodthirsty raiders and dispersers of wild herds.
Luckily, this reputation is changing.
They actually serve an important role in eliminating sick or weak animals, thereby preserving the natural balance of nature.
Nyalas are abundant in the African bush and we were lucky enough to be touring the Parks during the "birthing season" so there were babies everywhere!
They were so cute we couldn't stop taking photos!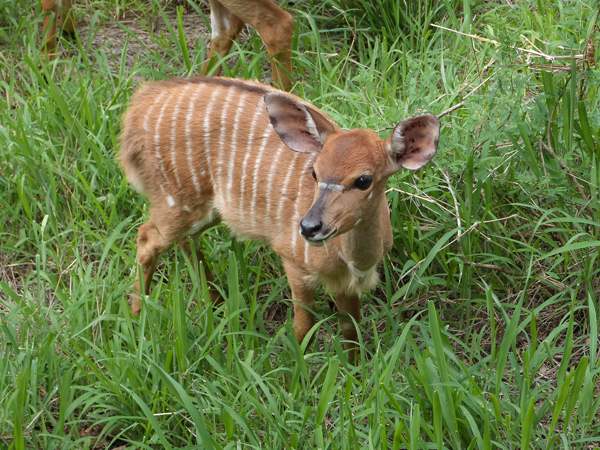 One final thought…if a visit to South Africa and Kruger National Park is not on your Bucket List, you are going to be shortchanged in the
OMG! Department!
Peter and I talked about doing this trip for our honeymoon 35 years ago but couldn't afford it at the time.

I am so grateful that we had the opportunity to come now.

Considering that we are here at the passing of Nelson Mandela, we are witnessing history as well as the beauty and biodiversity of this amazing country.

INCREDIBLE!!!
---