Where in the World are Margie and Peter? Malaysia!!!

Peregrina's Journey
Peter and Margie Benziger
Sat 19 Nov 2011 10:59
Position Report - 02:28.810N 101:50.638E
Where in the World are Margie and Peter?

Malaysia!!!
Time is flying by and we've covered a lot of ground/crossed a lot of water since our last posting.

Leaving Singapore, we sailed under the causeway that connects Singapore to Malaysia and across the Straits of Johor to Johor Bahru, capital of the state of Johor and the southern gateway to Peninsular Malaysia.

The Federation of Malaysia consists of 14 states. Eleven states form the Malaysia Peninsula which lies just south of Thailand.

The three other states are called East Malaysia.

They are on the northern tip of the island of Kalimantan, also known as Borneo. The population of Malaysia is 28 million.

Johor is the most populated state in Malaysia with 7 million people. It is an economic powerhouse with huge rubber, palm oil and pineapple plantations and a growing industrial base.

The city of Johor Bahru seems a little rough and tumble "gritty" compared to it's neighbor cosmopolitan Singapore and not really much of a tourist destination so I'll pass on a longer description.

We settled into Danga Bay Marina where the Sail Malaysia Rally would begin.

Our plan is to move rather quickly up the west coast of Malaysia since it is not known for spectacular beaches or crystal clear water but it does feature several important historical sites/cities along the way.

Next year, we may visit the more scenic waters of Eastern Malaysia.

For now, we're on a mission to reach Phuket, Thailand by the 1st of December when we will haul Peregrina out of the water for her first major refurbishment in several years after 16,000 miles of travel.

After a few days in Johor Bahru where we re-provisioned for the next leg of our journey, did some limited sightseeing and had a thorough briefing on our 450-mile cruise up the western coast by the Sail Malaysia team, we headed out towards the Straits of Malacca.

We had been warned that the Straits are dangerous to navigate at night as there are hundreds of fishermen trailing long nets that are impossible to see, so we planned our schedule to leave at "'first light" each morning.

Unfortunately, the 15-20 knot winds have been "straight on the nose" for most of this portion of the trip so we've been motoring almost a lot.

When we motor

we go between 5-6 knots per hour so a 12 hour day will take us 60-70 miles on average.

This speed keeps our fuel consumption reasonable but, sometimes we have to step it up a bit at the end of the day in order to arrive at our destination before dark.

Luckily, Peregrina has a 115HP Yanmar engine which plows through the sea easily and we carry 220 gallons of diesel which gives us a range of close to 750 miles.

Obviously, we prefer to sail but, when the wind is against us, I'm glad we have a good strong engine and huge fuel tanks!
We did two LONG (55 & 72 mile) day sails heading north up the Straits before arriving at Port Dickson and the beautiful Admiral Marina.

From here, we headed off with Barbara and Jim from Contrails on an overnight excursion to the city/state of Melaka (formerly spelled Malacca) which was once the greatest trading port in South-East Asia.

Half-way between China and India, with easy access to the spice islands of Indonesia, Melaka attracted seamen and merchants from all over the world. Starting in the late 14th/early 15th centuries, mercantile fleets of Malay, Chinese and Muslim Indian traders arrived and set up business here.

In fact, there were so many ethnic groups it is said that more than 80 different languages were spoken and up to 2000 vessels at anchor in the harbor.

Islam was introduced here during the early 1400's and the third ruler of Melaka, Maharaja Mohammed Shah, converted.

His son, the first Sultan of Melaka, Mudzaffar Shah, made Islam the state religion.

However, other religious practices were honored and allowed to flourish along with the booming economy.

Soon, the Portuguese, Dutch and British colonial powers arrived, as well as a brief occupation by the Japanese during WWII.

They have all left their stamp on Melaka and its multi-cultural heritage is evident around every corner.

Melaka

was designated a World Heritage City in 2008 and the Old Town, where we spent most of our visit, is a meandering maze of cultural, religious and ethnic diversity.

It's got everything!

Great walking tours, riverboat cruises, historic mosques, temples and churches, excellent museums, terrific restaurants and non-stop shopping!

This is a tourist destination where they are, so far, doing everything right.

We loved it!



Here are some of the highlights from our visit…

Melaka is magical at night.

It's especially fun to travel around via one of the Trishaws, a bicycle rickshaw all "pimped out" in garish lights and decorations.

Here's ours….

The Night Market on Jonker Street in Chinatown is a great place to find bargains on anything made in China or SE Asia from rubber chickens and paper lanterns to gorgeous beaded slippers and beautiful jade.

I was hunting for a bracelet when, to Peter's delight, a huge thunderstorm closed the market in seconds.

Curses!

Foiled again!!!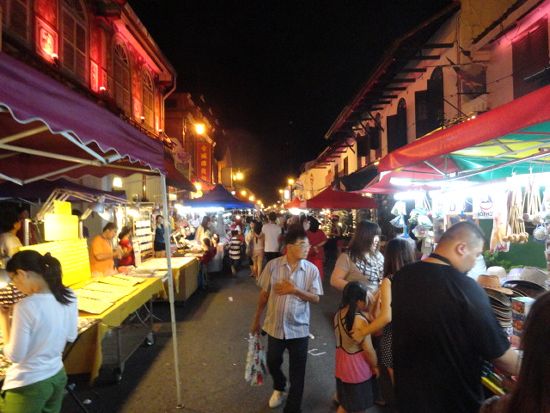 The oldest Chinese temple in Malaysia is located on Harmony Street here in Melaka.

Built in 1646 from materials shipped from China, the Cheng Hoon Teng Temple is a masterpiece of ornately decorated mythological figures, intricate carvings and beautiful lacquer work which pays homage to the San Y Chiao, or Three Teachings, of Buddhism, Taoism and Confuscianism.

We were amused by this sign outside the temple warning us not to be conned by bogus "monks" begging for money and/or selling religious trinkets.

Apparently, the only charity a monk is allowed to accept is food and shelter and they do NOT engage in commerce on the streets.

These latest scam artists in Melaka make a decent living posing as pious pilgrims.

Nearby the Cheng Hoon Teng Temple and across the street from the Sri Payyatha Viyanagar Moorthi

Hindu Temple (which explains why this is called Harmony Street) is the Kampung Kling Mosque.

It was originally built of wood in 1748 and rebuilt in 1872 in brick.

It has a mixture of architectural styles with Sumatran, Chinese and Malay influences.

Not many mosques are open to the public and photos are usually not allowed so, while this is not the most spectacular example of an Islamic house of worship, we wanted to include it in our photo journal.

For one of the most magnificent glimpses into the past, we headed to the Muzium Budaya (Cultural Museum) which is a re-creation of the 15th century Sultanate Palace.

The original building was a wooden structure constructed without nails.

This modern day version (pictured below) traces the history of Melakan trade, culture and lifestyles over the centuries.

There was even a diorama of the sultan's court and, upstairs, the sultan's bedroom where Peter lingered just a little too long lusting over the thought of the sultan's harem.
There's lots more to Melaka and we could have spent several days there but, we had friends to see in Kuala Lumpur and, as always, boat projects to be done before heading out to sea again.

So, we made our way back to Admiral Marina and home to Peregrina.

----------------------------
---