Cocaine Comedown…A "Narco Island" Goes Bust!

Peregrina's Journey
Peter and Margie Benziger
Thu 21 May 2015 18:27
10:09.6N   075:47.8W

Cocaine Comedown…A "Narco Island" Goes Bust!

The jungle is slowly reclaiming some spectacular villas on the beautiful island of Isla Grande - just 25 miles southwest of Cartagena, Colombia. And, what has not been gobbled up by the vegetation is collapsing into the water with the continuous erosion of seawalls.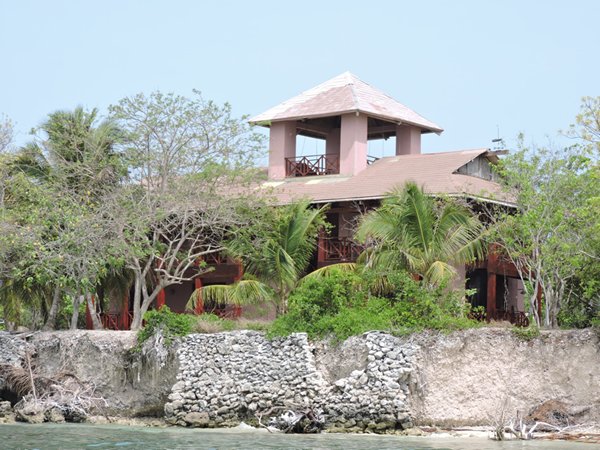 ​
Isla Grande lies in a tropical paradise comprised of 27 offshore coral islands known as the Parque Nacional Natural Corales del Rosairo y de San Bernardo. Wealthy Colombians still come to vacation at a few resorts and eco-lodges on the other islands.  Fast boats from Cartagena still whisk excursions groups on day trips for sunbathing, swimming and snorkeling on sugar white sands that melt into crystal clear waters. 

But, if life is SO good here, "What's with all those beachfront villas that lay abandoned in ruins on the largest island of Isla Grande?" 

We posed this question to several villagers we met as we hiked from one end of that island to the other. And, after overcoming their obvious reluctance to talk, we found that these mega-mansions were once the domain of the "narco-trafficantes" in the Colombian Cocaine Cartel – including the most infamous of them all, Pablo Escobar, aka "El Padron."

​

The cartel bosses built these magnificent homes in the 1970s and '80s at the height of the international drug scene as vacation getaways from their "businesses" in Cali and Medellin.  Some feature look-out towers, seen poking above the tree tops,  where guards were posted to ward off uninvited guests and intruders. 


​
​
The Cocaine Cowboys lived well but, as one young man we met explained, "They didn't live long."  Fame and life expectancy was short in those days if you were involved with "dinero sucio" - better known as drug money. 

Most of the ringleaders in the cartels were either in jail or dead by their 50th birthday.  Escobar, Colombia's most famous drug kingpin, whom Forbes Magazine listed as the 7th richest man in the world in 1989 was gunned down on the rooftops of Medellin in 1993 just short of his 45th birthday.   Estimates on his wealth hover around the US$30 billion mark.
Infamously known as the King of Cocaine, Escobar was reportedly responsible for 80 percent of the world's cocaine during his time as the head of the Medellin drug cartel.  It is said that he moved 15 tons of cocaine to the USA every single day!
His 300-room seafront mansion backs up to dense jungle and mangrove.  At the centre of the complex was a giant swimming pool surrounded by palm trees, with views over the Caribbean Sea.  It had a helicopter pad, where Escobar could land one of his six choppers and bathrooms with gold showerheads.  One can only imagine the coke-fueled Bacchanalian parties thrown at this playboy's mansion!

​
Today, the ruins are home to squatters who use the empty swimming pool as a drying area for their laundry.


​
We were told that, for over two decades, life on Isla Grande was great!  The villagers were employed as construction workers, landscapers, cooks and cleaners for the drug lords and their entourages.  But, obviously, things have changed now.  The main village is a sad looking little square of houses, bodegas and bars that serves as the central gathering point for the 500 residents who still inhabit the island.  One could certainly understand if the locals didn't reminisce longingly for the hey-days of Isla Grande.

​
You can hardly blame them.  Today, Isla Grande is clearly impoverished and, frankly, a little creepy!  With little rain for most of the year, there is no farming whatsoever.  A weekly delivery of fruits, vegetables, meats and basic needs products (in very limited supply) disappears quickly.   The islanders depend on fishing for their livelihood and hawking handicrafts and souvenirs to tourists.  Mostly, we saw people just hanging around.
There are no roads and no cars - simply a labyrinth of footpaths criss-crossing the island.  A lucky few locals operate generators that power light and the occasional television.

​
But, when the sun goes down, it's time for bed.  At night, there's hardly a flicker of light anywhere on the island.  No hint of the illicit party scene that dominated this island for more than two decades.
Life is pretty sleepy now that the party's over on Isla Grande.
THE END​

-------------------------------------------------------
Dear Readers. We love hearing from you but please send us a new message or, if you hit "reply," take a moment to erase all the story and pictures. We have very limited bank width.
-------------------------------------------------

Note:  Credit Luke Spencer with all photos of Pablo Escobar's home

--------------------------------------------------
For more stories see our blog: www.blog.mailasail.com/peregrina



--

--
---