Los Roques ROCKS!! Part 2

Peregrina's Journey
Peter and Margie Benziger
Fri 6 Mar 2015 20:14
​Los Roques ROCKS - continued from Part 1​
But, just because Los Roques is protected from invasion by tee-shirt shops, fast food establishments, nightclubs, "mac-mansion" vacation homes and high rise condominiums, it doesn't mean the joint ain't jumpin!'  Yes, indeed, Los Roques ROCKS!!!
On any given weekend and over all major holidays and school vacations in Venezuela,  commercial airlines, fancy mega-yachts and private jets descend on Los Roques - allowing those who still have disposable income to forget their troubles for awhile and enjoy one of Venezuela's national treasures.  It's never crowded, according to local sources, because visitors usually take excursions to a different island every day.  In fact, we were there over the long Carnival weekend just before Lent and the increase in tourists was barely noticeable.
However, there ARE certain events where one island might be the site of something very special!  And, it just so happens that Peter and I found ourselves in Los Roques on the occasion of a spectacular wedding party held on the island of Namusqui. (Nah-moos-key) Ricardo Gonsalves and Cecilia Pietri were about to married and, as luck would have it, we met the bride and groom and many members of the wedding party a couple days before the big event. 

Ricardo is a former professional kite-surfer (now a major cattle/buffalo rancher) and we were watching him and his buddies perform amazing tricks while chatting with assorted friends and family members on the beach. 

Basically, the wedding party had taken over the majority of the posadas on Gran Roque and pitched a "party camp" on Namusqui.  Other friends formed an armada of mega-yachts which motored from the mainland and rocked gently at anchor just a few meters offshore.


​

When I say "big event", I'm not exaggerating!  This four-day extravaganza brought 200 of Venezuela's most wonderful people together and they could not have been more welcoming to a pair of "gringos" from America!  At first, I felt a bit like Owen Wilson and Vince Vaughn from "The Wedding Crashers" but, soon, we felt like part of the family.  Our unassuming hosts and the family and friends who gathered together for a long-weekend's worth of celebration included us with open arms.  Here we are with the bride and groom.  Take a look at that gorgeous wedding gown.  The skirt came off and it was a beautiful white bathing suit!  Perfect for a water-themed destination wedding!

​

Many of these good people were descendents of the founding families of Venezuela and now part of the dwindling "upper-class" in today's Venezuela.  See below my new friend, Helena Disario, the gracious, eloquent and beautiful "grand-dame" of the entire wedding party! 


​

Helena seemed to be related, grew up with or was best friends with just about everyone at the wedding!  But, I detected a Massachusetts accent in her English and discovered that, as a young girl, she lived in Boston where her father studied at MIT!  After establishing our Massachusetts connection, we were delighted to discover that Helena lives six months of the year in Boca Raton, Florida where Peter and I had a home for 7 years.  She and I have a made a pledge to meet for lunch the next time we are back in the Sunshine State!
Everyone we met were highly-educated professionals with fluent English, business acumen, entrepreneurial spirit and an enduring love for their country.  The "20/30-something" generation was represented by doctors, lawyers, engineers, teachers, musicians, telecommunications professionals, government officials (good guys only) and other highly respected career paths.  What a joy to be surrounded by such talent and drive! 

Someone told me that Miss Venezuela was there but, how could one tell?  Everyone was drop-dead gorgeous.  No ifs, ands, or butts….
​
For the record, Peter took that photo!
And…WOW!   Did they know how to party!!!  The DJ started playing as soon as word came back from the mainland that the wedding service was over and the launches were bringing guests to Cayo Namusqui.  For the next 48-hours, we partied like there was no tomorrow!  In fact, there WAS no tomorrow – seeing as the celebration continued on into the wee hours of Friday,  Saturday and Sunday morning! 

There were tents set up all along the beach and the music was non-stop!!!

​

​


​
 But, Monday arrived and the last of the wedding party headed to the airport for their flight back to Caracas so it was time for Peregrina to move along as well. But, we will carry memories of that wedding and the wonderful people we met in Los Roques forever.
We visited the islands of Noronsquis, Crasqui, Sarqui over the next week with a stop back in Gran Roque for the Wednesday market easily worked into our schedule.  It is impossible for me to find enough adjectives to describe the beauty of each island; the picture perfect beaches and the secluded anchorages that we discovered.  So, I'll just insert a few more images - briefly noting some of the highlights from each stop.
Noronsquis (Nor-ons-keys) consists of three little islands surrounded by a barrier reef enclosing a lustrous blue lagoon with huge Midnight Parrotfish and beautiful Rainbow Parrotfish.  It was a little nerve-wracking weaving our way inside but flat-as-a-pancake calm once we settled down at anchor and the sea-life was amazing.  Here's an example of a gorgeous Rainbow Parrotfish.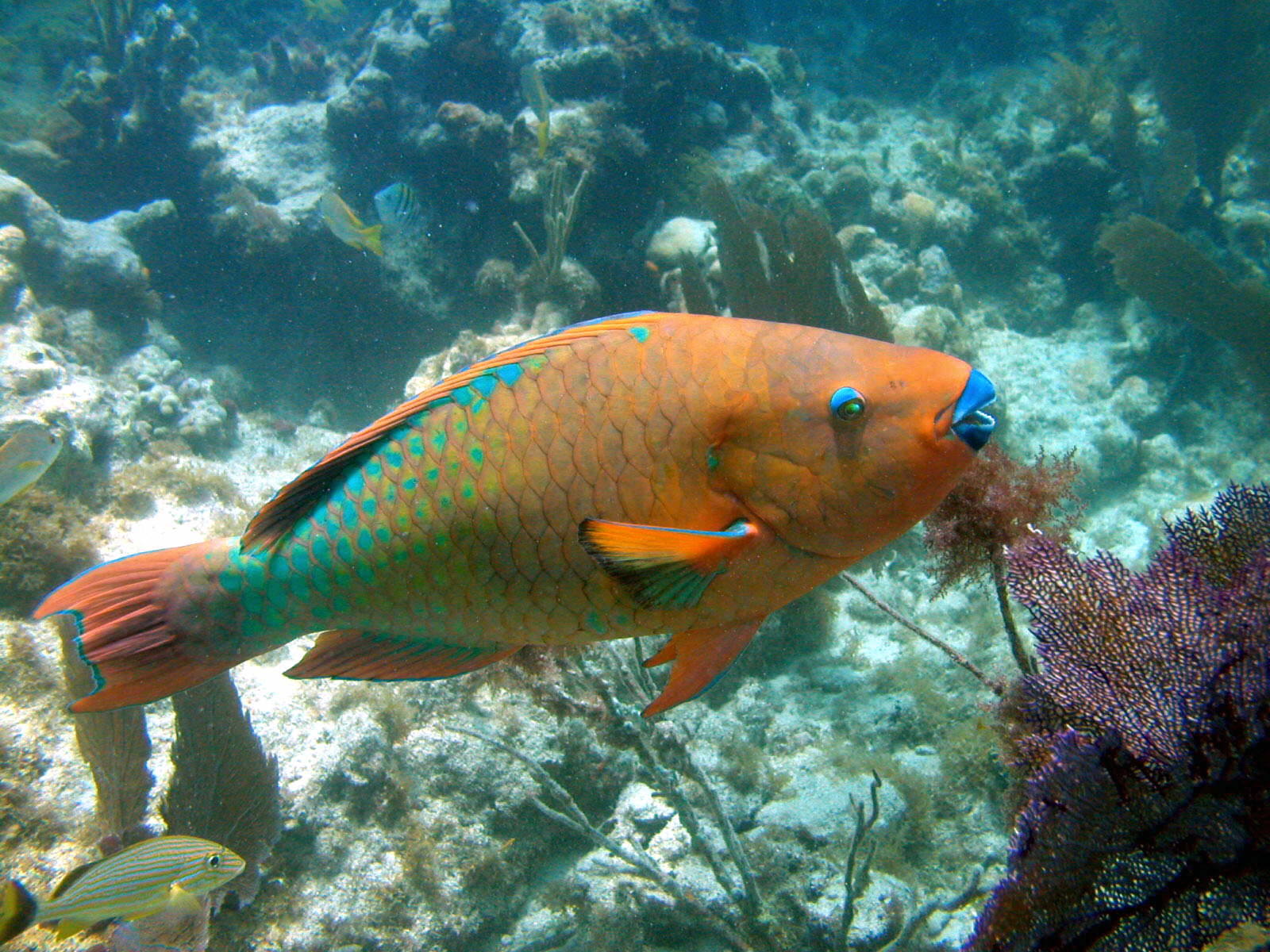 ​

At Crasqui (Crass-Key), the most perfect white/pink sand beach seems to go on forever! 


​

We never tired of walking along the shoreline on Crasqui and, most days, ours were the only footprints in the sand.  However, when The Hunger Pains commenced, we knew where to stop for the best lobster dinner this side of paradise – Restaurant Aqua Clara - where the end of lobster season meant some "big boys" had finally been captured and were laid out on the grill!

​

The tiny anchorage at Sarqui (Sar-Key) had limited space for mooring/anchoring but we were all alone after the excursion boats left the scene.  Sarqui is known for great bone-fishing but what we enjoyed was the snorkeling with frequent Green Turtle sightings.  Since we didn't have an underwater camera, I've inserted a stock photo here but the image looks just like the real thing we were chasing – close up and personal!

​
Our last stop in Los Roques before heading west out of the Park and on to Bonaire was another reason this Venezuelan archipelago ranks up there among our favorite places.  Cayo de Agua is a gorgeous island with tall sand dunes, palm trees, a distinctive red & white lighthouse, great snorkeling and diving as well as protected lagoons which attract kite-surfers from all over the world.

​
However, this was not an anchorage that I would recommend eye-balling your way in without "local knowledge" as the narrow entrance between the reefs is flanked with banks of coral heads.  As we were slowly picking our way through, Peter had just cried out, "I'm not comfortable here, Margie…" when we got a call on our VHF radio from a German couple, Marion and Hans Schulte Steinberg, aboard S/V Los Gorriones at anchor inside the eastern reef. 

They had arrived the previous night and were anxiously watching our approach.  Hans gave us his "waypoints" to follow and we adjusted our course and motored smoothly into deeper water and then the calm anchorage area close to the beach. Yet again, we realized that sailors have no concept of strangers.  We look at the occupants of other boats or residents of every new country we visit as, simply, friends we haven't met yet!  Over the course of the next two days, we enjoyed Marion and Han's company immensely and, as always, we were sad to see them go. 

​
Cayo de Agua got its name because there is fresh water just a few feet under the ground here.  The Amerindians, who inhabited the island until just a few years ago, dug lots of holes near the palm trees to find a source of fresh water.  You can still see down to water level in some of the holes and, although it's a bit brackish, I guess it would do in a pinch!

​

There is a sandbar which joins Cayo de Agua to the island of West Cay - a football field away - and this is, undoubtedly, one of the prettiest photo ops we've encountered in all our travels.

​
 Cayo de Agua and West Cay, in particular, are home to hundreds of bird species and nesting families.  We came upon this family on the windward side of West Cay where they build their nests in the scrub brush close to shore.  I'm not a birder but from researching the internet, I believe they are called Brown Boobies, or Sula Leucogaster. In case you were wondering, Brown Booby pairs may remain together over several seasons. As part of the courtship ritual, they perform elaborate greeting "dances." They nests in large colonies. The average clutch consists of two chalky blue eggs that are placed on the ground in a mound of broken shells and vegetation.
 They mainly eat small fish or squid which gather in groups near the surface. They may catch leaping fish while skimming the surface. Brown Boobies are spectacular divers, plunging into the ocean at high speed.  They weren't thrilled about us intruding upon their privacy and Dad dive-bombed us a few times to show his displeasure so we moved on quickly.

​

Talk about quickly, our 15 days in Los Roques passed much too quickly and we wished that we had been allowed to stay longer but "rules are rules" and Venezuela is doing the right thing in keeping Los Roques as preserved, protected and eco-conscious as possible.  As "yachties" we applaud such efforts which dovetail nicely with our pledge to leave only a "clean wake" and take away nothing but wonderful memories.  We feel privileged to have seen the beauty of Los Roques and hope that we are not among the last American cruisers to explore the archipelago. 

Please don't bypass Los Roques if you are a "yachtie" cruising westward towards the ABC Islands, Colombia or Panama.  Or, if you looking for an incredible vacation still within the perimeter of the Caribbean Sea but without all the hustle and bustle of the chic, trendy contemporary "been there, done that" Caribbean islands, check out the convenient flights to Los Roques via Caracas.

The residents of Los Roques will be delighted to meet you!  They will do everything possible to make your stay in this beautiful archipelago memorable and the Venezuelan tourists sharing an excursion boat or joining you for scuba diving or bone-fishing (or maybe even a wedding?) just might be some of the greatest friends you haven't met yet!
And so, as the sun sets on Peregrina and Los Roques, we get ready for another passage to the island of Bonaire.  Stay tuned for the next installment of "Where in the World are Margie and Peter?

​


--

--
---