The Hardest Thing About Leaving; Cape Town to Namibia

Peregrina's Journey
Peter and Margie Benziger
Sat 12 Apr 2014 10:26
26:38.3S 015:09.4E

The Hardest Thing about Leaving is Just Leaving!
To go sailing, you actually have to leave the dock! Sometimes, the leaving part can be quite challenging.
Margie and I are now in the fifth year of our circumnavigation and I have grown to love the following quote from the author, John Green. He wrote: "It is so hard to leave—until you leave. And, then, it is the easiest goddamned thing in the world."

So here we were, trying to leave the dock in Cape Town, South Africa. Ready for another adventure!
Most of the reason we had trouble leaving was that South Africa is such a magical country and Cape Town is such an alluring city. We really enjoyed our time here! South Africa has it all: wilderness, mountains, game parks, (Lions, Rhinos and Wildebeests…Oh My!) history, architecture, diversity of people, art, music, culture…you name it!
The other thing that South Africa has - especially Cape Town - is great marine services. We were staying at the Royal Cape Yacht Club. There must be 500 local sailboats here at just this one yacht club and the marine services were all close by. Since we had a trip of almost 6000 miles to cross the Atlantic coming up, Cape Town was a great place for Peregrina's re-fit.
Before we left there were a host of projects such as:
-removing the sails and getting them repaired
-fixing broken blocks
-buying new rope for our halyards, jib sheets and lazy-jacks
-oil and filter changes
-filling propane, diesel and outboard tanks
Margie made me eliminate at least 20 more entries on this list for the sake of brevity but I'll tell you about just a few…
One of the jobs was the fabrication and installation of a new metal bracket for the boom vang which had broken off in the tough weather and seas of the Indian Ocean. Here is a picture of Andre from Advanced Rigging using his riveting machine to re-attach the boom vang to the boom. (The boom vang keeps the boom from swinging wildly up and down) We decided to use strong, high tech Monel rivets. I liked Andre's super cool riveting tool so much I bought one, along with a supply of Monel rivets.
After hearing stories from friends of broken steering systems, we took out the metal emergency steering arm and set it up. It was rusted and hard to get out and put in place but, now, we know it works.
Other projects included diagnosing and installing electrical components for navigation
Here Margie is cutting me new gaskets using a razor knife and a rubber gasket sheet.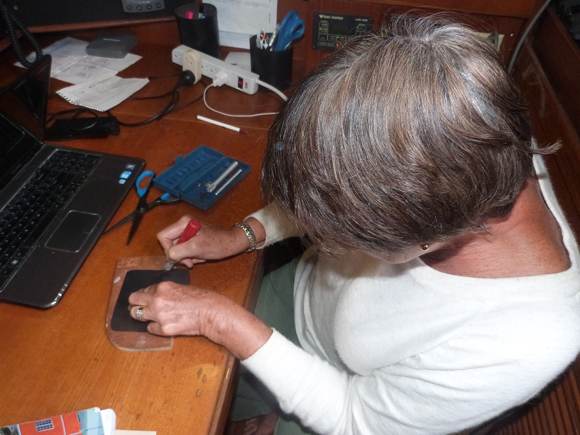 As we do every six to eight weeks, Margie hoists me up the mast to check the standing rigging. I take this ritual very seriously. Number One: Because I really want to know if there are any problems that might lead to the mast fall down and Number Two: Because I am 64 feet up in the air! Margie always claims that this is her "Golden Opportunity" as she sits at the winch with my life in her hands! For safety sake, I never choose to go up the mast the day after an argument!
Here is a shot looking down from the top. Who wants to come up with me next time?

One of the last projects is cleaning the bottom. We have dive tanks on board so I usually do it myself. Margie believes wholeheartedly that this is a "Blue Job". I'm not so sure about that but I haven't been able to convince her otherwise…
It is definitely a GROSS job since the shrimp on the bottom get everywhere:
So, after about two "semi-solid" weeks of work (Remember, I DID take Margie to a FOUR STAR HOTEL!), we were ready to leave. Not everything worked but everything NEVER works on a blue water yacht during a circumnavigation. At some point, you just have to go!
We had decided to check out the following day but, at 4pm, a good friend asked me to take a look at our roller furling drum on the bow. The roller furling drum brings the very large genoa (the forward sail) in and out. It is used constantly during ocean passages to adjust (reef) the sail. I had not noticed that it was separated into two pieces. When I looked inside, it was clear that the bearings had broken. The two parts in the picture below should be together. It would have been a disaster to put to see with this mechanism broken. Thanks, Steve Meek, for your "good eye" in spotting that problem.
Well, the roller furling took a few MORE days to fix and then we were REALLY ready to leave.
Checking out of any country involves the following governmental agencies: Customs, Immigration and Port Control. When you tell them you are going, they stamp your papers (always with a flourish)…and then, they prefer you to leave that very same day!
We checked out, getting our passports stamped (indicating we had left the country) and started up Hercules, our diesel engine, to warm him up. We untied most of the lines to the dock and then I went down below to look one last time at the engine and turn off the engine room light.
OMG…Monstrous Mephistopheles!!!! From your literature study, I'm sure you will remember that Mephistopheles does not search for men to corrupt but comes to serve and, ultimately, collect the souls of those who are already damned! I was beginning to feel like one of the damned…
What did I do to deserve this?
THE SEA WATER PUMP ON THE MAIN ENGINE IS LEAKING!!!
We are NOT leaving! We re-tie the boat to the dock. Usually, I do most jobs on the boat but, to remove the sea water pump, you have to take out one of the engine mounts. I wanted to see this done, one time, before I tried it myself. I called Yanmar early the next morning. Our man, Leon, arrived by 10am to remove the pump - returning at 4pm with the rebuilt pump and installing it by 6pm. This is the best marine service I have ever gotten, anywhere in the world. Thanks Leon!
With everything ready and now being cautious cruisers, we decided not to sail directly across the Atlantic but to do a "test sail" of sorts from Cape Town to Namibia about 500 miles away, up the west coast of South Africa. We had heard such wonderful things about Namibia, it was an easy decision.
We left beautiful Cape Town (somewhat late and thus a bit illegally) the next day with the majestic Table Mountain in our wake as we sailed away.
Easy-Peasy!!!
With fair winds and a following sea, Peregrina spread her sails wing and wing and we were off.

From Namibia, we will depart to the island of St. Helena in the Atlantic but, prior to that, there are sure to be more adventures as you wonder…"Where in the World are Margie and Peter?"
---------------------------------------------------------------
---