Do you want to Didgeridoo?

Peregrina's Journey
Peter and Margie Benziger
Sat 9 Jul 2011 23:50
Position Report: 12:28.000S 130:51.000E
I WANT TO DIDGERIDOO…DO YOU WANT TO DIDGERIDOO TOO

?
IT IS COMING FROM THE HEART
IT IS COMING FROM THE LAND
IT IS A SOUL INSTRUMENT
YOU FEEL IT.
IT IS THE SOUND OF MOTHER EARTH
Traditionally, the Australian Aborigine would go into nature and listen intensely to animal sounds, not just voices but also the flapping of wings or the thump of feet on the ground. The Aborigine would also listen to the sounds of wind, thunder, trees creaking, and water running. The essences of all these sounds were played with as much accuracy as possible within the droning sound of the didgeridoo.
The didgeridoo is an instrument used by the Aborigines in northern Australia. In caves, housing the people of the Kakadu regions, they have found paintings of didgeridoos which date from at least 1,500 years ago.

Often the didgeridoos are painted with intricate patterns.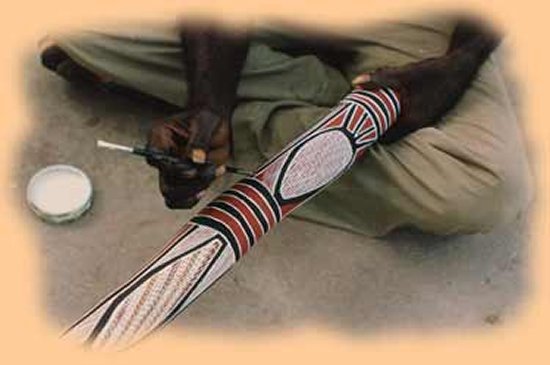 Much of Aboriginal art surrounds what Aboriginal people term 'dreaming', which is where and how they believe their existence began. Stories evolved surrounding their beginning and set out how they were to live as part of nature, as well as with one another. Their art forms became a way of sharing their beliefs within their tribe and with other tribes as well.
A didgeridoo is a cylindrical or conical instrument measuring between 3 to 10 feet long. The longer the instrument the lower the pitch or sound.

Traditional didgeridoos are usually made of hardwoods and the main tree trunk is harvested and placed inside a termite area. The termites eat the soft inside and leave the harder exterior, thus producing a hollow tube.

The aborigines then remove the bark and shape the instrument. To make playing easier a hollow rim of beeswax can be applied for your lips to rest against.
The didgeridoo is played by continuously vibrating your lips over the beeswax rim but with a very unique twist. The aborigines developed a special breathing technique over the years called "circular breathing."

While the mouth continuously expels air, using the tongue and cheek, the nose is still inhaling air to replenish the lungs. Experienced didgeridoo players can sustain a single note for as long as desired. In one sound recording a person played continuously for 40 minutes using "circular breathing."

I invite you to blow air out of your mouth continuously for 40 minutes. If you succeed send me an email!

Now that you know more about didgeridoos, you can understand why I want to play a didgeridoo and I hope you want to play a didgeridoo too… Do you?
[To listen to a didgeridoo visit the following U Tube site]
http://www.youtube.com/watch?v=VgwsGjRk61M
---