Cruisng the Marquesas to the Tuamotus

Peregrina's Journey
Peter and Margie Benziger
Tue 11 Jan 2011 00:17
Position Report – 9:21.809S 140:08.746W




Dear reader…This update was written in April 2010 but I'm posting it on our blog in January of 2011.

I'm sorry for the confusion and will try to upload everything as quickly as possible to get me current… At this point, Peregrina has crossed the Pacific from the Panama Canal to Las Perlas Islands off Panama's west coast to the Galapagos off Ecuador to the Marquesas and is heading towards the Tuamotus….




April 27,

2010 - I'm writing this update from Hakahetau Bay in Ua Pou, Marquesas where we spent a very rolly night before heading off towards the Tuamotus this morning.

In fact, two of the eight BWR boats dragged anchor during the early morning hours so there was lots of excitement and very little sleep!




Ua Pou is 25 miles due south from Nuka Hiva and it was a lovely beam reach that brought us here yesterday in less than four hours.

Ua Pou is very picturesque with the tallest, most vertically dramatic mountains in the Marquesas.

It has the most people of all the islands but we aren't going ashore here as we need to push on…




But, first I need to catch you up on our visit to Nuka Hiva.

We were based here on the south coast in Taiohae Bay, the most popular anchorage for yachties.

This anchorage is well protected from all weather but there was a slight swell so we did roll a bit.

Taiohae is where you officially clear customs for the Marquesas - although we did stop in Fatu Hiva first which necessitated a small "bribe" to satisfy the local gendarme.

There are shops and restaurants, produce markets and regular supermarkets in Nuka Hiva so it's a good place to stock up before heading to the mostly uninhabited Tuamotus.




Nuka Hiva is very beautiful with dramatic landscapes and spectacularly well-preserved archeological sites.

You may recall I mentioned previously that human sacrifice and cannibalism was practiced here right up into the beginning of the 20

th

century. There is actually a place called Tai Pi Vai (Valley of the Cannibals) made famous by Herman Melville in his book,

Taipee.

We went on a terrific 4X4 excursion to see some of these sites which were really extensive villages surrounding a central courtyard with a main "chief's" house overlooking the plaza and a ceremonial platform where the high priest conducted the sacrifices to the Gods.

These elevated platforms were guarded on all sides by the carved stone "Tiki's".

Although I can't imagine why there would be a stampede of people trying to get a look around there?




Anyways, to my great relief, they were not looking for volunteers and, even if they were, it was only men who were given up for the good of the community.

This brings us to another interesting aspect of life in the Marquesas – the preponderance of "She-He" men.




It doesn't take long before one notices the many young men, even young boys, who are dressed as women/girls in the Marquesas with skirts, make-up and flowers in their hair.

Apparently, back in the day, if a family had just one male child, they would raise him as a girl in order to protect him from the selection process for human sacrifice.

This could avoid the possibility of the family lineage dying out in a rather gruesome way.

Back then, many of these "She-He's" ultimately took wives when they grew up and lived as the male head of their families, but some preferred to adapt to their imposed gender and adopted female mannerisms for the rest of their lives.




As time passed, human sacrifice was no longer practiced but the Marquesans had become very comfortable with the concept of a "She-He" individual and, in fact, homosexuality is now universally accepted throughout the islands.

If a male child exhibits homosexual tendencies or trans-gender issues, the family will adapt to whatever suits him best without fear of public condemnation or reprisal.

(I assume this applies to young girls and women as well)

Anyways, it is simply another example of how loving these islanders are and how they accept you "as you are."

Too bad, we cannot be that open-minded back home…




A bunch of the boats did a two-day excursion five miles west to Daniel's Bay, a beautiful anchorage with a crescent beach that was the site of Survivor Marquesas 2001.

There was a guy who lived here named Daniel but he got bought out by the Survivor people.

They apparently closed the entire island to tourists for three months while they were filming and even the locals couldn't get anywhere near the locations where the taping was going on…




We had a wonderful picnic on the beach the first night and then last night we went over to a big catamaran called Spirit of Nina and about 16 of us grilled food on the barbeque and then we played charades on the bow of the boat.

It was so much fun.

Earlier in the day, we hiked up a long, tough trail to see Hakatea, the 3

rd

largest waterfall in the world!

(It falls straight down the side of this dormant volcano for several hundred feet.)

It's been very dry here so the waterfall wasn't exactly gushing with water but it was beautiful and we swam in this incredible pool with crystal clear (cold!) fresh water and you could just squeeze through a little hole in the rocks and that got you into another, even larger, pool where there were several huge caverns all filled with water from the waterfall and the sun just peeking in from up above.

(photo)

It was amazing.

Luckily, we noticed the six foot black eel that was swimming in the pool with us AFTER we got out of the water!

Yikes!!!




On the way back, we stopped at this little house and the husband and wife had a whole table full of fresh fruit for sale.

They had mangos and pineapple and papaya and bananas and grapefruit, which is called "pamplemousse" in French and is my new favorite word of all time.

They had just picked everything off the trees moments before.

You have NEVER tasted fruit like this.

It has spoiled us forever!




Another highlight in Nuka Hiva were a big party at Rose Corser's Yacht Club and Restaurant where a local dance troupe entertained us with traditional dances and song and we had a wonderful pig roast called a Him'aa.

(see photo)

Rose has been living in Nuka Hiva for 40 years!

She came on a sailboat and never left!

She's a lovely lady and the locals ADORE her!

She's a big fan of the Blue Water Rally.




The day before we left, Peter worked hard helping to haul jerry cans full of diesel fuel to several boats.

The dock at Nuka Hiva is very hard to get into with a sailboat because of a big swell and we didn't want to risk damaging the boats so instead of filling our tanks right at the dock from the pumps, we filled up 10-15 jerry cans and then transferred them by dinghy to each boat and then poured them in the tanks by hand.

It took all day to do three boats and he was exhausted!

But, it's all part of the Rally spirit of cooperation.




We left Nuka Hiva on April 24

th

- spent the night in Oa Pou - and then started off for the 485kn sail to the Tuamotus.

It's now April 27

th

and our position is 14:43.79S/142:54.61W.

We are about 115 miles to our destination, Makemo.

We are currently motoring as we have no wind and, just as an aside, we continue to have problems with our generator/alternator which will have to be addressed in Papeete.

But, that's another story…stay tuned!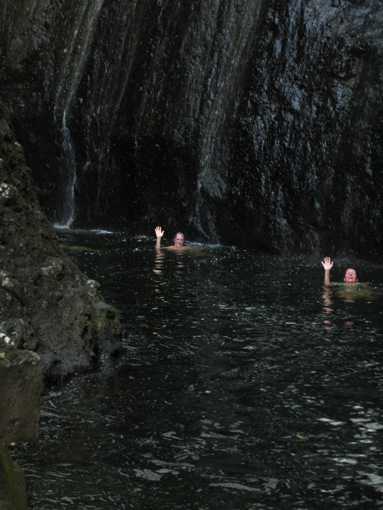 ---