Savu Savu on Vanua Levu, Fji

Peregrina's Journey
Peter and Margie Benziger
Wed 12 Jan 2011 01:11
Position Report – 16:46.795S 179:20.454E
Bula, Bula!
(Hello; Welcome; Health…whatever the translation, Bula is the traditional greeting you'll hear over and over again with a huge smile from practically, each and every Fijian you meet.)
We arrived in the settlement of Savu Savu on the island of Vanua Levu after a pleasant four night journey.
We had to time the trip to arrive at the Savu Savu Yacht Club in the daylight via the shallow waters of the Nanuka Passage between Taveuni Island and a chain called The Exploring Islands.
(BTW, the International Dateline runs right through the middle of Taveuni which allows one to stand with one foot in "today" and the other in "yesterday" – How cool is that?)
Anyway, the last few hours before dawn were quite challenging as we were desperately searching for a number of buoys (or Boys, as our English friends call them) that should have been lit and guiding us to safety but were definitely not!
What's more, there were some dangerous shoals off the southern end of Taveuni but, again, we were told not to depend on finding the channel markers, and/or supposedly lit buoys that our marine charts advertised.
But, no worries…we arrived safely with
Aspen
and
Enchantress
not far ahead of us and relaying helpful information all along the way, as is common among fleet members during all passages.
The daytime arrival mandate comes down from the Fijian Customs and Immigration guys who are dedicated bureaucrats and won't allow you to drop anchor in their waters unless you are in a specific quarantine area and are ready to plow your way through hours of tedious form-filling!
We actually used carbon paper (Remember that stuff!!!) to fill out at least six only-slightly-different, yet very lengthy, forms in triplicate!
This was all repeated AGAIN when we left the Fijian Islands from Musket Cove 15 days later.
Luckily, the Rally arranged for us to obtain cruising permits in Savu Savu that allowed us to move relatively freely throughout most of the Fijian Islands along an established route.
Otherwise, we would have had to use up enough paper to destroy another forest every single time we arrived in a new port of call which is the standard procedure for individual cruisers.
Even then, some islands are absolutely TABU to visitors and others such as the Lao Group require extensive background checks to weed out the really bad seeds!
And, Lord help you if you deviate from the itinerary you give those dedicated civil servants in your cruising affidavit!
Hours of questioning and much consternation and hand-wringing will occur if you suddenly turn up at an unscheduled destination!
But, enough about the bureaucracy and back to the BULA, BULA!!!
Fijians are FRIENDLY!!!!!
Everyone seems to have a smile on their face and a rousing "Bula, Bula" to greet you.
On our first night in Fiji, we were welcomed into the community by the local chief and several elders of the settlement with a
Meke
ceremony where lei's were placed around our necks and Kava, the traditional brew, is served in a half coconut shell and drunk in one big gulp!
Kava is made from the root of a pepper plant mixed with water.
It looks like brown dishwater and tastes even worse!
It is mildly numbing on your tongue and lips and majorly disgusting.
But, the chief and all his pals are sitting cross-legged and smiling sweetly right next to you so you REALLy have to just grin and bear it.
Clap one time, take the cup, bottoms up, clap three times , try not to barf and smile, smile, smile……….
While at Savu Savu, we had a number of special dinners at the Yacht Club and in local restaurants.
We had live bands on two occasions and danced the night away and during the day we had the opportunity to take a number of excursions to local villages, the rainforest and a copra plantation. Copra is the dry residue from coconut "meat" as we call it.
It is rich in fat and when crushed, heated, pressed and refined into oil, it is used in many foods and cosmetics.
Copra is the principal export throughout the South Pacific.
It's certainly a huge industry in Fiji but tourism is the major industry here.
We rented a car for a day and drove all over the island.
It was really amazing because, on the south side where we were anchored, it was warm with lots of palm trees but as we climbed the mountain to go over to the north side through the middle of the island, we started seeing huge stands of pine trees and the temperature dropped dramatically.
Then as we approached the north coast, there was nothing but miles and miles of sugarcane and it was HOT!!!
We stopped at a Hindu Temple and school and visited with one of the teachers who showed us around.
Then we went to the main town on the north coast called Labasa and had lunch in this little restaurant.
Turns out the woman who owns the place has a daughter in Cocoa Beach, Florida so we're now BFF and she had Peter trying all sorts of Indian dishes.
After that we visited the Fiji Sugar Corporation, a HUGE sugarcane processing plant where we finagled our way into a private tour with the Director of Human Resources.
Then we drove back home and made one more detour through the Hibiscus Highway not far from our anchorage in Savu Savu.
Apparently, on this southern coast, lots of Americans have purchased land and built mega-vacation/retirement homes, including the motivational speaker, Anthony Robbins, who also built a super expensive resort which is supposedly WAY over the top. There's also this awesome resort built by Jacques Cousteau's son, Jean Michel which is super eco-conscious and luxurious at the same time.
It was amazing although not too many people there when we stopped by.
Two days later…..we've crossed over to Viti Levu and are now inside the reef heading from the north side of the island around the western corner to Musket Cove on the island of Malolo Lailai just off the mainland.
We're following a channel that runs between the mainland and the surrounding reef so you have to pick your way very carefully and you cannot travel at night as it is super dangerous.
The fleet is quite spread out so, last night, we were the only ones in the anchorage that looked good to us.
Today, we're motor-sailing along and we can see four boats about six miles ahead of us on radar and another two boats about the same distance behind us.
It's actually nice to be on our own every once in awhile as it gets a bit overwhelming to have the same people with you 24/7 – even though we really like everyone on the Rally.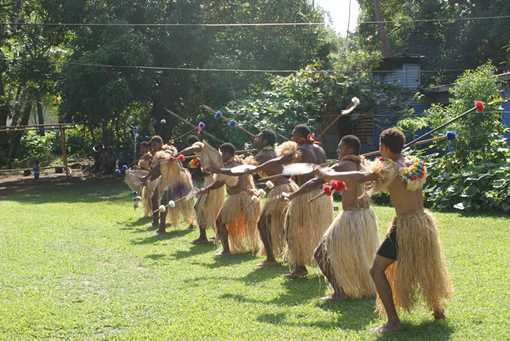 ---