SONGKRAN, THE WET AND WILD WATERFEST - THAILAND

Peregrina's Journey
Peter and Margie Benziger
Sun 22 Apr 2012 01:16
Songkran is Thailand's most famous festival. It is an important event on the Buddhist calendar, and it marks the beginning of the traditional Thai New Year. The name Songkran comes from a Sanskrit word meaning 'passing' or 'approaching'.

On April 13th, the first day of Songkran, I received a call from my friend Dave to join him for a Songkran trip around the city. He said "wear a bathing suit and don't bring anything that cannot get soaked."

Little did I know how right he was!

Margie was working under a deadline to finish a newsletter for Cheryl Andrews Marketing and decided to keep typing away. She still is a "workaholic" at heart and really enjoys staying involved and writing remotely from her "office" aboard Peregrina.

But, in truth, Songkran does have a serious and traditional side. On the first day of Songkran, the Thai people visit their local temple to take their family specialty dishes to the monks and participate in the ritual cleansing of the Buddha images. On the second day, which the Thai consider to be "New Year's Eve," it's time to clean out your house, get rid of unwanted junk and banish the bad deeds of the past year.

In some northern rural areas, fireworks are set off to chase away ghosts. Candles are lit and piles of wood are burned in front of homes to light the way for spirits of loved ones who, the ancients believe come out on New Year's Eve.

On the third and last day of the official Songkran festival, the Thai visit older relatives and bless them with scented water to show love and respect. It is this aspect of Songkran that has evolved into the crazy water fights we see today.

Songkran is a national holiday in Thailand, so most businesses either close down or go to skeleton staff as people get outside and enjoy the world's biggest water festival. Up and down the roads, streets and alleys, even major highways of Thailand, you'll find people with buckets, water pistols, water guns, ANYTHING that will hold water…waiting for you to walk or drive by to take you by surprise. But it's all good fun.

Margie took me to the beach in the dinghy and Dave was waiting with his pickup truck. In the back were four young children and employees from his girlfriend's bar "Coconut Twins." Also, in the back of the truck, were barrels of water to reload the squirt guns as well as plastic buckets to throw water.
I jumped in the back with my GI Joe "Super Magnum" squirt gun (purchased the day before) and off we went. The city was essentially closed down and everyone was in the streets throwing or shooting water. I quickly found out that my Super Magnum squirt gun was not going to overwhelm the competition. I was not the only warrior on the block with a weapon!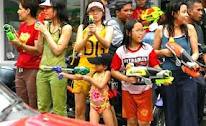 Along the streets, there were large hoses available from tanker trucks or people's lawns to fill up our barrels with water. The real shock comes when you are hit with freezing water scooped from a large tub with floating ice.

Man, it's COLD!!!
One of the downsides of this particular holiday is the large number of motor scooter deaths. Starting early in the morning, a lot of liquor is consumed by both drivers and street side participants.

You see up to five people riding on one motor scooter all carrying squirt guns. Water is thrown directly into the face of people driving motor scooters.

It's really a recipe for disaster and very sad because this is such a joyous festival.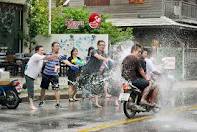 But, I returned safe and sound - just exhausted and soaked to the bone.

All in all, Songkran
is a wet and wild waterfest of Buddhist fun.
---