California Dreamin

Peregrina's Journey
Peter and Margie Benziger
Mon 3 Dec 2018 22:56
37:37N   122:42E
Since January 5, 2010, we have circumnavigated the globe and reported on all our adventures around the world via email and our blog. This is the first report we've ever filed about cruising in the USA! This entry focuses on sailing up the California coast, 453 miles as the crow flies, from San Diego to San Francisco. 
Are we the first sailors to explore the California coast? Well, hmmm...let me see. The answer is definitely NO.
1542
The first European to explore the California coast was the Portuguese-born sailor, Juan Rodriquez Cabrillo.  Cabrillo was the official representative of the Viceroy of New Spain. FYI -New Spain included territories which were part of the Spanish Empire's colonization of the Americas.  It is recorded that he landed at what is now San Diego on September 28, 1542.
A full-size replica of the S/V San Salvador, Juan Rodriquez Cabrillo's ship, is based in San Diego and is open for tours.
Margie took to the helm like a natural Captain. Notice the double wheel which allowed several sailors to man the helm in heavy weather.
Juan Rodriquez Cabrillo is credited with "discovering" California. This term has always stuck in my "craw." FYI - the craw (sometimes referred to as "crop") is an expanded, muscular digestive pouch near the gullet or throat which is found in birds or insects.
So, did Juan Rodriquez Cabrillo REALLY discover California?  To answer this burning question, I researched the migration history of mankind. WOW, it turns out that California's earliest inhabitants were Asians who traveled the Bering Straits into North America using a now-vanished land bridge. In fact, California was inhabited 10,000 years ago!  Imagine those native Californians' reaction, lounging in their hammocks after a beach volley ball game, when Juan Rodriquez Cabrillo lands and claims to be the first to discover their home … which they had been hanging out for 10,000 years!
That must have stuck in THEIR craw!!!
 Ok, back to history.
 1572
Sir Francis Drake landed north of San Francisco and claimed the territory for England in 1572. Apparently, nobody told him that California was already the home of 10,000-year-old Asian descendants and lots and lots of Mexicans. They probably forgot to mention Juan Rodriguez Cabrillo as well! 
After that, the region was ruled under several flags until…
1821
Mexico wins freedom from Spain and becomes what would be California's new official ruler.  
Why is the new territory called California? The origin of the name California is somewhat disputed. The explanation that I like claims that Mexicans, heading north through the very, hot, dry land in the southern part of California called this area "forno caliente" in Spanish.  This translates into "hot oven."
1846
The United States invades Mexico from the east - reaching San Diego in December. You will see in the next entry why this was just A GREAT IDEA!
1848
It was a great idea because, in 1848, James Marshall discovered oodles of gold at Sutter's sawmill thus kicking off the famous Gold Rush.
Why was the gold rush so important for this sailing story?  After the news of the discovery of gold in California, people came from all over the world to seek their fortune. For most, the only way to reach California quickly was by sea. In 1848, more than a thousand ships set sail for San Francisco. 
In 1849 alone, 25,000 arrived by sea - packed into the boats like little gold-digging sardines. Actually, seamen made the trip even faster than the 42,000 overland pioneers who set out in wagon trains that year.
By April, 1850, the records of the harbormaster of San Francisco estimated that, in the preceding 12 months, 62,000 travelers from around the world had arrived by ship.  Most of these ships never left San Francisco as the passengers, crews and even the Captains hurried to mine for gold.
Recently, Margie and I were taking a historical walking tour of San Francisco and our guide told us we were standing on reclaimed land that still contained the wrecks of sailing ships. So, once again, I decided to do a little research.
It turns out that Yerba Buena Cove was a floating mausoleum of abandoned sailing ships. First, some were used as store ships or hotels. Then, over time, they sunk; the land was reclaimed and San Francisco was constructed on top of them.
You can see below the hundreds of "hulks" rotting away.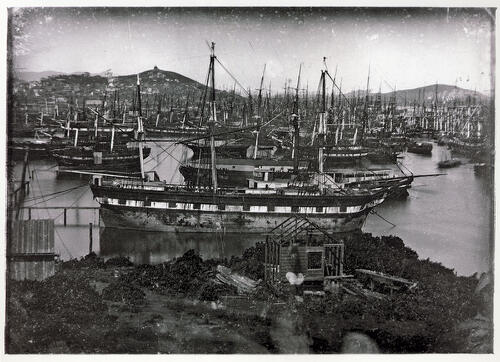 As recently as 2001, a developer discovered the General Harrison which was built in 1840 in Newburyport, Massachusetts. It carried Gold Rushers to San Francisco and was abandoned by the crew.  Maritime historians were given a brief time to study the ship (see below) before it was covered by an 11-story building. 
Now, back to our passage to San Francisco, As Peregrina followed the path of these intrepid maritime travelers up the coast, she encountered fog…thick as Juan Cabrillo's first mate's tattooed forearm.
Thankfully, we had GPS to pinpoint our location and AIS (Automatic Identification System) to avoid possible collisions with the many thousand-foot container ships that ply these waters.  Can you imagine how disconcerting fog must have been to a sailing ship in the olden days?  
Now, I must confess that I slipped a little test into the first paragraph when I said that Peregrina was going 453 miles "as the crow flies" from San Diego to San Francisco. In the lore of nautical trivia, crows were carried aboard Viking vessels to help with navigation. When lost, such as in a fog, a crow would be released. The crow always flew the most direct route to LAND so the sailors knew where land lay. A crow would NEVER fly directly from San Diego to San Francisco by sea!
Here's another non-sequitur - The use of birds, when sailing, also runs in the Benziger family. My father raced a one-design sailboat called a "Star" on Long Island sound in Connecticut when he was a young boy. When the last race was over, my dad would release a homing pigeon which carried a note to my Grandmother telling her what time my dad would be home for dinner. Who needed cell phones!!!
But, back to our passage…Approached the Golden Gate bridge, we took some crew pictures. Peregrina's crew from Ventura to San Francisco consisted of Dwayne and Mark, two salty retired California fire fighters. For some reason, fire fighters seem to like big, floppy hats.
Margie was not onboard for this last leg of the trip because she had fallen and cracked her pelvis while on an Oakland city architectural tour. The guide said "always look up at the top of the old buildings to see all the design work". Well, Margie looked up once too often and tripped on an uplifted sidewalk. No worries!  She's a trouper and is now walking just fine these days.
The Golden Gate Bridge is 1.7 miles long and 42 million cars cross the bridge each year. It contains 80,000 miles of wire. The two towers are 746 feet above the water, equivalent to a 65-story building. You can see, in the picture below, that Peregrina's mighty Captain is still taller than the towers.
We passed directly under the Golden Gate Bridge entering San Francisco Bay. Every time Peregrina goes under a bridge, I am worried about our mast hitting the infrastructure.
What do you think?  Did we make it?  I guess you'll have to wait for the next installment of Where in the World are Margie and Peter?
--
--
---