Recovered and ready to go again

Pearl of Persia
Andrew Lock
Fri 21 Mar 2014 10:42
Lat 12:37.8N Long 61:21.5W
We have gradually got the boat back into some sort of order, still minus the
sails of course.. we are picking up new ones in Antigua... but the tanks are
full, batteries charged, most things fixed, even our little outboard engine
that had been giving us trouble since Cocos Keeling. There were also
problems at the top of the mast with our furling mechanism which helps us
roll away the head sail (if we had one) and so being a democratic boat I
elected Sussanne to be winched to the top. The bosun's chair was prepared,
the halyard tied on, the knot checked, double checked and then checked
again, Sussanne started the long trip to the top of the mast. It was quite
windy and she had to hold on to avoid being bashed from side to side. The
white knuckle ride took about 5 minutes with me and Oliver taking turns on
the winch (hard work, she has definitely put on weight) and by the time she
was a little dot at the top and had tied on a line to pull the furler down,
she was beginning to enjoy the view, but still couldn't look down to the
deck. She 'landed' again exhausted, slightly bruised but she had done it and
I was very proud of her.
Next day with most of the jobs done, we were able to hire a car for a couple
of days to explore Grenada and rediscover places we had been to when we were
here 17 years ago including the old broken down rum distillery and the
nutmeg processing station.
It has suddenly hit us that we are now back in the world of holiday sailing.
There are sail boats everywhere. After seeing virtually none for 15 months
and being in our own deserted anchorages for weeks at a time, to arrive in
the Tobago Keys, 40 miles north of Grenada in the Grenadines and have to
jostle for space with dozens of other boats takes some readjustment. There
are beach bars, vendors selling T shirts, fish, lobsters and fresh bread
from little motor boats, ashore there are restaurants and shops, but being
in a crowd means the sense of adventure is not quite the same. But still
fun, the turquoise sea is still as bright, the sun still as warm and we have
spent the day swimming and relaxing in a most beautiful location....with
lots of other people.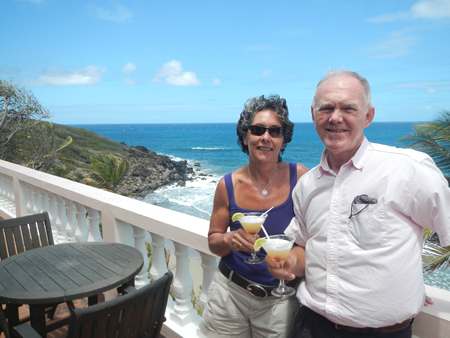 ---