Day 6 in the Indian Ocean

Pearl of Persia
Andrew Lock
Thu 17 Oct 2013 02:18
Lat 11:56.2S Long 098:15.7E
The wind had been building all day, with big rolling waves coming from
behind and whitecaps everywhere. We were speeding along. Just when you think
all is going well, something happens......and when it happens at sea it can
become bad very quickly. I was sitting watching the near sunset and
marvelling at how beautiful it all was when the big white head sail at the
front of the boat, suddenly broke loose at the top of the mast and plunged
in to the water. For a moment I was stunned and then my yells brought Andrew
into the cockpit where we both looked at the enormous white canvas being
dragged by the side of the boat. What to do......The first thing was to try
and slow the boat down to avoid having the sail washed away completely but
even after furling away the main sail we were still moving quickly through
the water. Gradually the drag slowed things down and we were then wallowing
in the swell with 20 knots of wind, a tangle of lines everywhere and the
deck rocking wildly from side to side. Very slowly we began to heave the
canvas on deck, inch by inch. The weight and drag was enormous and more than
once thought it wasn't going to be possible, but gradually we managed to
keep ourselves on deck and encourage the sail to join us and after an hour
the canvas was aboard. It seemed to fill the whole starboard side of the
boat, but eventually got it tied down. We were both exhausted. We found the
failure point. The stainless steel shackle which connects the sail to the
halyard at top of the mast, had sheared through, but from what we can tell
no other damage. It should be a simple fix when we arrive in Cocos Keeling,
still 24 hours away.... now a little longer with only one sail, but I will
need to winch Andrew up to the top of the mast when we arrive, so I hope the
anchorage is calm.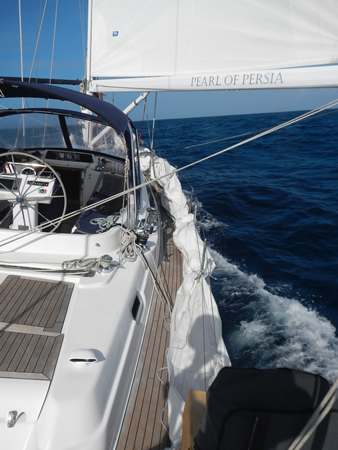 ---