The Scottish East Coast 55 52.5N 02 05W

Gryphon II
Chris and Lorraine Marchant
Tue 15 Sep 2015 13:17
As we left Inverness there was a gentle northerly wind and an ebbing tide but the wind soon increased and we were racing along in a rather uncomfortable sea. As we had experienced before on the Irish coast, the weather would have a made the entrance into any of the small harbours on the long north coast of Banff dangerous so we had a long day saling over 90 miles and entering the safe harbour of Peterhead shortly before dusk.
The coastline here is dramatic but very unforgiving!
The wind remained strong the following day but was at least offshore giving us a more comfortable passage to Arbroath.
The coastline down from Peterhead offers some wonderful features…………
and bizarre structures
This is New Slains Castle at Cruden Bay (Old Slains Castle lies 8 kilometres away). When we first saw this we thought it was a film set and it has indeed been used as such but the core of the castle is a 16th-century tower house built by the 9th Earl of Erroll. There has been much reconstruction over the centuries ending in 1837 when it was rebuilt as a baronial mansion. At one time it had extensive gardens, but is now a roofless ruin. Plans to restore the castle and divide it up into luxury accommodation were not welcomed locally and have been on hold since 2009. Scotland is dripping with castles but this is one of the strangest we have seen.
Arbroath is an attractive town with a working harbour where one locks in to a basin right beside the smokehouses where the famous Arbroath Smokies are made. However, the catch landed here is mostly shell fish.
Like champagne an Arbroath Smokie must come from this small part of Scotland to earn its name. Needless to say we bought some for ship's stores. They are haddock smoked in a particular way and with the skin on which gives them a distinctive taste; we found they were better made into something like Cullen Skink or kedgeree rather than eaten as they come like kippers. Very good but not Champagne!
The picture below shows one of the most famous producers of the Arbroath Smokie, a family run business, which is where we bought ours. Strangely we later learnt that our IT savvy bachelor uncle, now 90 years old, had been a friend of one of the elder family members and his son and had helped them with their company IT developments many years ago. Small world!
Prepping the haddock for smoking.
Fishy business.
Whilst at Arbroath we also visited the Arbroath Abbey which in the 13th century must have been a major centre for the local area and beyond as it was the largest monastery in Scotland.
Now an impressive ruin overlooking the town it was difficult to imagine it in its heyday. In 1320 the famous Declaration of Arbroath was written to try to persuade the Pope to help Scotland remain independent of England. In it are these lines which the SNP no doubt support, " as long as but a hundred of us remain alive, never will we on any conditions be brought under English rule. It is in truth not for glory, nor riches, nor honours that we are fighting, but for freedom – for that alone, which no honest man gives up but with life itself". No doubt some of the clansmen who died at Culloden knew these words well.
Leaving Arbroath we continued southward, passing the famous Bell Rock lighthouse built by one of the "lighthouse Stevensons". It was built in 1810 to such a high standard that it is largely unchanged and still performing its life saving function to this day 200 years later. After crossing the Firth of Forth our next stop was Eyemouth. The harbour is tucked into a corner of a rather exposed bay with some fearsome rocks partially guarding the narrow entrance. However once inside there is perfect shelter.
The harbour is still busy with fishing boats coming and going and large lorries transporting the catch all across the UK.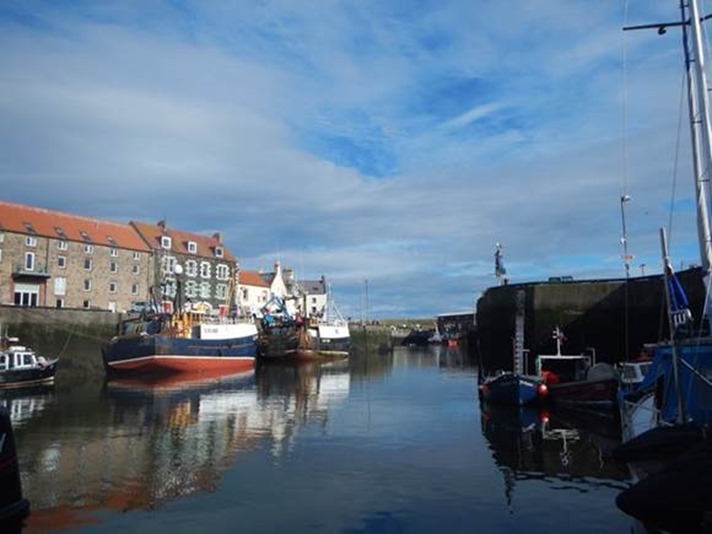 The other major trade in the past was smuggling. The port was 20 miles from the nearest excise office so smuggling could be carried on in relative safety. A local business man, John Nisbet, made so much money in this trade that he could afford to build the impressive Gunsgreen House beside the harbour. The house was constructed in 1753 complete with hidden rooms and secret compartments for storing such luxuries as tea and brandy.
There are 2 other good museums in Eyemouth; one is a maritime museum with boats from all around the world including a whaler from the Azores. The town museum had a moving tapestry recalling the storm of October 1881 that overtook the fishing fleet and led to the deaths of 129 men from the village with a population of only 3000. 91 women were widowed and 267 children orphaned. Of course fishing remains a dangerous way of life. All the harbours we have visited on this coast have memorials to those lost at sea, including in recent times and the number of wrecks marked on the charts for this coast are a stark reminder that this north east coast needs to be given full attention.
---