Admiral Marina Port Dickson and a tour of Kuala Lumpur N02 28.7 E101 50.4

Gryphon II
Chris and Lorraine Marchant
Tue 1 Nov 2011 00:53
The sail northwards along the Malaysian coast turned into motoring for most of the way partly because we were on the tight schedule that the rally imposes for this first leg and partly due to a lack of suitable anchorages but mostly because the winds were light north westerlies, the exact direction we wanted to go in. Weather here is occasionally enlivened by a beefy thunderstorm but we have yet to experience a close encounter with the centre of one… we always keep a spare GPS and a lap-top computer in the microwave (our faraday cage) just in case we experience a direct hit from lightening.
Admiral Marina, Port Dickson
Our first stop was at the artificial harbour of Port Dickson close to Kuala Lumpur. Rather like a luxurious version of Brighton Marina we again had the use of a private pool. The security was excellent and included uniformed guards to open and shut the gate for us every time we went onto the pontoon.
We spent a few days here and the rally included a free tour of Kuala Lumpur. We went on a Sunday to avoid the traffic snarl ups that are a feature of this busy city. Our first stop was at a rather wonderful Hindu temple built in the "Batu Caves", complete with this massive statue of Lord Subramaniam
We ascended the 272 steps beside him to the caves behind to have our sins absolved. We followed on with an excellent breakfast of wafer thin giant roti in an Indian stall made by this man who performed tricks with the stretchy dough. Never thought chocolate and curry sauce would make a good combination but indeed it does!
We then visited an equally fascinating Buddhist temple.
In the grounds there were models representing the animals of the Chinese calendar associated with the year of one's birth. I was particularly pleased by my glowing set of attributes…which I shall quote if I ever apply for a job again.
Here Lorraine is cuddling up to her friendly boar.
A tower of terrapins at the Buddhist Temple.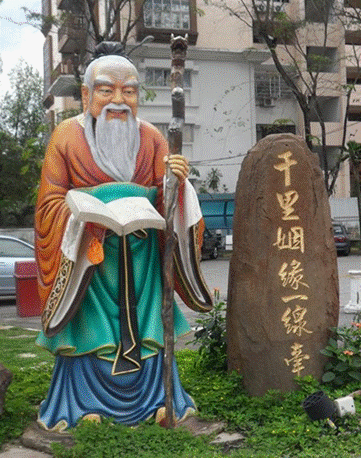 And a smiling Confucius with his book of sayings.
The rest of our busy morning was spent seeing the sites including the Royal Guards outside the palace of the Sultans.
And this imposing war memorial in the memorial park…
The sculptor was apparently the same man who did the more famous memorial to Iwojima in Washington and was not too good on Asian features so they ended up looking rather American!
Next was this attractive quarter, one of the many good things the Brits left behind in this part of the world (including the English language, a railway network, men in red on horses, driving on the left and tolerance).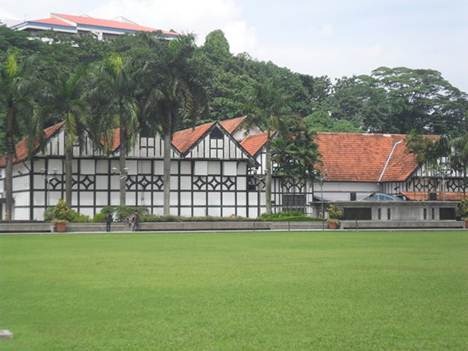 Cricket pitch and mock Tudor club house of the Royal Selangor Club. These form part of the famous Meredek Square, the heartland of the colonial past. This is where independence was declared on 31 August 1957. It now hosts a 100 ft flagpole, said to be the highest in the world, flying the Malaysian flag.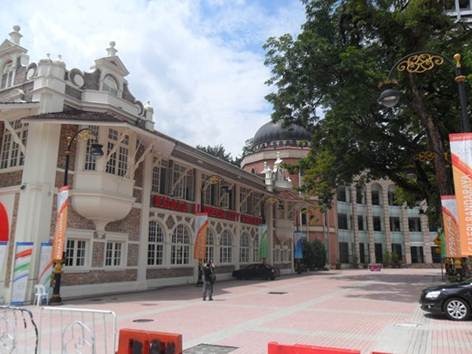 The square is surrounded by a host of beautiful 19th century colonial buildings that blend Victorian and Moorish architecture. Once housing the British administration and secretariat now housing a branch of Malaysia's High Court, a hotel and civic hall.
These attractive civic buildings are now dominated by KL's brave new world.
Our final stop was close to the twin towers of one of Asia's tallest buildings and duly impressive in a shiny stainless sort of a way. Our guide was quick to point out that they were not surrounded by slums as depicted in the film where Sean Connery does improbable things on that bridge.
By now it was lunchtime and we were left to our own devices for the afternoon. Malaysians, like Singaporeans, have 2 main hobbies … eating and shopping so we followed suit and went to have a good cheap Chinese meal in a massive shopping mall before going to look at an electrical shopping centre which we were told was cheap.
Lorraine's camera has stopped working so we were interested in replacing it but even after the expected price negotiation it was no cheaper to buy here than at home from somewhere like Dixons. It seems odd that there is not a price differential as they make so much of this stuff in this part of the world. My guess is that exchange rates and bulk buying are the things that make UK prices seem good.
The thing that is really cheap here is eating out. A meal can cost as little as 5 RM (Malaysian Ringgit) or about a pound and the quality is excellent. I have never liked Chinese restaurant or takeaway food much ….but this food is nothing like it and is delicious if you avoid some of the more unusual dishes made from the leftover bits of the farmyard such as chicken's feet, pig intestines and other extremities.
Another British legacy is the Lake Gardens, 92 hectares of landscaped hillside which used the natural landscape and indigenous plants as the setting. A highlight of the Lake Gardens is the Kuala Lumpur Bird Park. We still had plenty of time left over so we took a taxi to the bird, the largest walk in aviary in the world with lots of exotic birds and many of them free flying.
We saw storks building their nests, some hatching eggs and others already feeding their young. Scarlet ibis picked through rocky waterways along with other busy ibis, peacocks, pelicans and parrots posed and paraded in colourful displays, the flamingos stood as flamingos do.
All in all we had an excellent day and we dozed our way back in air conditioned luxury to our smart new marina along the motorway toll roads. As I suspect I said in our previous log this is definitely not a developing country any more … or if it is then large parts of the UK need to be in the category below!
It is hot though…………………and humid..oh yes!
---