Canary Island to the Cape Verdes 16.53.00N 25.00.00W

Gryphon II
Chris and Lorraine Marchant
Tue 3 Nov 2009 20:43
03.11.09 Puerto Restinga, El Hierro and Atlantic

06.00 a.m. The wind has finally eased off and we are now sliding up and down the harbour wall instead of being slammed into it. Up early prepping the boat for passage, into town for bread and postings then water hauling on the trolley from the boat yard as no taps on the quay. No electricity either but we generated so much with the water generator on the way here that it is not a problem for us.
I have made a hammock for storing vegetables and fruit so that they get air and light. We have to make sure they have never been chilled as they will not keep for any length of time if they have even in the refrigerator. Really green bananas keep well if hung, they have to be dipped in sea water or any really salted water to kill off any insect life, particularly cockroach eggs.

11.00 a.m. We finally got off the unpleasant wall, following the Danish boat which left earlier. We met the Danes in town yesterday, like us they are going to Mindelo, Sao Vincente, Cape Verdes. We left under engine and motored for half an hour before 3 hours of sail handling in really unsettled wind: reefed sails, unreefed, reefed sails, unreefed, jib pole on, jib pole off, gybe the jib and so on until the wind finally set from the east, the main filled nicely and the jib set without the pole. Fast sailing but now the wind is gradually dropping to force 3-4 sometimes too light so the wind vane (George) can't cope and we must to resort to the auto pilot (Commandant) to steer us accurately. Earlier, when it was stronger, we made the 6 - 7.5 knot preferred speed but a steady 5.5 knots is pleasant enough.

03.09 a.m. We have done 99 miles, it is very light with a full moon directly overhead so few stars can be seen. The sea is swollen but calm, no white horses just the brilliant white foam following in the boat's wake. We passed the Danish boat hours ago and could see their light behind us for a long time but now they have gone and it seems we are alone in this circle of sea.

04.11.09 Atlantic
Dawn
11.30 a.m. Day's run 144 miles. We are in the Canary current, it probably adds about a knot onto our speed which is just excellent. Last time we did this trip we had light winds and a few calms, it took us 9 days albeit in a much smaller boat. However, we wait to see what the days have to offer, the forecast was favourable and we are hoping for 5½ days this time! We are being swung about quite a bit, there is the usual swell chasing behind the boat which is giving us about 7 knots and occasionally 8 knots down the wave and 5.3 to 5.5 up the wave. This is being crossed by a swell from the east, there must be bad weather miles away somewhere sending the remnants across here. Commandant is coping well with the steering!

Dusk
05.11.09 Atlantic

10.00 a.m. Last night we had the jib poled out and went slightly east of our course in order to get some speed from the wind direction, which has been ENE for the last 14 hours. Unfortunately the rope chafed through at 04.50 hours and all collapsed. Luckily the wind was light when this happened otherwise it could have been a more unpleasant problem. Skipper's watch started at 05.00 hours anyway so he was up in a few minutes and we were into tangle sorting. I was afraid we might lose the pole but but it was well secured and soon on again. Half an hour and I was off watch, when we lose off watch time we juggle about to make up and have short snoozes during the day to compensate. Chris is excellent at snoozing and can catnap at the drop of a hat. I'm not too good at day snoozing but adapt to the watch system more quickly so usually feel less sleep deprived. All the same we don't want incidents at night if they can be avoided.

11.33 a.m. Day's run 144 miles, same as yesterday plus 3 minutes. This meets with our expectations very well, if we keep this up we shall cross the Tropic of Cancer in about 10 hours. Current position: N23º 32.950' W020º 49.820', it is gorgeous at the moment with wonderful breeze, hot but not baking, waves flecked with skipping white horses, full sails and a deserted ocean. It has been deserted since we lost sight of the Danes, there have been no boats or ships, the only things sighted were a couple of jets going north high in the sky early this morning.

Al Fresco Navigation Technique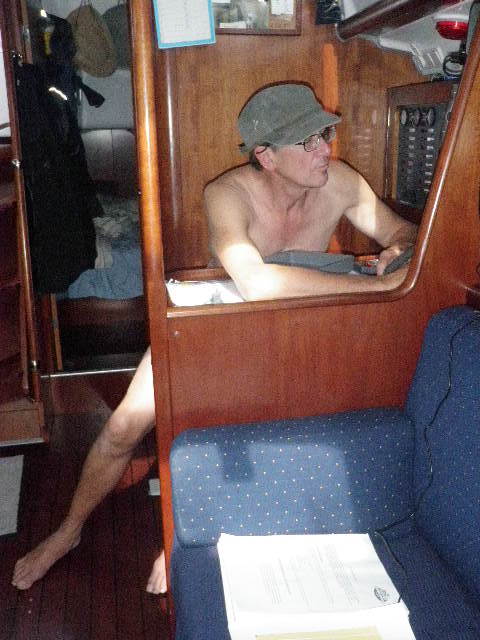 Chris has just shown me the woolly end of our chafed through jib sheet – amazing what chafe can achieve! We are exploring ways of dealing with this, a piece of plastic hose is now insitu but will it work?
Meanwhile we admire the view.
---