Oops! N53 23 W06 04

Gryphon II
Chris and Lorraine Marchant
Wed 5 Aug 2015 19:43
Since our last blog we have been moving eastward and northward along the Irish coast. We spent a few nights at Waterford which is an interesting old city with a pleasant marina right in the centre where we were berthed beneath the clock tower.
The city was originally a Viking settlement and it still has remains from that time including this tower. It was rebuilt in the 13th century on the site of the original wooden fortification and has had a chequered history. Oliver Cromwell tried to capture Waterford and failed but there is still a cannon ball embedded in the tower from this attempt. Today it is an interesting small museum.
Next stop was Kilmore Quay in a busy little fishing harbour near the south east corner of Ireland. We had to stay here for 3 days while the wind howled amongst the fishing boats.
This one was unloading sacks full of scallops.
Once we were able to leave we had a good following wind to take us round the corner to the east coast of Ireland. Unfortunately just short of rounding Carnsore Point, the headland that marks this corner, we managed to pick up a small buoy from a crab pot that then proceeded to get caught on our rudder and jam it hard to starboard. Consequently we were moored by the stern with a disabled rudder half a mile from a potential lee shore in a fast tide and a strong wind and we tried to release ourselves without success.
The result was I called a Pan Pan and the Coastguard sent out a lifeboat. They took a while to arrive but fortunately the situation did not get any worse and by towing us upwind and uptide they managed to pull us free of the pot, and we were able to continue on our way with no damage except to our pride!
Once round on the east coast we spent a couple of nights at Arklow before continuing on first to Malahide and then to Howth beside Dublin Bay. Both have excellent marinas although the one at Malahide is rather soulless. In contrast Howth is a very attractive and busy fishing port with an active fleet and more fish restaurants and fish mongers than we have seen anywhere. The fish mongers make a wonderful show of their produce, it reminded us of the Lowestoft Fish Fair. As well as enjoying an evening at one of the restaurants we bought four large sole for a euro each and whole smoked mackerel but best of all we were given a bagful of large crab claws by Gino, crew member from one of the scallop boats arriving back, they were particularly delicious.
From here we were able to take the train into Dublin and hire a car. We had a good day and some decent weather exploring south of Dublin around Wicklow where Lorraine's father's family came from. The countryside around is known rightly as the Garden of Ireland with some really attractive scenery. Ireland is very beautiful when the rain stops.
No doubt monks had an eye for a beautiful location as this view of Glendalough shows.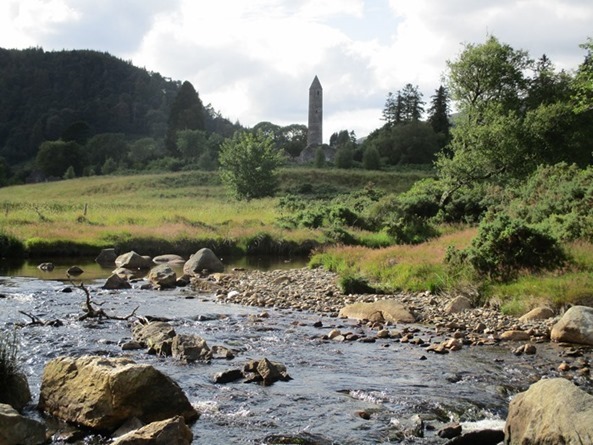 This tower is reputedly over 800 years old.
The following day we explored closer to Howth, including the castle and gardens at Malahide. Until the 1970s the same family lived here for 800 years. Since then it has been in the good hands of the local council. The last owner was a keen gardener and despite the iffy summer we are having the garden was in very good heart.
The house has some beautifully preserved rooms with antique furniture and panelling dating back to the 17th century.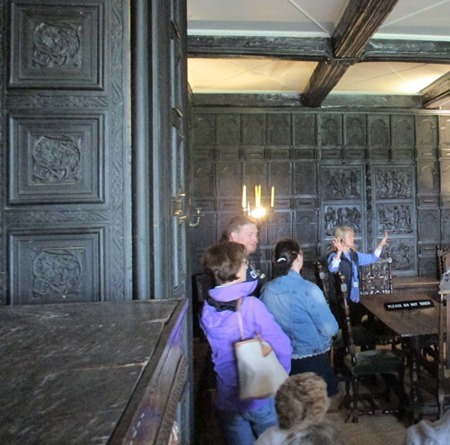 Including this children's rocking commode....probably not as good an idea in practice as the designer thought!
Wonderful ...............if only the sun would shine a bit more!
---