Union Island

Gryphon II
Chris and Lorraine Marchant
Mon 18 Jan 2010 00:12
At last we have left Grenada and Prickly Bay where we were held up having repairs to our sails and roller furling after the wear and tear of the Atlantic crossing.
The bay is large and a favourite haunt of cruisers of all sorts from "birds of passage" like ourselves to liveaboards who use the anchorage as a floating housing estate. Many people keep their boats in the boatyard here and fly out for 3 or 4 months sailing in the islands during the northern winter, mainly from the States but also from the UK . The boatyard is supposed to be safe from hurricanes but was devastated by Ivan in 2004?
There are all sorts of facilities to make life easy for the cruising community, including such luxuries as a good, cheap laundry, somewhere to fill up your gas, and a good chandlery. There is a cruisers' net on VHF every day at 7.30 with weather forecasts, free advice, advertising for local events and even "treasures from the bilge" from which we gained our free (fake) Christmas tree that hung in the rigging for the duration of the Christmas period.
We caught up with our American friends from Luterna, last seen in Lanzarote but who crossed here from the Gambia and whose boat suffered an attack by several false killer whales during their crossing causing some distress to those aboard. There was no damage to the boat however. Spruce, also last seen in Lanzarote, arrived the day before we were due to leave so we caught up on their news.
London Bridge
We had a good sail northwards managing to avoid the horrible beat to windward we had when Hattie, Peter and Ben were on board. We went past London Bridge, a collection of rocks off the north coast of Grenada and caught our first sizeable fish that did not get away. Unfortunately it was a barracuda which the books warn you against as they can contain ciguatera, the poison that builds up in predators at the top of the food chain that feed near reefs, especially damaged ones. Ciguatera poisoning can be fatal so we ended up throwing it back, although if the locals are right the problem only starts further north, we felt it wasn't worth the risk.
A must was a stop at Sandy Island which still has a lot of undamaged reef despite being severely affected by storms and a hurricane since we were here years ago, and to a lesser extent by the anchors of boats. There are fish in their hundreds, especially where the reef drops off into deeper water and some unusual corals, including what we think is Fire Coral that can give you a very nasty burning skin irritation. Lorraine experienced this first hand a long time ago when she was rolled in some heavy surf, it is very painful and lasts for days.
Next stop was Petit Martinique for water and diesel. We were unable to stop longer as the anchorage had poor holding...not conducive to a good night's sleep. We therefore went back over to Petit St Vincent, the private hotel island where room service comes courtesy of a mini moke to your private chalet. There is a perfect Caribbean beach and azure seas for a perfect (if slightly rolly) anchorage.
Then on this morning to Clifton at Union Island to check in to St Vincent and the Grenadines. After Customs clearance we walked up the road and bought 8 fish, cleaned and descaled for us all for the equivalent of about £4 and then enjoyed buying local produce from the small market in the very colourful main street. Lunch and zzzzzzzzzzzzzz for a while!
PS Rasta man spotted in St Georges...yes those are dreadlocks reaching the ground!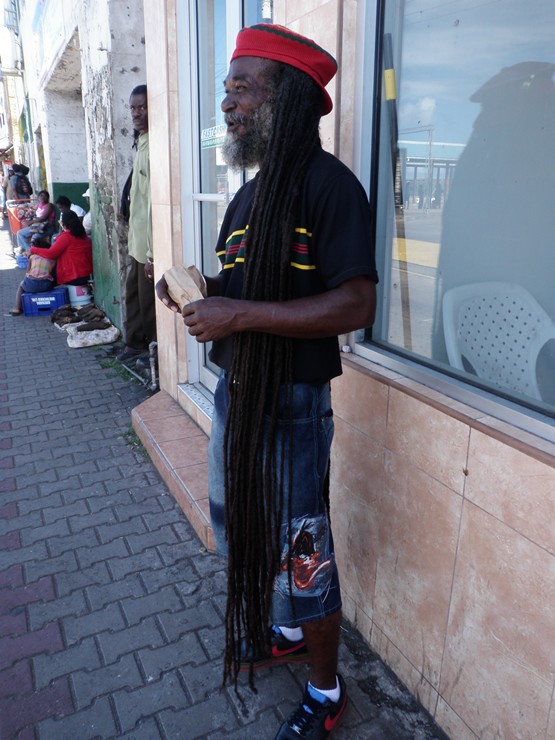 ---