The best BVI beach?

RAVEN - Atlantic Circuit 2021-22
Richard Foulkes
Sat 2 Apr 2022 12:16
18:28.407N 64:34.581W
Leaving Valley Trunk late Thursday morning, we sailed downwind with just Genoa towards Scrub Island. The peaceful sail was interrupted by the sudden dying of the instruments which show wind, depth and other stuff.
We went to a buoy by Marina Cay for lunch and electronic repairs, with success only in the former. Fortunately Raven has a legacy echo sounder system at the nav station so our plans were not affected and we continued through the Camanoe island gap with the intention of anchoring in Lee Bay. That turned out to be pretty windy and choppy so we continued to White Bay on Guana Island.
I had seen this beach through the mist of a torrential rain period during the guys' week and it had looked interesting, but on a sunny day it was very beautiful so we were happy to get a buoy there and swim to the beach which lived up to its name of having pretty white sand.
Among a few other boats in the bay was Vertigo which we had also seen in Guadeloupe and Antigua. 67 metres long she is fairly distinguishable !!
On Friday morning, a fresh session with the electronics worked wonders, assisted by a dial a friend call with Bilal, which was good news as it saved an expensive visit by some techies which I had arranged as a plan B. Leaving the bay late morning after more swimming , we pootled round the coast under engine and then genoa , getting to Brandywine Bay mid afternoon . This time I had checked in advance that the restaurant was open and we had an excellent meal ashore overlooking Drake Channel and the southern islands.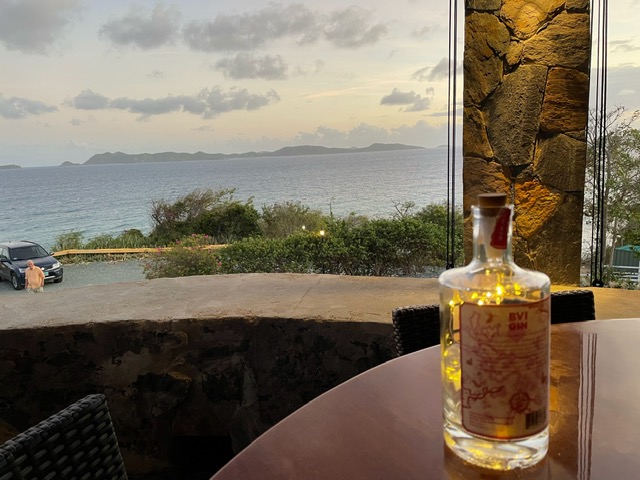 ---