Tuesday- Road trip Guadeloupe East Wing

RAVEN - Atlantic Circuit 2021-22
Richard Foulkes
Wed 16 Feb 2022 17:50

> On Tuesday we did a road trip seeing the sights of the Eastern Wing of Guadeloupe.The Bas Marina complex is quite modern, international and bland.
> Downtown Pointe a Pitre we quickly were in the edgier graffitied
> area of town.Chattel houses sit side by side with mango,banana and palm trees.
> Much was shut but the street market was thriving selling spices,fruits,hats and bracelets.
> The colonial buildings of last century losing the battle of vegetation and weather.
> We drove northwards through fast roads diving into more rural country side with rainforest between houses. Vieux Bourg is a sleepy town on the edge of the Mangroves .The fishing quay was piled with conch shells , busy with the fishermen gutting and preparing the fish.
> Plage de Babin beckoned for a cooling swim. Women emerged from the water smothered in a green,grey mud.Presumably some health giving properties given their smiles.
> We picnicked under the shade of the palm trees before setting off through hectares of Sugar cane flying over bumps. The Pointe de Enfer had impressive limestone cliffs white spume crashing into the buttress. Beyond the Pointe the water boiled into a Porte lined by fossilised coral. The coast hosts some great Grande Routes but we sped on our way past disused windmill ,sugar and tall conical conifers. Clouds developed over the horizon as we re entered the traffic fray of Pointe A Pitre in time for Rotisserie Chicken with ratatouille.
> Tomorrow we plan to cruise to Marie Galante the island 15 nm off to the south east.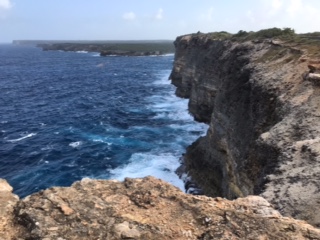 ---