Wednesday 16th - Some technical hitches

RAVEN - Atlantic Circuit 2021-22
Richard Foulkes
Thu 17 Mar 2022 09:17
18:26.316N 64:26.671W
Leaving Great Harbour, we motored round to Dead Man Bay, which lived up to its name by being gusty and rolling, with big No Landing notices on all the beaches due the reconstruction work.
With 3 reefs in and after numerous tacks, we came into Valley Trunk Bay on Virgin Gorda with the intention of anchoring…..this was initially thwarted by electrical problems with the windlass. We went to a mooring down by The Baths ( without a permit and I will not divulge after how many unsuccessful buoy approaches in difficult wind/wave conditions!). A beef sandwich there seemed to help with the electrical repairs and we then anchored as planned up at Valley Trunk. Ashore for swim and walk on the lovely beach.
All went well for the next hour or two until an operator error outboard engine "failure " left the ladies stranded ashore on the beach. The owners and team (crew of 20) of the fabulous motor yacht TALITHA , also anchored in the bay and enjoying the beach with rather more toys and furniture than us, came to the rescue and ferried us back in their rib, or I should say one of their many ribs!
Fortunately or Unfortunately the dumping waves on the beach prevented photography of us clambering into the huge rib.

TALITHA very kindly sent 2 engineers across in smart overalls to fix the engine "problem ", at which stage I realised that I hadn't opened the fuel cock !!
The day ended well with light winds , no downpours and a steak supper.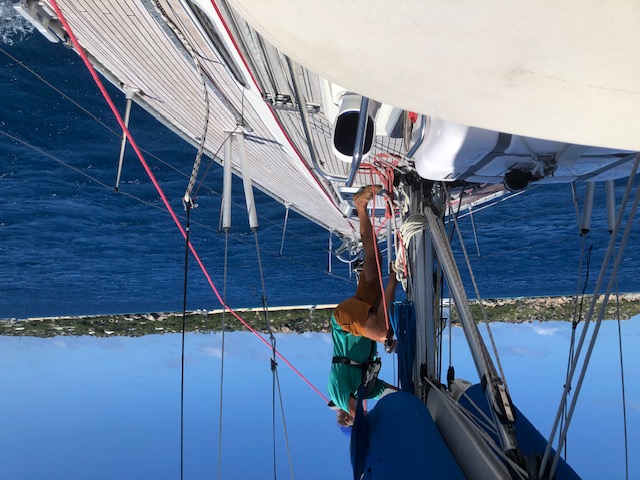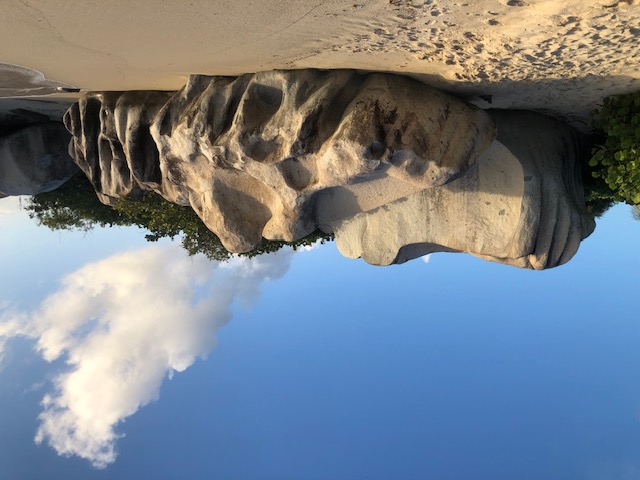 ---