Friday 4 - BVI entry

RAVEN - Atlantic Circuit 2021-22
Richard Foulkes
Fri 4 Mar 2022 17:53
18:25.438N 64:37.056W
We shifted anchorage first thing in the morning closer to the customs office and then began the tedious check in process. Jon is the sailing skipper for this fortnight and I had agreed to be the "admin skipper " or pusser for the trip, little realising that it could land me with a heavy fine.
The officials were the least friendly and welcoming of any I have encountered in the Caribbean. A loose remark from me that we had anchored a few miles away last night led to allegations that we were in breach of entry regulations. His superior was called in and much questioning of why we had anchored last night away from the entry port. Fortunately they didn't quiz why it had taken 3 miles to come from Antigua as I'm sure they would have gone ballistic if they knew we had anchored in Nevis and Saba without official entry and departure process !
Having been threatened with a fine of up to US $10,000 and been starting to think that it was time to involve Andrew in the discussions as he is a solicitor, in the end my sentence was a verbal warning and we were cleared in, having passed an antigen test during the morning.
Not a friendly welcome!
We then moved round to a marina for some shopping, watering etc ….the shopping being mostly more alcohol and cooked breakfast materials, so we should not starve over the coming days of island hopping.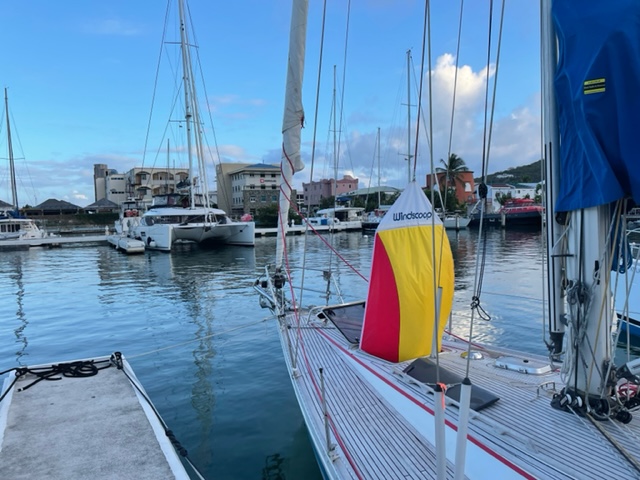 ---