48. Guayaquil, Ecuador (SEGU) - Panama City (MPTO) 26.4.2009, 674NM, 5:12 Hrs flight

Round the World Flight with HB-PON 2008/09
Rolf Martin FRIEDEN & Manfred Melloh
Sun 26 Apr 2009 17:27
48. Guayaquil, Ecuador (SEGU) - Panama City (MPTO) 26.4.2009, 674NM, 5:12 Hrs flight
"09:04.3N 079:23.0W"
We had a good flight today, starting in IFR conditions at Guayaquil
in Ecuador this morning, and the long flight over the water was ok.
About 45 minutes into our flight, still over the Ecuadorean mainland, we
crossed the equator into the northern hemisphere again; the first time
since we visited Singapore during Stage 1 last July and headed south over
Indonesia, and to Christmas Island.
Half way across the long over water stretch, once we were in the
Panamanian FIR, we were in contact with a lady air traffic controller
at Panama, which was very interested in what we were doing on our Round
the World flight.
While we were still way out over the gulf of Panama, she spontaneously came up
with the offer, to take us on a flying site seeing tour, when we approach the
main land of Panama we could not refuse, to give us  radar vectors towards
Panama City, along the Panama Canal, and finally to the main International
airport Tocumen International of Panama City.
In the process, this "Super Lady" changed her workplace at the control center from
Panama Radar to Panama approach control, and finally Tocumen tower.
While she was talking to us over the radio and giving radar vectors and altitudes
to fly along the Panama canal, and while we both were shooting photos and Video,
she explained us the whole history of this canal and pointed out many interesting
sites along the whole waterway.
Finally she gave us radar vectors to the final approach fix to the ILS Runway 03R and
then welcomed us to her country, as we intercepted the localizer and landed.
What a service!
We could hardly believe our ears and eyes.
The best air traffic service I ever got so far....
Now we will stay here down town Panama City for three nights, relax a bit from the long
stretched we have flown over the last few days and then move on to Punta Cana in the Dominican Republic, the Bahamas and Florida next.
Stay tuned!
Here some impressions:
The Pacific entry of the Panama Canal with Panama City in the
Background
The famous bridge over the canal
A cargo ship heading in westerly direction to the Pacific side
The river from the forest covered water catchment area, which
provides the needed water to feed the different locks, to
move ships up or down along the water way.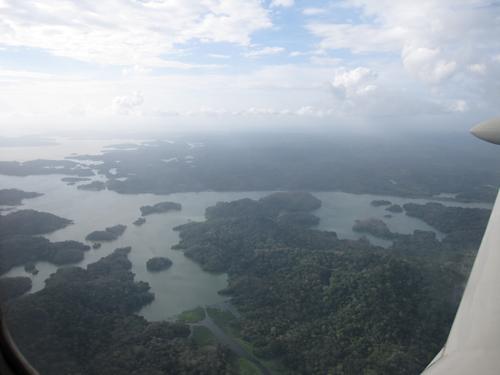 The lake area, which forms part of the canal, about half way
to the  eastern (Atlantic side).
The Lake area in the middle of the Canal.
The famous bridge
Over the western end of the Canal, approaching Panama City
Marcos A. Gelabert International Airport (MPMG)on the center
left part of this photo
The south western part of Panama City
The central part of Panama City
The north western part of town with Tocumen International
airport on the horizon.
Final approach to Runway 03R at Tocumen International (MPTO)
HB-PON getting refueled at the ramp to be ready for our next
leg to Punta Cana in the Dominican Republic
---