Part I. Xugana Lodge via Maun, Botswana to Lanseria Johannesburg in South Africa

Round the World Flight with HB-PON 2008/09
Rolf Martin FRIEDEN & Manfred Melloh
Sat 20 May 2006 22:59
25:56.0S 027:55.4E



The following day, heading south to Maun airport on the southern side of the Okavango delta, on our way to
South Africa, we met Graham Ross, his son and two of his friends.


Graham especially flew up in his Twin Comanche ZS-SWE from Johannesburg, to meet with us and then fly
alongside with us, back to his country.


A three hour flight from Maun right across the Kalahari desert and we finally approached the Johannesburg
area just before sunset and landed at Lanseria Airport, after we were joined and escorted by another local
Comanche owner and ICS member from Krügersdorp and his son.

What a spectacular welcome that evening at Graham Ross's and his wife Jane's place. Close to thirty ICS
members and Comanche enthousiasts were present to welcome us in South Africa!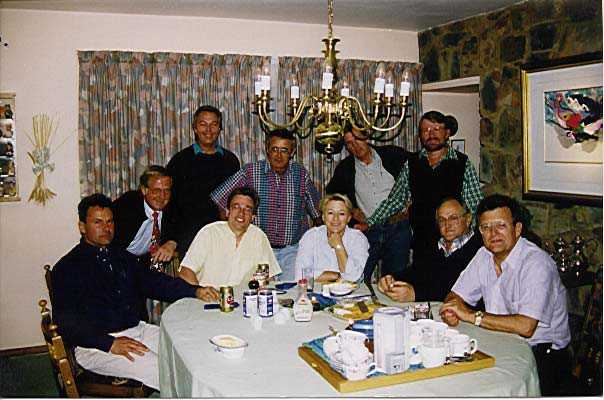 My preferred co-pilote Anne and I then spent the following week in the Johannesburg area, meeting old friends
and visiting familiar places, to refresh our memories from our good old time way back in this beautiful country.
Before we returned back to Switzerland by commercial airline in the latter part of may, we were able to put our
HOTEL-OSCAR- NOVEMBER securely in a hangar of one of the local ICS member.
This is where she was from then, awaiting for us to return, to be serviced and the flown back to Switzerland via Cape Town,
Namibia and along the Western side of Africa!










---