The flight back home ( Belem, Brazil to Recife)

Round the World Flight with HB-PON 2008/09
Rolf Martin FRIEDEN & Manfred Melloh
Sat 26 Nov 2005 13:57
O8:07.6S 034:55.3W



We had planned to get up rela­

tively early. After checking the weather situation, and after having filed our IFR

flight plan
to Recife and paid all the fees, we thought we were ready to depart.



This was clearly a wrong assumption on our part. We were asked by a customs official to follow him to his office where
he explained, that we had to go through the process of a temporary import of our Comanche into Brazil first.



There were endless questions, some multi-page forms. Three hours later, we were finally released. Having lost this
amount of time, a night arrival at our destination was now pre-programmed.




On the relatively long flight over the northern part of Brazil from Belem to Recife, I wanted to actually use my ferry tank,
to make sure everything was work­ing the way it should.





On previous long-range flights, I have always used my personal system, to change between all six tanks, plus the
ferry tank, by relying on a constantly updated log on the time, each tank was in use.
I was of course double-checking with my electronic fuel flow system, which gives me very accu­rate usage of the total
fuel burnt. We had no problem whatsoever with the fuel management and felt very confident, for what was ahead for
us - an extremely long leg across the pond.






GSM coverage during most of the time of this flight was good, and we kept sending and receiving SMS messages to and
from our Swiss friends, living in Recife and awaiting our arrival to update them on our progress.
The big hop
I knew from the start that what await­
ed us now was the most challenging
part of our journey.
Good preparation of
all the details for a flight, over 3,200

kilometres (1,738 NM) from South

America to Africa,
was an absolute must.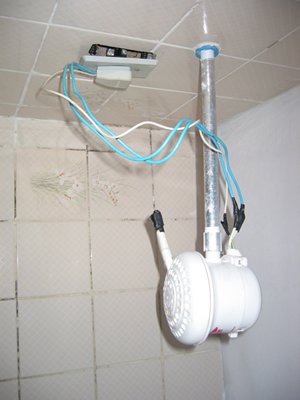 At our Hotel, the latest generation Shower installation


We had some interesting sight see­
ing in and around the city organized by our friends, and spent some time bathing
in the sun, on that beautiful sandy beach for three days.
While doing all this, and even dur­
ing breakfast, lunch and
dinner, our
thoughts were on what was to come.




The beach front at Recife




Dinner with our Swiss friends




Twice a day we checked the Internet for weather developments, satellite pictures

of the area of the ITGZ (in which so


many hurricanes are born, and are then

typically moving on to the Caribbean's

and further to the north), and wind


charts to pick the best possible day

for the crossing.





HB-PON at Recife International, ready for the long flight accross
the South Atlantic

---